Mary Faith Marshall
Mary Faith Marshall, Ph.D., FCCM, HEC-C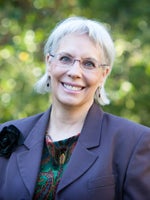 Emily Davie and Joseph S. Kornfeld Professor of Biomedical Ethics
Director, Center for Health Humanities and Ethics
mfm@virginia.edu
434.924.1934
Mary Faith Marshall is Director of the Center for Health Humanities and Ethics and Director of the Program in Biomedical Ethics in the University of Virginia School of Medicine. With her colleagues Lois Shepherd and Julia Taylor, she co-founded its program Studies in Reproductive Ethics and Justice. She is Professor of Public Health Sciences in the School of Medicine, and Professor in the Schools of Nursing and Law (University Faculty).  She co-chairs the UVA Health System Ethics Committee and directs its Ethics Consult Service. Her expertise includes reproductive, clinical and research ethics.
She is past president of the American Society for Bioethics and Humanities and the American Association for Bioethics. She is an elected fellow of the American College of Critical Care Medicine where she is vice-chair and forthcoming chair of the SCCM Ethics Committee. In 2017 she received an SCCM Presidential Citation for Outstanding Contributions to the Society of Critical Care Medicine.
Dr. Marshall received the Trailblazer Award from the NAACP Charleston chapter in 1999 for her work in policy approaches to perinatal substance abuse, and has testified on this subject before Congress and in US District Court. She was a member of the American College of Obstetricians and Gynecologists Committee on Ethics for eleven years. She is a member of the editorial board of the American Journal of Bioethics.
Dr. Marshall has served on a number of National Institutes of Health Boards, including the NIAID Division of Aids Prevention Africa DSMB and its International DSMB for Africa. She chaired the first NIH review panel on Global Health Research Involving Human Subjects. She also chaired the National Human Research Subjects Protections Advisory Committee at the U.S. Department of Health and Human Services, and has been a special consultant to the DHHS Secretary on research related to children and prisoners. She was an expert advisor on the Committee on Assessing the System for Protecting Human Research at the Institute of Medicine.
Dr. Marshall received her BA, BSN and PhD from the University of Virginia, where she was the Paddock Graduate Fellow in Biomedical Ethics. She was a critical care nurse at UVA for eleven years. Her research interests include moral distress, reproductive ethics, policy approaches to perinatal substance abuse, clinical ethics, human subjects protections and research ethics. Dr. Marshall is former Associate Dean and Professor of Family Medicine and Community Health at the University of Minnesota Medical School, and Co-Director of the Center for Bioethics in the Academic Health Center.