Marcia Day Childress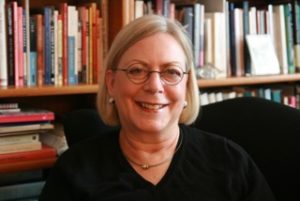 Marcia Day Childress, Ph.D.
Associate Professor of Medical Education (Medical Humanities)
Director, Programs in Humanities
(434) 924.5974 • woolf@virginia.edu
Marcia Day Childress directs Programs in Humanities in the School of Medicine's Center for Health Humanities and Ethics, including humanities and arts courses and co-curricular activities for medical students. Since 1996 she has directed and produced the Medical Center Hour, the School of Medicine's weekly public forum on medicine and society, which marks its fiftieth year of continuous production in 2020-2021. She is also founding director of the center-based Hook Scholars Program, a four-year track for selected medical students who wish to make the humanities, bioethics, or arts part of their pathway into medicine.
Professor Childress teaches medical school courses in Literature and Medicine and Images of Medicine, directs senior medical student research in humanities and the arts, and oversees numerous other humanities elective courses for medical students. She co-directs Clinician's Eye, an art museum-based visual analysis workshop for medical students and other health professionals. Together with a law professor, she annually leads an Interprofessional Seminar in Ethical Values and Professional Life for medical and law students. In the College of Arts and Sciences, she has taught an upper-level undergraduate English course, Narratives of Illness and Doctoring. She has developed and led numerous special programs, interprofessional conferences, and public events within and beyond the medical school, including three different programs in collaboration with Bryan Doerries' New York-based Theater of War.
She is faculty adviser to the medical students' health humanities interest group; to Veritas, the medical students' literary arts magazine; and to HeArt of Medicine, an educational initiative on end-of-life care led by an interprofessional coalition of medical and nursing students. She was a faculty adviser to the Gold Humanism Honor Society, UVA chapter, from 2003 to 2018.
Professor Childress's scholarly interests include literature and medicine, narrative medicine, the moral formation of the physician, and uses of the literary, visual, and dramatic arts in professional education. She writes on literature and the arts in medicine, medical education, and end-of-life care. Recent publications and presentations address Virginia Woolf's illness experience and metaphoric language, Samuel Beckett's short plays, reflective writing, and reflective education for practitioners.
Professor Childress was a UVA-sponsored scholar in the 2010 international cohort of the Harvard Macy Program for Educators in the Health Professions in Boston. In 2011 and 2016, she was a research fellow-in-residence at the Centre for the Advanced Study of Bioethics, University of Münster, Germany. Since 2013, she has participated in ISCOME, an international consortium of communication science scholars and medical professionals focused on preventing medical error through improved communication in health care settings. At UVA, she is a faculty fellow of the Center for Global Health and the School of Architecture's Center for Design and Health. She has served on the advisory board for the Institute for the Humanities and Global Cultures.
A charter member of the medical school's Academy of Distinguished Educators, Professor Childress received a Dean's Award for Excellence in Teaching and the School of Medicine's David A. Harrison III Distinguished Educator Award. A member of Phi Beta Kappa, she represented UVA at PBK's Triennial Meeting in 2018. She was elected as a faculty member to the national medical honor societies Alpha Omega Alpha and the Gold Humanism Honor Society and to UVA's Raven Society. Active in university service, she chaired the UVA Faculty Senate and the President's Advisory Committee on Women's Concerns and has served on numerous all-university committees, advisory groups, and task forces. In 2009, she received UVA's highest leadership award for women, the Elizabeth Zintl Award.
Professor Childress holds degrees in English literature from Michigan State University (BA, 1970) and the University of Virginia (MA, 1976; and PhD, 1996).