Lois Shepherd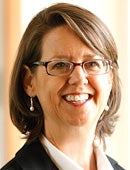 Lois Shepherd
Peter A. Wallenborn, Jr. and Dolly F. Wallenborn Professor of Biomedical Ethics; Professor of Public Health Sciences; Professor of Law
J.D., Yale Law School, 1987
B.A., University of North Carolina, 1984
Lois Shepherd is an expert in the fields of health law and bioethics. She joined the faculty of the University of Virginia in 2008, with a primary appointment in the School of Medicine's Department of Public Health Sciences and a secondary appointment in the School of Law.  She is based in the Center for Biomedical Ethics and Humanities, where she directs the Center's programs in medicine and law.
Professor Shepherd teaches a wide range of courses in health law and bioethics to a wide range of students.  Recent courses include:  Bioethics and the Law (law), Research Ethics and Regulation (various combinations of students: medical residents, law students, nursing Ph.D students), Reproductive Ethics and Law (combined law and medical students), an Interprofessional Seminar in Ethics Values (combined law and medical students) and a graduate level internship in Bioethics:  Health Policy and Administration (graduate and upper level undergraduates in Public Health Sciences).  In the fall of 2016, she will begin teaching a new course on the Law and Ethics of the Business of Health Care in the Department of Public Health Sciences.  She also contributes to the Medical School's Undergraduate Medical Education NxGen curriculum, teaching several sessions in the pre-clerkship months and leading ethics rounds in the neurology and geriatrics clerkships.  She serves on the UVA Hospital's ethics committee and organ donation committee and on one of the University's institutional review boards.
Professor Shepherd's current scholarly and teaching interests are focused on legal and ethical issues at the end of life, human subjects research, organ procurement, reproduction, disability, professionalism, and normative bioethics generally.  She is the co-author of Bioethics and the Law (Wolters Kluwer), now in its third edition (2013) and the author of If That Ever Happens to Me:  Making Life and Death Decisions After Terri Schiavo (UNC Press, 2008).  She regularly publishes in law reviews, medical journals, and bioethics journals.
After receiving her law degree from Yale University, where she served as a senior editor of the Yale Law Journal, Shepherd practiced corporate law for six years with the Charlotte, N.C., firm of Robinson, Bradshaw & Hinson, P.A. She began her academic career in 1993 at the Florida State University College of Law. Prior to joining the UVA faculty, Shepherd was the Florida Bar Health Law Section Professor and D'Alemberte Professor of Law at Florida State.
Recent Publications
Monfared, L., Shepherd, L. "Organ Procurement Now:  Does the U.S. Still Opt In?"  forthcoming University of Illinois Law Review.
Shepherd, L. "Informed Consent for Comparative Effectiveness Research Should Include Risks of Standard Care," forthcoming Journal of Law, Medicine & Ethics.
Shepherd, L. "SUPPORT and Comparative Effectiveness Trials: What's at Stake?" Hastings Center Report, 2015, 45 (1): 44-45.
Shepherd, L., Mohrmann, M. "Welcome, Healing, and Ethics," 50 Wake Forest Law Review 259 (2015).
Trifiletti, D.M., Showalter, T.N., Shepherd, L. "What is reasonably foreseeable? Lessons learned from the SUPPORT trial," International Journal of Radiation Oncology, Biology, Physics 2015; 92(4): 718-20.
Shepherd, L. "The Hair Stylist, the Corn Merchant, and the Doctor:  Ambiguously Altruistic," Journal of Law, Medicine & Ethics, 2014; 42(4): 509-517. http://onlinelibrary.wiley.com/doi/10.1111/jlme.12172/abstract
Shepherd, L. "The End of End-Life Law," 92 North Carolina Law Review 1693 (June 2014).
Macklin R., Shepherd L. "Informed Consent and Standard of Care: What Must Be Disclosed," American Journal of Bioethics, 2013; 13(12): 9-13 (target article).
Macklin R., Shepherd L., Dreger A, et al., "OHRP and SUPPORT—Another View," New England Journal of Medicine, 2013; 369:3 July 11, 2013DOI: 10.1056/NEJMc1308015 (with total of 45 signatories). http://www.nejm.org/doi/full/10.1056/NEJMc1308015
Shepherd L. The SUPPORT Study and the Standard of Care, Bioethics Forum (Hastings Center Report), May 17, 2013, http://www.thehastingscenter.org/Bioethicsforum/Post.aspx?id=6358&blogid=140.
E-Mail: lls4b@virginia.edu