Justin Mutter
Justin Mutter, MD, MSc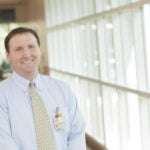 Assistant Professor of Geriatric Medicine
Faculty, Center for Health Humanities and Ethics
Division of General, Geriatric, Hospital & Palliative Medicine, Department of Medicine
Justin Mutter joined the Center in 2017 as primary faculty for the Programs in Humanities. He pursued his undergraduate studies at the University of Virginia in English Literature and Religious Studies, and has a background in global public health, having served as a community health worker in central Haiti for Partners in Health (PIH) for two years. Justin holds a Master of Studies in the Study of Religions and a Master of Sciences in the History of Science, Medicine, and Technology from the University of Oxford, where he was a Rhodes Scholar. He subsequently completed his medical education at the UVA School of Medicine, and his residency training in Family Medicine at the Mountain Area Health Education Center (MAHEC) in Asheville, North Carolina. He then returned to UVA for his fellowship training in geriatric medicine.
In addition to his work as Center faculty at UVA, Justin serves as a primary care geriatrician, as clinical faculty of the Memory and Aging Care Clinic in the Department of Neurology, and as the medical director for Continuum Home Health Care. He is also a faculty fellow of the Institute for Advanced Studies in Culture in the College of Arts and Sciences and core faculty for UVA's Generalist Scholars Program. He is an active contributor to undergraduate and graduate medical education in the School of Medicine.
Research Interests
History of aging in America; home-based medical care and function-based therapies in the home for older adults living with dementia; primary care health policy, especially relating to quality measurement; political economy studies of modern health, disease, and illness; philosophy of medicine and clinical judgment; polypharmacy in older adults.
Selected Recent Publications
Mutter J. New Strangers at the Bedside: A Genealogy of Quality Management in U.S. Health Care. Forthcoming from Social Research.
Mutter J. Neglected in the House of Medicine: Toward a Healthy Political Economy of Aging in America. The Hedgehog Review (2018);20(3): 46-56.
Mutter J, Liaw W, Moore M, Etz R, Howe A, Bazemore A. Core Principles to Improve Primary Care Quality Management. J Am Board Fam Med (2018); 31(6):931-40.