Grace Garcia, MD
Education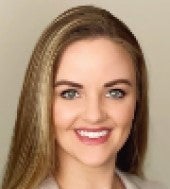 University of Kansas School of Medicine, MD, 2022
Wichita State University, BA, 2016
General Studies of Chemistry
Email: KVP2XE@uvahealth.org
Research Experience
2021-22 Clinical Anatomy Mentoring Program (CAMP), Kansas City, KS
Student Researcher, German Berbel, DO
Created and revised the neurosurgery assessment for third year medical students to take pre/post CAMP participation. Co-developed and taught the new neurosurgery curriculum.
University of Kansas
2021-22 Department of Neurosurgery
Student Researcher, Kushal Shah, MD & Megan Jack, MD, PhD
Clinical research expanding current Diffusion Tensor Imaging (DTI) applications by using commercially available cranial fiber tracking
software to generate neurographic images for pre-operative planning of peripheral nerve tumor resections.
2019-22 Department of Rehabilitation Medicine
Student Researcher, Randolph Nudo, PhD & Scott Barbay, PhD
Basic science research exploring novel treatments for traumatic brain injuries (TBI) following damage to the dominant caudal forelimb
area of the primary motor cortex in Long Evans rats.
2019-22 Department of History and Philosophy of Medicine
Clendening Fellow, Christopher Crenner, MD, PhD
Analyzed emergency physician experiences with Electronic Health Records in the United States and Norway.
2018-22 Department of Otolaryngology
Student Researcher, Jennifer Vilwock, MD
Clinical research validating the Affordable Rapid Olfaction Measurement Array (AROMA).