Residency Life
Diversity.   We value and appreciate everyone in our residency and at UVA and believe that our greatest strength comes from our diversity.  As written in UVA's Office for Diversity, Equity, and Inclusion, "diversity stands with ethics, integrity, and academic excellence, as a cornerstone of University culture.  A University of Virginia community rich in diversity affords every member equal respect and provides a forum for understanding our differences as well as our commonalities."  We have the ability to make meaningful and impactful change by recognizing each other's perspectives and creating dialogue.
Resident applicants undergo a holistic review to ensure that everyone interested in our training program receives appropriate consideration. This has led to significant improvement in our ability to recruit a resident cadre which remains one of the most diverse both within UVA and the field of neurosurgery.  We are very supportive of, and supported by, the mission, policies, efforts and resources of Graduate Medical Education office.  Find more here:  Diversity & Inclusion – Graduate Medical Education (virginia.edu)
Didactic:  The Department of Neurosurgery has a robust didactic educational program which includes two hours of instruction on Wednesday mornings and an hour on Thursday afternoons. Sessions include multidisciplinary Tumor Boards, Neuropathology and Neuroradiology combined conferences, "neuro school" in preparation for written boards, Grand Rounds (with Visiting Professors), mock Oral Board preparation, faculty subspecialty lectures, and Journal Club. Additionally, wee have regular joint educational sessions/difficult case conferences with the neurosurgery residency program at VCU. We have monthly hands-on cadaver courses in our Microsurgical Anatomy Lab, which has a dozen stations each equipped with high speed drills, operating microscopes, and microsurgical instruments.  We believe these offerings and shoulder-to-shoulder teaching allows us to give residents early responsibility for significant portions of surgeries.  We closely monitor ACGME benchmarks for index cases by subspecialty category, and make sure that our residents exceed those benchmarks.
Other departments and the Graduate Medical Education office present regular lectures and other offerings, including these listings:
UVA RSS/Grand Rounds – Continuing Medical Education (virginia.edu)
Core Lectures – Graduate Medical Education (virginia.edu)
Feedback:  To provide residents greater voice and opportunity for feedback we have regular  class meetings with the program director, bi-annual performance reviews with individual residentswith 360 degree performance evaluations. We hold monthly Program Evaluation Committee meetings with representation from each resident class, the Chair, and the Program Director.
Wellness:  The well-being of our residents is an integral part of our program. Our resident's work hours are carefully monitored for any potential issues. Our rotations and work schedules have been carefully structured to ensure that our resident's do not exceed their work hour restrictions. We have also been successful in maintaining our high educational standards. Our residents and faculty enjoy numerous extracurricular activities throughout the calendar year which helps to maintain our program culture. Some of the highlights of these activities include our participation in the Neurosurgery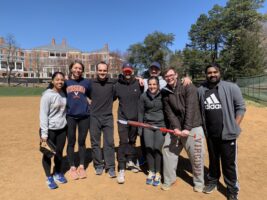 Charity Softball Tournament in New York City and our annual John Jane, Sr. Memorial Round the Rivanna Hiking Challenge (a 20+mile team hike around Charlottesville on the Rivanna Trail).
Beyond our department, The Faculty and Employee Assistance Program (FEAP) assists all UVA employees and their family members in identifying and resolving personal concerns, including health, marital, family, financial, alcohol, drug, legal, emotional, stress, or other personal issues that may affect the employee's performance.  Find more information here:  Resident Well-Being – Graduate Medical Education (virginia.edu)
Academics:  Expectations include a continually expanding fund of knowledge regarding neurosurgery and the neurosciences, design and completion of clinical/laboratory investigation,, and publication and presentation of the results.  There are two elective years that are largely protected from clinical responsibilities, and residents are encouraged and helped by mentors to design exciting, individualized programs.  Residents are continually mentored by faculty in pursuing their research endeavors. Residents are encouraged to participate in educational activities in our national meetings and enter leadership positions.  The department remains generous in the support of residents through surgical equipment, books, travel, and research.  Our residents frequently publish articles in peer-reviewed journals, present at scientific meetings, and achieve funding/awards for academic projects.  With residents and attendings collaborating on upwards of 200 publications per year, we have been ranked in the top 5 in Research Output by Doximity in each of the first several years of its national rankings.
Career Development:  Our graduates have been highly successful in obtaining some of the most competitive post-graduate fellowship programs and we continue to place our graduates in highly prestigious academic programs to continue their careers. They have gone on to become neurosurgery residency program directors, presidents of national societies, chairs of academic departments, and academic and scientific leaders in the field. Many have been successful in obtaining significant extramural research funding to further their scientific inquiries.
Professionalism:  Expectations for professional behavior are first outlined in our resident handbook, which includes a department well-being policy, and includes the GME office's Grievance policy. Faculty set an example for the residents and help to establish the professional atmosphere which is expected in the modern healthcare setting. Professionalism remains an important competency evaluated during formal evaluations of both the residents and faculty.   Our department leadership delivers a yearly professionalism lecture to faculty and residents.
Our department's Resident Handbook outlines important policies in these areas:
Resident Supervision
Addressing Performance Issues
Duty Hours
Fatigue & Stress
Visit the GME office pages for more info on benefits, Charlottesville, policies and other resources: