Residency Training Program – Duties by Year
The program includes 42 months of clinical neurosurgery at the University of Virginia (including 6 months during the PGY-1 year, 24 months during the PGY-2 and 3, and 12 months as Chief Resident). Either one or two years are devoted to Clinical or Basic Science research and one elective year is spent abroad.  Residents in the joint NIH-UVA Neurosurgical Residency Program will spend 3.5 years on the clinical service at UVA, and 3.5 years at NIH Clinical Center in Bethesda, MD.
PGY-1
PGY- 1 Rotations: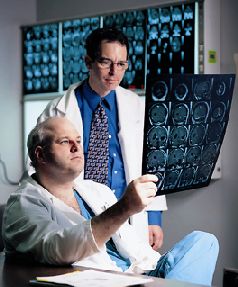 Neurosurgery (6 months), Neuro Intensive Care Unit (3 months), Surgical Intensive Care Unit (1 month), Interventional Neuroradiology (1 month), Neuro-ophthalmology (1 month)
Among our core principles is early operative experience. In the first year of training, residents do not simply cover the ward. Instead, 4 of your 6 months on the neurosurgery service are spent as the resident on the Functional/Epilepsy service with Jeff Elias. You are the primary caregiver of the patients on his inpatient service, attend his clinic, and work one-on-one with him during his operative cases. By the end of this year, our PGY-1 residents have generally completed their critical care procedure minimums and have performed a significant number of operative procedures. For example, in the 2013-2014 academic year, our PGY-1 residents performed and average of 252 total cases divided between 136 minor/critical care procedures and 116 major operative cases. This early operative experience provides a jump start to the PGY-2 year and allows our residents to take advantage of the operative experience from the beginning.
PGY-2 & 3
During these years, residents take in-house call and rotate on the major subspecialties of neurosurgery (except Functional/Epilepsy which is completed during the PGY-1 year). The frequency of call and number of rotations depends on the compliment of residents which can vary depending on whether there is an NIH resident rotating. Residents attend 5 outpatient clinics in Pediatric Neurosurgery, Vascular, Neuro-oncology, Pituitary and Spine. The majority of time is devoted to gaining surgical skills.
PGY-2 Rotations:
Tumor 1 (Mark Shaffrey), Spine 1 (Justin Smith and Dennis Vollmer), General/Trauma (Gregory Helm), Radiosurgery (Jason Sheehan)
PGY 3 Rotations: Tumor 2 (Ashok Asthagiri, John Jane Jr), Vascular (Min Park and Yashar Kalani), Spine 2 (Christoper Shaffrey), Pediatric Neurosurgery (John Jane Jr)
PGY-4 & 5
These postgraduate years are devoted to focused research or clinical subspecialty education. Research is strongly encouraged during this time but residents who have a particular interest in further subspecialty training may use this time in these pursuits. Given the 2013 requirements for 54 months of clinical neurosurgical education, those who are conducting research spend the first 6 months of the PGY-4 year as senior residents on the Radiosurgery service. This provides the necessary clinical experience while simultaneously allowing residents to transition into their basic science or clinical research projects.
PGY-6
This year is spent in New Zealand and provides a significant increase in the volume of intracranial cases performed in preparation for the final year at UVA. From our analysis, the intracranial case volumes are superior to most chief resident experiences in the United States. The attending physicians (Consultants) are highly skilled and extremely good teachers. In addition to the excellent operative experience, the residents benefit from seeing a universal healthcare system at work. The quality of life is very good and residents find that this is one of the major highlights of our training program. The Department provides travel reimbursement.
PGY-7
The final year of residency is the chief year. Given the significant operative experience prior to the final year, our chief residents are able to transition to independent practice during this year. The chief residents do not take in-house call but oversee the clinical service. Chief residents operate daily and benefit from our diverse clinical volume.