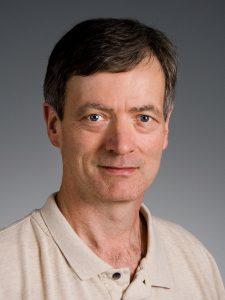 Robert C. Klesges, Ph.D. is a Professor (with Endowment) of Public Health Sciences, and Co-Director of the Center for Addiction and Prevention Research (CAPR). After receiving his Ph.D. at the University of Wyoming and completing his internship at the University of Southern California School of Medicine, he has been in academic research settings for his entire career. He has been continuously funded from NIH since 1983 and currently serves either as the Principal Investigator or Co-Principal Investigator of five NIH grants. Over his career, his grant portfolio has exceeded a total of 50 million dollars and he has over 300 peer-reviewed publications. He is a seven time contributor to the Surgeon General's Report on the Health Consequences of Smoking and was a contributor to the Institute of Medicine report on Smoking and Tobacco Use in the Military and VA populations. He has served on multiple NIH study sections and has Chaired several study sections, the most recent serving as the Chair of the Community Level Health Promotion (CLHP) study section at NIH.
The current work in the Charlottesville campus includes work with cancer survivors, projects interested in deterring the excessive binge drinking on college campuses, and addressing the opiate addiction epidemic. While Dr. Klesges's primary emphasis is on research, he also focuses on collaborating with and mentoring junior faculty at UVA and other academic institutions throughout the United States. Between the military and civilian projects, Dr. Klesges and CAPR faculty are looking to reduce the burden of addictions primarily in the United States Air Force and in the state of Virginia.
Selected Reports:
Klesges, R. C., Talcott, G. W., Oh, J., Colvin, L. W. (2014, Contributors). Tobacco Use in the Military: Changes in the Smoking-and-Health Environment: 1964 to 2014, A Report of the Surgeon General. Atlanta, GA, Centers for Disease Control.
Bondurant S, Wedge R. (eds), Klesges RC (2009, Contributor). Combating Tobacco in Military and Veteran Populations. Institute of Medicine, Washington, DC, National Academies Press.
Selected Publications:
Talcott, G. W., Ebbert, J. O., Klesges, R. C., Linde, B. D., Krukowski, R., Seals, R., & Martin Zona, D. (2015). Tobacco research in the military: Reflections from 20 years of research in the United States Air Force. Military Medicine, Aug;180(8): 848-850.
Little MA, Talcott GW, Bursac Z, Linde BD, Pagano LA, Messler EC, Ebbert JO, Klesges RC. Efficacy of a brief tobacco intervention for tobacco and nicotine containing product use in the US Air Force. Nicotine Tob Res, 2016 May;18(5):1142-9 doi: 10.1093/ntr/ntv242.Epub 2015 Oct 27.
Cigrang, J., Talcott, G. W., Tatum, J., Baker, M., Cassidy, D., Sonnek, S., …& Slep, A. (2014).  Impact of combat deployment on psychological and relationship health: A longitudinal study. Journal of Traumatic Stress, 27, 1-8.
Klesges, R.C., Talcott, W., Ebbert, J. O., Murphy, J. G., McDevitt-Murphy, M., Thomas, F., … & Nicholas, R. A. (2013). Effect of the Alcohol Misconduct Prevention Program (AMPP) in Air Force technical training. Military Medicine, 178(4), 445-451. doi: 10.7205/MILMED-D-12-0040.
Ayesa, A., Kaplan, C.M., Derefinko, K.J., & Klesges, R.C. (2018). Smoking cessation for smokers not ready to quit:  Meta-analysis and Cost-effectiveness Analysis.  American Journal of Preventive Medicine, 55,253-263.