Debamita Kundu, Ph.D., joined the UVA faculty as an Assistant Professor in the Division of Biostatistics, in the Department of Public Health Sciences in June 2022. Dr. Kundu received her doctoral degree in Biostatistics from the University of Louisville in August 2019. Prior to UVA, she was a Postdoctoral Fellow at the Biostatistics Branch at National Cancer Institute.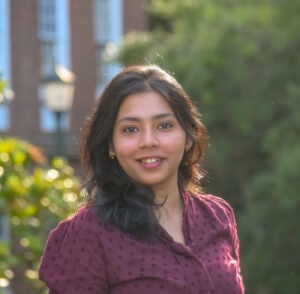 Her primary research areas focus on Bayesian shrinkage-based variable selection for multi-outcome data, simultaneous covariance estimation using Bayesian factor models, and the analysis of high-dimensional chemical mixture models. In addition, she is interested in applying her methodological research in cancer epidemiology and environmental health sciences.
Assistant Professor
Division of Biostatistics, Department of Public Health Sciences
Ph.D., Biostatistics, University of Louisville
P.O. Box 800717
Charlottesville, VA 22908-0717
Tel: 1-434-924-8586
Email: debamita.kundu@virginia.edu
Expertise:
Bayesian variable selection
Simultaneous covariance estimation
High-dimensional interaction
Chemical mixture model
Research Interests:
Environmental Health
Cancer Epidemiology
Recent Publications:
Kundu, D., Mitra, R., Gaskins, JT., 2020 Bayesian variable selection for multi-outcome models through shared shrinkage. Scandinavian journal of statistics, theory, and applications;48:295–320. DOI: 10.1111/sjos.12455
Choo-Wosoba, H., Kundu, D., Albert, PS., 2021 An imputation approach for fitting two-part mixed effects models for longitudinal semi-continuous data. Statistical Methods in Medical Research.; 29(11):3351-3361. DOI: 10.1177/0962280220927720.
Links to More Information: