General Surgery Division
About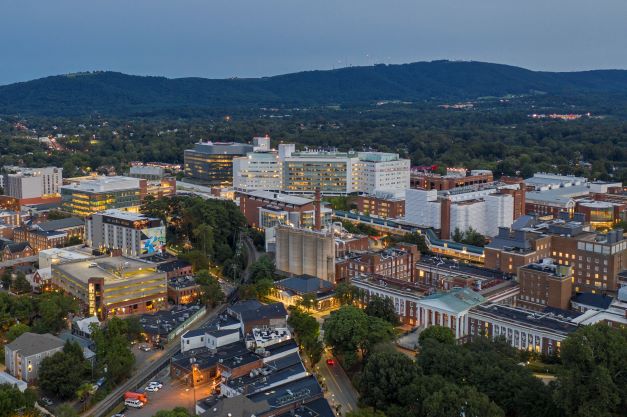 The Division of General Surgery at the University of Virginia includes full time attending surgeons with training representing the entire spectrum of general surgical experience. Our division is comprised of three sections: Colorectal Surgery, Bariatric & Minimally Invasive Surgery, and Acute Care & Trauma Surgery.  All faculty members have vigorous clinical practices in their areas of expertise. UVA Health has continued to expand its operating capacity and now has 32 major operating rooms. Ambulatory surgery is performed in twelve operating rooms in the free-standing Outpatient Surgery Center. All surgeons are diplomates of the American Board of Surgery or are Board eligible. All have full-time appointments to the University of Virginia, with adjunct teaching appointments to the Salem Veterans Administration Hospital in Salem, Virginia.
The Division of General Surgery at the University of Virginia is committed to providing high quality quaternary clinical care, training the next generation of academic surgeons, and conducting cutting edge research.  Several of our faculty have served in local and national leadership positions, serving as presidents of major surgical societies and on important national boards such as the American Board of Surgery, the Board of Governors of the American College of Surgeons, and the Surgery Review Committee for the Accreditation Council for Graduate Medical Education.  Among the busiest in the department in terms of numbers of patients seen and operative procedures performed, this division has been the foundation of the Department of Surgery since its inception.
Clinical Mission
Members of the division are consistent high performers in the clinical arena when measured by objective criteria such as numbers of operative procedures, numbers of RVUs per specialty, patient satisfaction scores, national quality review databases, and other measures of clinical outcomes. Many of our faculty have earned regional and national recognition for clinical excellence by being named to "Best Doctors" lists and institutional awards for clinical excellence. All clinical faculty exhibit expertise in minimally invasive surgery including robotics, laparoscopy, and advanced endoscopic procedures.
Research Mission
Each member of the department has an active research portfolio in clinical outcomes research.  We have numerous active investigator initiated, industry-sponsored, and cooperative group clinical trials in various aspects of GI Surgery.  In the last five years alone, over 500 GI surgery patients from within our division have been enrolled into a clinical trial.  Accomplishments in research and investigation have been recognized, receiving NIH grant support, other peer-reviewed grant support and by hundreds of instances where others request their expertise to speak at national and international symposiums on a wide range of topics including:
Prevention, diagnosis, and treatment of surgical site infection

Enhanced recovery protocols

Use of prehabilitation and wearable technology to improve surgical outcomes
Bariatric and Colorectal Cancer outcomes
Opioid reduction and mitigation strategies
Impact of surgery on patient reported outcomes
Impact of health disparities on surgical referrals and outcomes
Clinical prediction models for outcomes in trauma
Educational Mission
The quality of teaching by the members of the General Surgery Division is unparalleled. All members of the Division receive outstanding evaluations of their teaching efforts by residents and medical students. Training the next generation of academic surgeons is at the very heart of the General Surgery division.
Traci Hedrick, MD
Chief, General Surgery Division
Colorectal Surgery Section
Bariatric & Minimally Invasive Surgery
Acute Care/Trauma Section

Clinical Programs
The Division of General Surgery offers comprehensive care for all diseases of the abdomen and gastrointestinal tract. It also offers expertise in vascular access procedures, along with emergency and traumatic care. Details of some of these programs are given below:
Patients with both benign and malignant diseases of the colon and rectum are treated with the most advanced, evidence-based surgical therapies available. Our colorectal surgeons are all board certified in colorectal surgery and have the experience and expertise to take on even the most challenging problems in this area.
The program provides comprehensive care for patients suffering from surgical diseases of the colon and rectum, including both diagnostic and therapeutic services. Cancer of the colon and rectum, inflammatory bowel diseases, diverticular disease, rectal prolapse, anal sphincter injury, and a wide variety of benign anorectal conditions including hemorrhoids, fissures, and infections are all treated with data driven bests practice treatments. Advanced operative techniques including sphincter-saving procedures, transanal endoscopic microsurgery, robotic surgery, and laparoscopic techniques are all used when indicated. Certified enterostomal therapists are available for inpatient and outpatient needs.
There is a comprehensive multi-discipline group that treats patients with inflammatory bowel disease. Along with collaboration with our colleagues in Gastrointestinal Medicine, treatments for inflammatory bowel diseases ranging from immunotherapy to supportive medical therapy to minimally invasive surgical therapy to maintain and restore as much function of the lower digestive system as possible are all offered as appropriate to patients. Extensive screening programs for patients at higher risk for complications are available. Our goals of care include restoration of symptom-free digestive health and function.
Anorectal problems are often misunderstood and incorrectly diagnosed and treated by non-expert care providers. They are common and often present significant symptoms for patients. They can be the sign of other more concerning problems as well. Advanced techniques in treating anorectal problems with minimization of invasiveness and maximization of correct diagnosis and symptomatic relief are available in our weekly clinics.
Colon and rectal cancers are the second most common form of life-threatening cancer among the entire population. The members of the Colorectal Surgical team provide comprehensive diagnosis and surgical treatment for these forms of cancer. All patients are reviewed by a multi-discipline tumor board, and an optimal course of treatment is recommended. The surgical component of such treatment is provided by our surgeons who use the latest in surgical approaches to provide the highest likelihood of oncologic success while preserving as much functional capacity as possible. The team is supported by outstanding ostomy therapists, nutritional consultants, and the counterpart medical oncologists and radiation therapists to provide optimal tumor treatment. Cancer care is rendered convenient to the patient by providing comprehensive care of all these services in one location at the Emily Couric Cancer center.
For questions about the Colon and Rectal Surgery Service at the University of Virginia, or for patient referrals, please call 434-243-9970.
Obesity is one of the current worldwide most serious and rapidly increasing medical problems. It accounts for the fact that our children may not live as long as we do. Associated medical problems such as hypertension, type 2 diabetes, sleep apnea, degenerative joint disease, increased risk for cardiovascular disease, and increased risk for many forms of cancer all are due to the problem of obesity. Currently nearly 40% of Americans are obese. Diet therapy is generally successful in only 3% of patients with severe obesity (BMI over 40 kg/m2). For such individuals, the options of endoscopic or surgical therapy to address their obesity are provided by our group of trained bariatric surgeons. This program has been in existence for 34 years, and the experience of its surgeons is unmatched in any other program in the state. A multi-discipline team of nutritionists, nurse practitioners and care coordinators, and supporting bariatric certified medical specialists and psychologists and exercise consultants are available for our patient's comprehensive needs. All procedures include extensive preoperative assessment, counseling and education, and close postoperative follow-up and support for optimal outcomes. We are a Center of Excellence of the American College of Surgeons Metabolic and Bariatric Surgery Accreditation and Quality Improvement Program and an approved program for all the leading insurance plans in the area. Both surgical and endoscopic procedures are now offered as part of our comprehensive program. We have the long-term experience to offer metabolic and bariatric surgery to those patients which other programs feel may be too high risk. Our most common patient observation after surgery is "I wish I had done this sooner."
For questions or referrals to the Metabolic and Bariatric Surgery Service, please call 434-924-2121.
Our team provides full service diagnostic consultation, assessment, and therapeutic procedures to repair all forms of abdominal wall hernias. This includes inguinal hernias, umbilical hernias, diaphragmatic hernias, incisional hernias, parastomal hernias, flank hernias, and other abdominal wall hernias. Operative procedures range from standard suture repair of smaller hernias to large component separation repairs of extensive abdominal wall hernias. Both open, laparoscopic and, at times, robotic approaches are used, depending on which approach offers the optimal treatment for the patient. Recommendation for observation, conservative therapy, or operative repair and approach is based on the latest evidence for optimal outcomes and patient specific conditions. Our group repairs well over 200 hernias annually, with excellent outcomes as benchmarked by national standards. Many procedures are outpatient. Laparoscopic approaches can allow faster recovery and discharge if indicated.
The Division of General Surgery offers comprehensive diagnosis and treatment program for benign diseases of the esophagus and stomach. These include benign esophageal diseases such as gastroesophageal reflux disease (GERD), achalasia, esophageal motility disorders such as achalasia, and diaphragmatic and hiatal hernias. Disorders of the stomach such as ulcers, emptying disorders, and benign and malignant tumors are also evaluated and treated with state-of-the-art procedures. Full diagnostic and therapeutic services are provided. Most of these diseases are treated with a combination of medical and surgical therapy, and multidiscipline teams are used when indicated. This is especially true for tumors.
The vast majority of surgical procedures are done laparoscopically whenever possible, allowing the most rapid recovery possible. The group also offers placement and care of enteral feeding tubes for nutritional support for patients with disorders that require tube feeding on a temporary or permanent basis.
The division leads trauma care at UVA. We care for all trauma patients except for severe burns. Division members are operational medical directors for regional fire departments and rescue squads and we conduct injury prevention activities throughout our region including Stop the Bleed courses.
The division is also responsible for the performance improvement program that is critical to optimal care of injured patients.
The division provides care for over 400 emergency general surgery patients per year. We see inpatient consults and accept transfers from referring hospitals for urgent and emergent general surgery problems.
The division provides leadership and clinical care for the surgical trauma intensive care unit and the surgical intermediate care unit at UVA.
The STICU provides care for trauma, EGS, transplant, general surgery and surgical subspecialty patients.
The division performs over 800 elective general surgery procedures and 200 robotic procedures yearly.
Robotic procedures include all types of abdominal and inguinal hernia repair, cholecystectomy, Nissen fundoplication and paraesophageal hernia repair.
Faculty see elective general surgery referrals in their outpatient clinics.
General Surgery Education and Training
The General Surgery Program at the University of Virginia is one of the premier training programs for surgical residents in the country. Residents who complete the program have a national reputation for excellence. Over the past two decades, the majority of finishing residents have obtained their first choice of a fellowship location in whichever discipline they have chosen to purse for further training. Such training programs are recognized as being the top tier for their discipline. On the other hand, the Department of Surgery has few fellows in its various programs, thereby providing a rich experience for residents to participate in the performance of very advanced procedures in the various areas of surgical training provided by the program. The residency achieves outstanding results in national benchmarks, such as a 100% pass rate for graduates sitting for the Certifying Examination in General Surgery for the past decade. The faculty of the program are dedicated to the principle that the most outstanding aspect of the Department is in fact the residency training program, and all exert considerable teaching effort to maintain the high quality of training that has developed.
Residents are given appropriate graduated experience in operative surgery. On completion of their training, they are appraised by the peers who work with them as being trained at a highly skilled level. Residents who finish the program usually also undertake two years of career development, usually in clinical or basic research, and often have a score of publications on their curriculum vitae upon completion of the training program. The esprit de corps of the group is outstanding, with less than 5% of starting residents not finishing the program (national rates are about 20%).
The members of the Division of General Surgery have contributed the most energy and efforts to the teaching program on a per faculty basis than any other division in the department.
Acute Care & Trauma Education and Training
Our section offers several courses to advance education. Our Advanced Trauma Life Support class happens 1-2 times per year and we provide several injury prevention classes and activities throughout the region. Section faculty participate in the ASSET courses yearly, hosted by Sentara Norfolk General hospital. General surgery residents from UVA take this course in their senior years. Our injury prevention coordinator Liz Horton organizes Stop the Bleed courses as well as other injury prevention educational activities throughout our region.
We also have free resources like the Clinical Brain Training site and podcast, and a downloadable app. Since 2012, the Clinicalbraintraining.com website and the Clinical Brain Training podcast have received much attention. Created by Jeffrey Young, MD, these provide educational information for EMS, nursing, residents, medical students, and attending physicians working in critical care and trauma. The website has been visited over 590,000 times and the 128 podcasts have had over 80,000 downloads from all over the world. Additionally, the Acute Care and Trauma Section has an app for iPhone and Android that contains all of our protocols, guidelines, and clinical pearls is available free of charge in the app store or Google Play. The app is updated regularly to provide the most up-to-date information.
Innovation
Our focus on innovation opens new ways to focus on our primary goal: Giving excellent patient care. With a new form of sleeve gastrectomy, advanced treatment for rectal tumors and our contribution to laparoscopic surgery, we further this goal on the operating table and in our labs each day.
Our Colon and Rectal Surgery Program offers the latest innovations in successfully treating tumors of the rectum with as little loss of continence as possible and with as high a success rate of tumor eradication as possible. For benign tumors of the rectum, Transanal Endoscopic Microsurgery (TEM) allows our surgeons to perform procedures to remove benign rectal tumors through the anus, thereby eliminating painful incisions and allowing rapid recovery. For cancers of the rectum, the surgeons in our program use the most advanced approaches to tumors including multimodal diagnostic and staging procedures, then preoperative chemotherapy and/or radiation therapy if appropriate, which may often shrink the tumor enough to allow a surgical removal and still preserve anal function and avoid a colostomy. Removal of rectal tumors within only 2 inches of the anus or above are successfully treated in this fashion. This offers the patient the combination of the highest likelihood of complete cure of their cancer as well as the highest likelihood of avoiding a permanent colostomy.
The Colon and Rectal Surgery Program, under the guidance of Dr. Traci Hedrick, along with cooperation and coordination with representatives from the Department of Anesthesiology, initiated a program to promote early recovery after surgery for their patients. This was successfully introduced several years ago, and involves less use of opiate narcotics postoperatively with alternative pain medications used instead, more local anesthetics given in wounds, as well as less fluids given during surgery, more rapid oral intake of fluids after surgery as well as some before, more rapid ambulation after surgery, and overall protocols to stimulate faster recovery after surgery. The results of the program were remarkable, with decreases in duration of hospitalization to one half of previous stay duration, decreases in wound complications, respiratory complications, overall complications, and a major increase in patient satisfaction. The program was so successful it was quickly adapted by most of the other surgical programs in the institution, with also good results. Dr. Hedrick has become an international authority on the topic, and is President Elect of the American Society of Enhanced Recovery.
Endoscopic sleeve gastroplasty (ESG) is an endoscopic procedure that reproduces the same changes to the stomach that occur during the performance of the operative procedure sleeve gastrectomy. Sleeve gastrectomy has become the most popular metabolic operation in the world, producing weight loss of 60% of excess weight or 25-30% of total body weight loss and improvement of associated medical diseases such as diabetes, hypertension, sleep apnea and others. Longevity is improved through lower chances of cardiovascular events and many types of cancer. Quality of life is vastly improved. For patients who do not wish to undergo a surgical procedure, the ESG offers an endoscopic alternative. This procedure has produced an average of 18% total body weight loss, but most patients who have had it have not been as severely obese, so the amount of weight lost is not as much since normal weight is more easily achieved. The reported weight loss at five years has remained as good as at one year, so the procedure appears durable. UVA began its experience in 2019, and have had good results to date. The procedure is done endoscopically as an outpatient. Peroperative assessment, counseling, and postoperative follow-up are all part of the program. A multidiscipline team is involved including RDs, MDs, and RNs. Currently insurance is not yet covering the procedure, so it is available on a cash pay basis which includes all costs for preoperative and postoperative visits for one year. We believe this procedure will continue to evolve and improve, soon be insurance covered, and likely be a very popular alternative for patients desiring treatment for their obesity-related medical problems in the future. For more information on the program and procedure, please call 434 924-2121.
While laparoscopic surgery is no longer an innovation in surgery, it would not do justice to the fact that when this revolutionary technique of performing abdominal surgery was beginning, it was the University of Virginia Department of Surgery that was one of the leading academic medical centers embracing and promoting the technology. The first laparoscopic gallbladder surgery in the U.S. was done in 1989, and by February 1990 surgeons at the University of Virginia, led by Dr. Schirmer, adopted laparoscopic surgery for performing this then radically different way of performing access for abdominal operations. The institution then dedicated much time to teaching surgeons in the state the techniques of laparoscopic surgery for the next several years, while simultaneously using laparoscopic approaches to performing hernia surgery, appendectomy, bowel surgery, gastric surgery, antireflux surgery, adrenalectomy, and splenectomy all within the next five years. Bariatric surgery followed in 1999 and certain pancreas and liver procedures after that. This track record as a leading department in the field of minimally invasive surgery is worthy of mention. Members of the Department of Surgery continue to adopt new techniques in performing operative procedures that can produce a more rapid and secure recovery for our patients.
Research
Scholarly academic activity is one of the major goals of our Division. Despite being very active clinically and devoting considerable efforts to the teaching mission of the Department, the members of the Division of General Surgery also annually contribute publications to the surgical literature on a variety of clinical research topics. These include outcomes from clinical practices of colorectal surgery, metabolic and bariatric surgery, surgical education and training, surgical infections and dialysis access. Extramural funding from NIH sources in the past, and currently from other granting agencies and industry has been obtained by our faculty to support such research efforts.
The Early Recovery After Surgery (ERAS) program has resulted in significant changes in the perioperative management of patient analgesia, fluids, oral intake, ambulation, and narcotic use that it has generated a significant body of clinical outcomes and research. Further improvements in these areas are constantly being sought by new trials. There is active participation and leadership among our faculty in these efforts on a regional and national basis, particularly Dr. Hedrick
The 35 year experience of this program has been accompanied by the recording of outcomes for the many thousands of procedures done during this time period. Long-term results as well as the effect of these operative procedures on the subsequent development of various medical conditions including cardiovascular disease, breast cancer, osteoporosis and bone disease, have all been investigated and reported. The various successes and failures of different operative techniques, so important to their continued use or abandonment in favor of more superior procedures, have also been a major component of such outcomes research and reporting over the years.
A number of the members of the Division of General Surgery have contributed to the literature on surgical infections and their treatment. All members of the Colon and Rectal Surgery Program have been active in this area of research, as has Dr. Hallowell. This major complication after surgery continues to merit the focus and attention given to reducing its deleterious effect on patient recovery after surgery.
We currently have an ongoing prospective clinical trial evaluating the use of wearables combined with an innovative mobile application to investigate the effects of an exercise regimen prior to major abdominal surgery.  Faculty within the Division of General Surgery collaborate with other researchers throughout the Department in this increasingly innovative area of study.
Charitable Giving
Our research and clinical work continues to grow thanks to donations from generous individuals. To support the General Surgery Division, fill out the "Other" donation box. Then check the box "My Gift Has Special Instructions" and type "General Surgery Division."