General Surgery Residency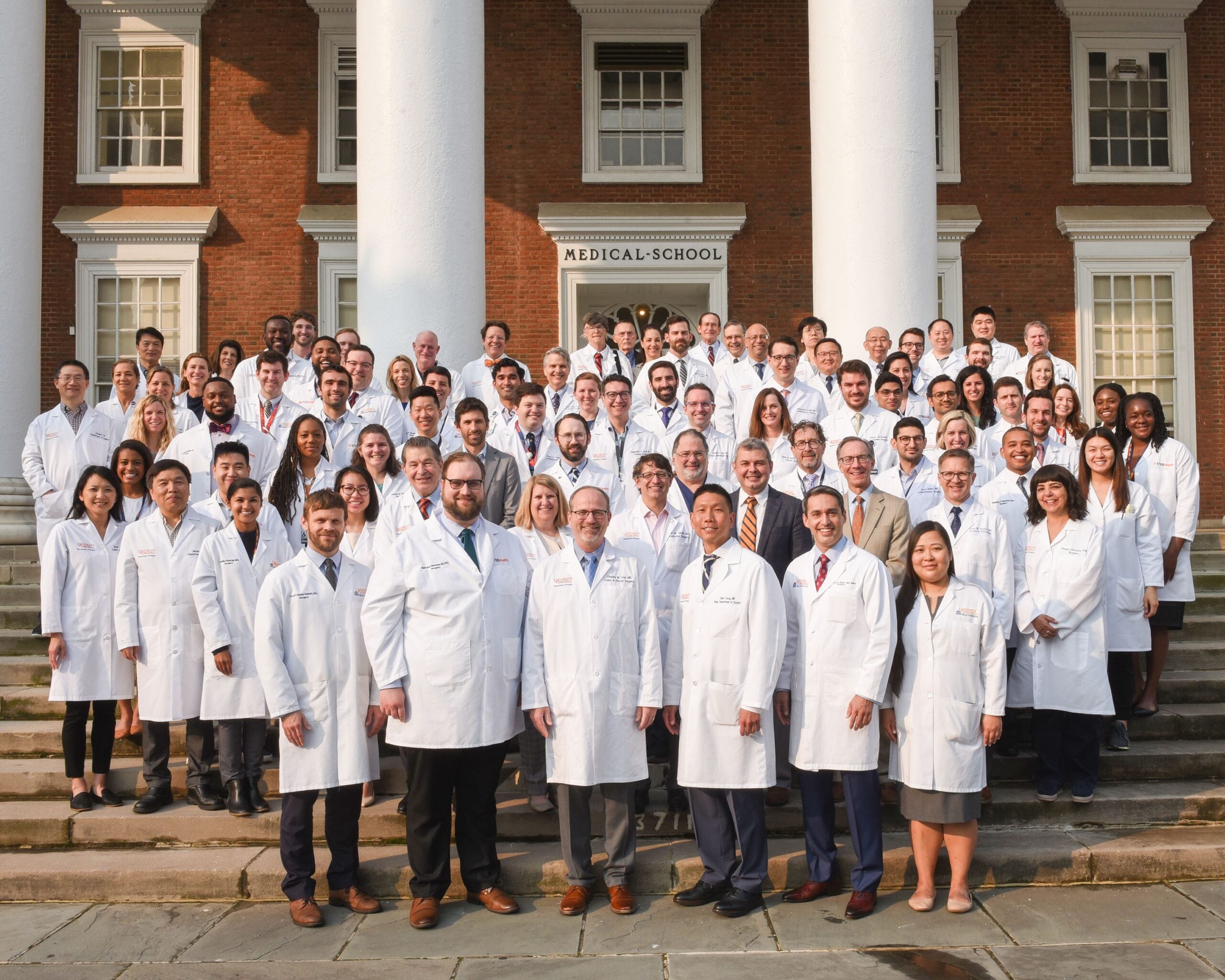 Overview
General Surgery Program
The General Surgery Residency at the University of Virginia (UVA) offers a five-year program filled with rigorous clinical experience, protected research time, structured curriculum and individual attention from faculty.
Patient Care
As a resident, you will learn pre- and post-operative patient care with a focus on critical care, develop surgical technical skills and, most importantly, acquire pre-, intra-, and post-operative decision-making skills.
Teaching Excellence
Within the program, we have cultivated a a culture and an expectation that our residents seek opportunities to educate others. This is modeled by our faculty, who have won a disproportionate percentage of the teaching awards available at UVA.
Dear General Surgery Applicant,
Welcome to the University of Virginia General Surgery Residency Program!
This is an exciting time as you begin your surgical careers and concurrently journey to find a place to train. I am delighted with your interest in UVA's excellent Surgery training opportunities.
Superior Clinical Training and Top-Notch Scholarship
UVA Surgery has a long and distinguished national reputation as a premier academic surgical training program. Superior clinical training coupled with top-notch scholarship defines our academic tradition. We train the surgical leaders of the future and consequently  provide our residents with the background to pursue this mission.
What Residents Do
Our residents participate in all aspects of the surgical academic mission and are critical to our continued success, including research, teaching and, also clinical surgery. Special features of our program include a uniformly high quantitative operative experience, faculty national expertise, outstanding training case volume in all defined areas of general surgery, performance of operations by residents, emphasis on resident empowerment, and an enthusiastic esprit de corps by the residents. In addition our residents are extraordinarily successful academically and will finish the program with multiple peer-reviewed manuscripts and several national presentations. Because of this production our residents are highly competitive for all surgical fellowships and will frequently match at the most prestigious fellowships in the country.
UVA Surgery Faculty
The UVA Department of Surgery faculty, led by our current Chair, Reid Adams, M.D., epitomize academic surgical leadership. Two of our previous Chairs have been Presidents of the American College of Surgeons (William Muller, MD and R. Scott Jones, MD). Many of our faculty have been Presidents of the leading surgical societies in their disciplines, including Dr. Adams (Americas Hepato-Pancreato- Biliary Association, Southeast Surgical Congress) Bruce Schirmer, MD (SAGES, AHPBA, Society of Clinical Surgery, and The Fellowship Council) and Todd Bauer, MD (Sociey of Clinical Surgery). UVA had a faculty member sit as one of the Directors of the American Board of Surgery for over three decades. More recently Dr. Schirmer has also joined the surgery residency review committee (RRC).
Awards
Our residents are routinely recognized for their talents both locally and nationally and have won numerous national awards, including the Association of Women's Surgery Outstanding Resident (Traci Hedrick, MD, Robin Petroze, MD and Allison Martin, MD), the American College of Surgeons Outstanding Resident Award (Ramesh Singh, MD), The Association of Surgical Education Outstanding Resident Teacher Award (Alex Michaels, MD) and the American College of Surgeons Jameson L. Chassin Award for Professionalism (Bernadette Goudreau, MD). Medical education is critical to our success and our residents receive teaching awards from our medical school and medical students every year.
Diversity
Recognizing that diversity breeds excellence, we are committed to creating a diverse and inclusive department and seek residents that will enhance this culture. Our departmental diversity committee, led by Vice Chair Anneke Schroen, MD, focuses on achieving both short term and long term goals for the institution, the department and the community. The Housestaff Council on Diversity and Inclusion (HCDI) is an institutional organization whose founding officers were both surgical residents (Allison Martin, MD and Markie Fleming, MD). More recently Dr. Fleming received a 2021 Dr. Martin Luther King University of Virginia Health System Award, becoming the first resident to receive this prestigious honor. Our holistic review of medical school applicants puts a premium on ensuring our residency reflects the diverse community we live in.
Benefits of Charlottesville
While surgical training is your primary goal this will not be successful if you do not pick an environment that promotes a healthy life style. Charlottesville is a wonderful place to live with easy access to cultural activities, sporting events, restaurants and of course the Blue Ridge mountains. It is routinely ranked as one of the top places to live and I am sure you will agree. Where else can you finish your work day, go to a Bruce Springsteen concert and be home in bed by 11 pm!!!
At UVA, we are dedicated to continuing our pursuit of excellence in clinical surgery, teaching, and surgical research and doing so in a diverse, equitable and collegial environment. We are looking for individuals who are passionate about their future careers. Our departmental commitment is to help you achieve your goals. Empowerment and resident autonomy are as prevalent in our program as any in the country. We hope that you will consider applying to our program and joining us as we continue to build on our rich tradition.
Applicants
Please visit our applicant websites for detailed information about our program. Should you have any additional inquires, feel free contact our General Surgery Residency Program Coordinator, Kristen Dudley by telephone at (434) 924-9307 or by email kdd3k@virginia.edu . Thank you for your interest and consideration, and best of luck to you all in your future surgical careers.
Sincerely,
Charles Friel, MD
Residency Program Director
UVA General Surgery Residency
2022 GME Recruitment Video
2021 GME Recruitment Video
Housestaff Council for Diversity and Inclusion
Resident Resources
Virtual Information Sessions
Hear about education, Charlottesville, and diversity at UVA.
Application Info
Applications to our program are accepted through Electronic Residency Application Service (ERAS AAMC).