Vascular Surgery Fellowship
Overview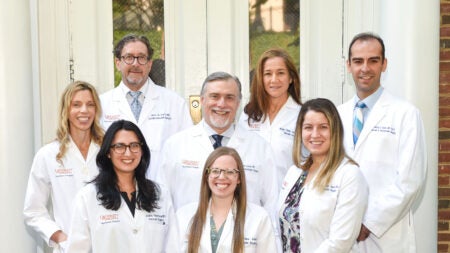 The Vascular Surgery Fellowship program was established in 1997 by Dr. Irving L. Kron and is recognized as one of the top clinical residency programs in the country. Our current vascular surgery program director is Dr. Megan Tracci. The Vascular Surgery Fellowship Program is two continuous years of clinical training in adult vascular and endovascular surgery. All of the vascular surgery training is based at the University of Virginia Medical Center. At the completion of clinical training, residents are eligible for certification by the American Board of Surgery with specialty in Vascular Surgery.
The program spans the continuum of care from pre operative assessment, plan and execution of operations, critical care management, post operative recovery, and post surgical follow up evaluation. Fellows are exposed to a variety of surgical and endovascular surgical treatments from standard surgical to new and innovative technologies.
The primary focus of our program is to produce vascular surgery surgeons that are competitive for both academic and private practice positions at the completion of their training. As a tertiary medical center, the vascular surgery service receives a high volume of diverse and complex cases which provides an excellent clinical experience for the residents. The emphasis of the program is to develop vascular surgeons who have superior technical skills and strong clinical judgment. The depth and variety of clinical volume precludes any time for basic science research, though clinical projects, papers, and presentations, alongside applications for RPVI exam, are strongly encouraged and supported.
We offer two RRC-approved positions a year in the vascular surgery program. The case variety and clinical experience at the university is varied and robust. All residents will be exposed to and will perform, with appropriate supervision, open vascular cases (carotid endarterectomy, aortic aneurysms, mesenteric and renal, peripheral arterial, venous, and endovascular aortic and peripheral procedures).
Current Fellows
Amos Zimmermann, MD
Erin Buchanan, MD
Application Info
We participate in the vascular surgical match coordinated through the NRMP. We alternate between one and two positions annually and accept applications via the ERAS system.