Olivia Sears, MD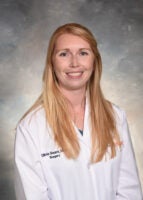 Surgery Resident
Medical School: University of Massachusetts
I have lived my entire life in the northeast before coming to UVA for residency. I'm from the south shore of Massachusetts and went to undergrad at Northeastern University where I majored in marine biology and neuroscience. Upon graduation, I went to work at a biotech company in Cambridge to study immunology and conduct clinical trial research. I then went to UMass Medical School with the initial intent to become a medical oncologist and fell in love with general surgery.
It was suggested to me to do an away rotation at UVA and I came down to Charlottesville over my fourth year summer. It quickly became evident that the community and training at UVA is unique. From morning report to evening sign-out, I saw how the residents supported each other through tough days and laughed through the good ones. They were technically advanced, knowledgeable, leaders within the community, and fun to be around. The faculty were focused on coaching the residents to perform better in and outside of the OR, and to develop them as exceptional surgeon scientists. As a student, my team invested a great deal in my own education and exposure to the program. I left at the end of the rotation with a high standard of what to look for throughout the interview season.
Over the course of the next few months, I realized that UVA and Charlottesville would be the best fit for me academically, culturally, and socially. I am thrilled to have started training this past summer alongside my incredible co-interns. They help me be a better person and physician. The faculty has shown me how I will be supported over the next seven years to graduate a skilled surgeon that is prepared to enter a fellowship of my choice. At this point, I am interested in surgical oncology and thoracic but we'll see!
In my free time, I like to grab beers with my co-residents, explore Shenandoah National Park with my two cats – Mochi and Scarlett, travel, and listen to new music. I am looking forward to continuing to explore Cville and to creating meaningful and lasting relationships with my co-residents and mentors.