Emily Rabinovich, MD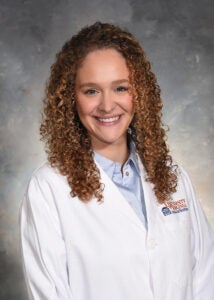 Surgery Resident
Medical School: University of Virginia
Welcome to UVA Surgery!
I was born and raised in Miami, Florida. I attended the University of Miami, majoring in Neuroscience and completing a Master of Science in Clinical and Translational Investigation. During the medical school application process, I fell in love with the culture and academic opportunities here at UVA and attended the University of Virginia for medical school.
The experiences I had as a medical student with the Department of Surgery truly solidified my desire to pursue my training in Surgery here at UVA. The program's excellent training, incredibly collegial and collaborative culture, and mentors, both in faculty and residents alike, provide its residents with a robust and rewarding training experience. The culture of education and academics allows didactics to be woven into our daily workflow, which prepares our residents exceedingly well for taking care of our patient population, as well as board examinations and other evaluations. I am humbled and honored to have joined this incredible group of faculty and residents!
I have loved my time here in Charlottesville – in my spare time, I've truly enjoyed exploring all of the great food, wineries, and hiking with my husband, Carlos, and our puppy, Ollie!