Urology Residency
The Department of Urology has an approved training program for residents. It is a five-year program with two residents being accepted each year, one in the standard track and one in the academic enhancement track (Read more here). The ten residents participate with the full-time faculty in the daily instruction of our medical students. First year residents spend three months in urology and eight in general surgery. Second year urology residents follow the mentorship model and are given responsibility for patient care and they also attend the urology clinic, which meets daily. They assist in the operating room and also perform a variety of endoscopic and other operative procedures. Each year, over 2,000 urologic procedures are performed, encompassing all types of open and endoscopic urologic surgery. Approximately 13,000 outpatients are seen in our department each year. The average inpatient census is approximately 15 with 1,900 new admissions per year. Pediatric urology represents 20 percent of admissions. The residents perform all surgical procedures and receive extensive teaching in ultrasound and urodynamics and other state of the art diagnostic and therapeutic modalities.
Formal didactics include two urology conferences each week, Tumor Board, teaching rounds and x-ray conferences. Basic and clinical research has focused on prostate cancer, metabolism, infection, uropharmacology, and reproductive biology.
Application Information
The Urology Residency Program applicants will be using ERAS on-line. All information including the application can be accessed through the ERAS Web Site (www.aamc.org/eras).  If you require further information, please contact Meghan Rover at University of Virginia, P.O. Box 800422, Charlottesville, VA 22908 – Telephone : (434) 243-7440 or by email at mir9w@virginia.edu.
All Residency Applicants, please see ERAS for all further information with reference to applying.
Interview Dates: Tuesday, December 7th and Friday, December 10th
Approximately 35 applicants will be chosen to be interviewed. We will be choosing two applicants for our Residency Program match for each year.
---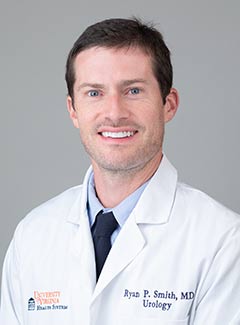 Ryan Smith, MD
Program Director
University of Virginia  
Contact for outside rotation information:
Medical Student Affairs