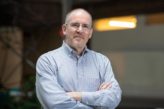 Lee M. Ritterband Ph.D.
Professor
leer@virginia.edu
Tel: 434.924.5988

Lee M. Ritterband obtained his PhD in clinical psychology and doctoral minor in computer technology/science in 1998 from the University of South Florida. He is a Professor and Director of the Center for Behavioral Health & Technology at the University of Virginia School of Medicine in Charlottesville, Virginia. His research interests include the development of Internet interventions for various behavioral health issues. He has National Institutes of Health funding focused on utilizing cutting edge technologies to deliver treatments, provide assessments, and collect and analyze data. Dr. Ritterband has published and given numerous talks both nationally and internationally on the use of the Internet in psychological research and clinical practice. Most recently, Dr. Ritterband won the 2019 Edlich-Henderson Innovator of the Year award.
Dr. Ritterband completed his undergraduate degree at the University of Florida, and is, therefore, a HUGE Gator fan. He has two boys, born 2001 and 2004. They are not, however, named Albert and Alberta. When not working or playing with his boys, Dr. Ritterband occasionally dreams of being a 'real' photographer and sometimes wistfully reminisces on his earlier desire to be a 'real' musician. For now, he continues to plod along as full time researcher.