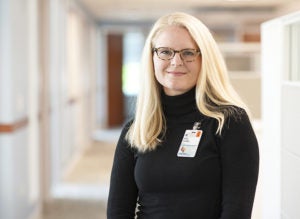 Kelly Shaffer Ph.D.
Assistant Professor
kshaffer@virginia.edu
Tel: 434-982-1022

Kelly Shaffer is an Assistant Professor and Director of Training for the Center for Behavioral Health and Technology at the University of Virginia School of Medicine. She is a licensed clinical psychologist and has specialized training in psychooncology and dyadic data analysis. Her research examines caregiving burden among cancer caregivers (i.e., family members or friends who provide a patient unpaid care due to the patient's illness), with the goal to modernize and expand psychosocial care delivery to cancer caregivers through scalable and effective technology-based interventions.
Dr. Shaffer received her B.A. in psychology from the University of Virginia. She received her Ph.D. in clinical psychology from the University of Miami, where she received a National Cancer Institute F31 National Research Scholar Award. She completed her clinical internship with the Behavioral Medicine Service at Harvard Medical School/Massachusetts General Hospital and her postdoctoral training as a National Cancer Institute T32 Psychooncology Research Fellow at Memorial Sloan Kettering Cancer Center. She can typically be found eating doughnuts and/or petting her beloved retired racing greyhound, Porter.