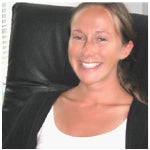 McEwan, Anne C.
Research Coordinator
amcewan@virginia.edu

Anne graduated from Carnegie Mellon University in 2006 with a B.Sc. in psychology. She joined Behavioral Health and Technology in 2008 to manage the NIH-funded pediatric encopresis research project; and she has become particularly interested in how Internet interventions can improve patient access to medical treatment. Previously, Anne worked at Georgetown University as a research assistant, studying the immune benefits of l.casei (a yogurt bacterium) in preschool children; and she worked as a coordinator on the surgical unit at the Virginia Hospital Center. When Anne is not involved in her professional pursuits, she studies planning and environmental sustainability, volunteers on medical service brigades, and enjoys running, scuba diving, hiking, and traveling.