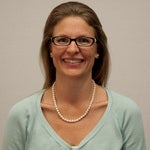 Thorndike, Frances P.
Assistant Professor
fthorndike@virginia.edu

Frances P. Thorndike obtained her PhD in clinical psychology in 2004 from American University and then completed a three-year fellowship at the University of Virginia Health System. She is now an Assistant Professor in the Behavioral Health & Technology program area at the University of Virginia Health System in Charlottesville, Virginia. Her research interests include the development and evaluation of Internet interventions for various medical and behavioral health problems, including insomnia, post-traumatic stress, encopresis, and diabetes. She has been a co-investigator on multiple National Institutes of Health-funded studies utilizing technology to increase access to treatment. Dr. Thorndike has also published several papers in these areas, and given talks to both national and international audiences.