Junlan Yao, PhD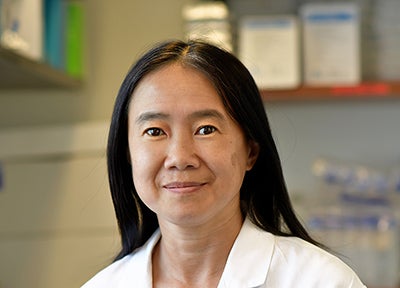 PRIMARY APPOINTMENT:
Assistant Professor of Research, Medicine, Nephrology
CONTACT:
UVA Division of Nephrology
P.O. Box 800133
Charlottesville, Virginia 22908
Telephone: 434- 924-2127
Fax: 434-924-5848
Email: jy9n@virginia.edu
EDUCATION AND TRAINING:
PhD in Biochemistry and Molecular Biology University of Nebraska-Lincoln
RESEARCH AREAS:
Acute kidney injury
Lab Images
RESEARCH SUMMARY:
Regulation of acute kidney injury and progression to fibrosis. In Okusa lab I focus on how neuro-immune interplay following pulse ultrasound/vogues nerve stimulation protects the kidney against ischemia damage.
SELECTED PUBLICATIONS:
Perivascular CD73+ cells attenuate inflammation and interstitial fibrosis in the kidney microenvironment. Perry HM, Gorldt N, Sung SJ, Huang L, Rudnicka KP, Encarnacion IM, Bajwa A, Tanaka S, Poudel N, Yao J, Rosin DL, Schrader J, Okusa MD. 2019 Am J Renal Physiology [Epub ahead of print].
Non-canonical cholingergic anti-inflammatory pathway-mediated activation of peritoneal macrophages induces Hes1 and blocks ischemia/reperfusion injury in the kidney. Inoue T, Abe C, Kohro T, Tanaka S, Huang L, Yao J, Zheng S, Ye H, Inagi R, Stornetta RL, Rosin DL, Nangaku M, Wada Y, Okusa MD. 2019 Kidney Int. 95(3):563-76.
Adrenal Tissue-Specific Deletion of TASK Channels Causes Aldosterone-Driven Angiotensin II-Independent Hypertension. Guagliardo NA, Yao J, Stipes EJ, Cechova S, Le TH, Bayliss DA, Breault DT, Barrett PQ. 2019 Hypertension 73(2):407-414.
Functional TASK-3-like channels in mitochondria of aldosterone producing zona glomerulosa cells. Yao J, McHedlishvili D, McIntire WE, Guagliardo NA, Erisir A, Bayliss DA and Barrett PQ. 2017 Hypertension 70(2): 347-51.
Minireview: aldosterone biosynthesis: electrically gated for our protection. Guagliardo NA, Yao J, Hu C, Barrett PQ. 2012 Endocrinology 153(8): 3579-86.
TASK-3 channel deletion in mice recapitulates low-renin essential hypertension. Guagliardo NA, Yao J, Hu C, Schertz EM, Tyson DA, Carey RM, Bayliss DA and Barrett PQ. 2012 Hypertension 59(5): 999-1005.
TASK channels are not required to mount an aldosterone secretory response to metabolic acidosis in mice. Guagliardo NA, Yao J, Bayliss DA and Barrett PQ. 2011 Mol Cell Endocrinol 336(1-2):47-52.
Protein kinase A activity controls the regulation of T-type Cav3.2 channels by Gbg dimers. Hu CL, DePuy SD, Yao J, McIntire WE and Barrett PQ. 2009 J Biol Chem. 284(12): 7465-73.
Molecular basis for the modulation of native T-type Ca2+ channels in vivo by Ca2+/Calmodulin dependent protein kinase II. Yao J, Davies LA, Howard JD, Adney SK, Welsby PJ, Howell N, Carey RM, Colbran RJ and Barrett PQ. 2006  J. Clin. Invest. 116:2403-2412.
Molecular basis for T-type calcium channel inhibition by G-protein βγ subunits. DePuy SD, Yao J, Hu C, McIntire WE, Bidaud I, Lory P, Rastinejad F, Gonzalez C, Garrison JC and Barrett PQ. 2006 PNAS. 103:14590-14595.
AtSig5 is an essential nuclear-encoded Arabidopsis sigma-like factor. Yao J, Roy-Chowdhury S and Allison LA. 2003 Plant Physiol. 132(2):739-747.
Tissue-specific and light-dependent expression within a family of nuclear-encoded sigma-like factors from Zea mays. Lahiri SD, Yao J, McCumbers C, Allison LA. 1999 Mol Cell Biol Res Commun. Apr;1(1):14-20.
The cDNA sequence of atSIG4, a new member of the nuclear-encoded sigma-kike factor gene family in Arabidopsis thaliana. Yao J and Allison LA. 1998 (PGR98-212) Plant Physiol. 118:1536.
Divergences in homeodomains of Hox genes and von Baer's law. He R and Yao J. 2000 Protein and Peptide Letters 7(2):123-131.
The direct cause of photodamage-induced lysosomal destabilization. Zhang GJ, Yao J. 1997 Biochim Biophys Acta May 22;1326(1):75-82.
Lysosomal destabilization via increased potassium ion permeability following photodamage and co-immunoprecipitationYao J, Zhang GJ. 1997 Biochim Biophys Acta Jan 31;1323(2):334-42.
Loss of lysosomal integrity caused by the decrease of proton translocation in methylene blue-mediated photosensitization. Yao J, Zhang GJ. 1996 Biochim Biophys Acta Oct 2;1284(1):35-40.
Changes in RNA of Saccharomyces cerevisiae during thermal cellular dehydration. He RQ, Zhang GJ, Yao J. 1995 Biochem Mol Biol Int. May;36(1):1-12.