Equity & Inclusion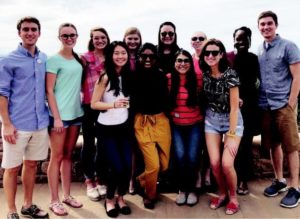 The Equity and Inclusion Committee (EIC) is a group of faculty, staff,
and trainees who work together to increase diversity in the department and ensure that our workplace is inclusive of all colleagues and patients. Recent EIC work has included arranging Grand Rounds speakers,
organizing community events, and recruiting talented residents, faculty and staff.
The Faculty & Staff Subcommittee is assessing opportunities for recruiting and retaining diverse faculty and staff in order to create a set of departmental best practices. The subcommittee also sponsors annual Grand Rounds and other continuing medical education lectures and panels around health disparities, equity, and inclusion.
The Trainee Subcommittee includes residents, faculty and staff who are committed to the recruitment of underrepresented minority trainees (residents and fellows).   This year, we developed a recruitment handout to highlight resources available in Charlottesville for underrepresented minority trainees. Click Here to find out more about our scholarship!
The Housestaff Council for Diversity and Inclusion (HCDI) is committed to building a culture of inclusion and respect at UVA by engaging with housestaff and collaborating with the Charlottesville community.  More information can be found on their site, Click Here to find out more!
The Community Outreach Subcommittee engages with quality improvement projects to enhance the quality of clinical care for Spanish-speaking patients. Subcommittee members also volunteer with UVA's Latino Health Initiative on a variety of community-facing educational and service events, including COVID-19 free testing events in communities of color.  Finally, the subcommittee partners with local schools to provide relevant programming and education.
Leadership & Purpose
To foster and promote a culture of welcoming for all patients, learners, faculty, and staff in the Department of Pediatrics
To identify opportunities to create a more equitable work environment and develop programming to this end
To engage with our local community to promote the health and well-being of children from marginalized communities
Unique Community and Clinical Opportunities
VIRTUAL DIVERSITY OPEN HOUSE
PROSPECTIVE APPLICANTS COME LEARN MORE ABOUT – Advocacy, Diverse Patient Population, Community Outreach, UVA Culture
Find Out More
Home Visit Program, a resident-run monthly clinic for well child and sick visits
Global Health Leadership Track, a GME-wide program that includes
opportunities for rotations in various countries
Back-to-school physicals and community fairs at the Boys and Girls Club
Volunteer opportunities with the Latino Health Initiative (LHI) and the
Southwood Community Center
Rotations at UVA Pediatrics at Orange, a rural Patient-Centered
Medical Home
Rotations in the International Family Medicine Clinic, which specializes in
care for immigrants and refugees
UVA is a regional leader for Transgender Health
Services for youth ages 11 to 26, at the Teen and
Young Adult Health Center
Side-by-Side LGBTQ+ Youth Support Group (weekly
support group for patients at the Teen Health Center)
VIRTUAL DIVERSITY OPEN HOUSE
PROSPECTIVE APPLICANTS COME LEARN MORE ABOUT – Advocacy, Diverse Patient Population, Community Outreach, UVA Culture
Find Out More
Conferences & Organizations
UVA Pediatrics has participated in the regional and national Student National Medical Association (SNMA) conferences over the past several years to recruit talented under-represented minority medical students. Each year, the department funds 1-2 residents to serve as representatives at these conferences
If interested, there are additional opportunities for residents to participate in the following:
National Medical Association (NMA)
Student National Medical Association (SNMA)
Latino Medical Student Association (LMSA)
National Hispanic Medical Association (NHMA)
AAP Section on Minority Health Equity and Inclusion (MHEI)
Recent highlights
Developed a Scholarship for visiting fourth-year medical students focused on increasing diversity in pediatrics.
Annual Grand Rounds lectures

2019: "Race, Bias, and Caring for Children" by Dr. Angelique Redus-McCoy and Dr. Irène Mathieu
2020: "Not that long ago: A community discussion about exclusion and discrimination in Charlottesville during the Civil Rights Era and to this day" by Kathy Harris, Rev. Dr. Alvin Edwards, and Dr. Preston Reynolds

Creating a list of local resources for faculty, staff, and trainees from diverse backgrounds
Quality improvement for Spanish-speaking patients in our clinical spaces
Department-wide reflection on the events of August 11-12, 2017
Collaboration with the Latino Health Initiative at local community events
Participation in the Housestaff Council for Diversity & Inclusion's Trainee Diversity & Inclusion conference
Participation in regional and national SNMA conferences and UVA's Second Look Weekend for prospective residents
Recent Charlottesville Events
OTHERWISE Pride Party, an exhibition exploring LGBTQ+ history and themes at UVA's Fralin Museum of Art
 Charlottesville Pride Fest
 UVA Schwartz Center Rounds: "When Words Harm: Teaming Together Against the Effects of Racism"
 Reception to Welcome LGBTQ Faculty and Staff hosted by UVA LGBT Committee and Office for Diversity, Equity & Inclusion
 Cville Sabroso Latino Music and Dance Festival at IX Park
 A Night of Black Innovation in Music at Jefferson School African-American Heritage Center