Christopher Luminais, MD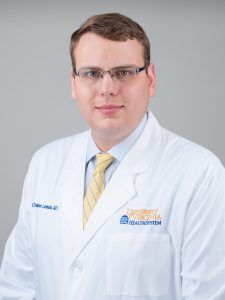 Christopher Luminais, MD

Assistant Professor and Medical Residency Associate Program Director of Radiation Oncology
Clinic Phone: 434-924-9333
Administrative Assistant: Caitlin Connelly 434-982-6278
Email: ct9nw@virginia.edu
Specialty
Radiation Oncology
Clinical Interests
Dr. Luminais provides radiation treatment for patients with sarcoma and genitourinary (GU) cancers. He works closely with urologists to care for patients with GU cancers. His practice includes advanced external beam radiation therapy techniques including intensity modulated radiation therapy (IMRT), stereotactic body radiation therapy (SBRT), stereotactic radiosurgery (SRS), image-guided radiation therapy, and image-guided HDR brachytherapy. He is also interested in medical education and enjoys mentoring medical students and medical residents.
Dr. Luminais was drawn to the field of Radiation Oncology because he finds the combination of close patient relationships with cutting edge science and technology to be extremely rewarding. He was born and raised in Berwyn, Pennsylvania. In his free time his interests include hiking, kayaking, cooking, photography, and spending time with his wife.
Research Interests
Dr. Luminais has a particular clinical and research interest in prostate brachytherapy. He has opened a clinical trial that allows utilization of MRI guidance to improve and refine prostate brachytherapy.
Degrees
M.D., 2017, Thomas Jefferson University, Philadelphia, PA
A.B., 2013, Ecology and Evolutionary Biology, Princeton University, Princeton, NJ
Residency
University of Virginia, Charlottesville, VA
Certification
American Board of Radiology (Radiation Oncology), Pending
PubMed Publications
UVA Health System Profile