Einsley-Marie Janowski, MD, PhD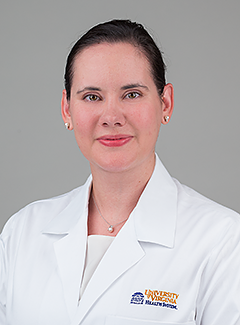 Einsley-Marie Janowski, MD, PhD
Associate Professor and Medical Residency Program Director of Radiation Oncology
Clinic Phone: 434-924-9333
Administrative Assistant: Caitlin Connelly 434-982-6278
Email: ct9nw@virginia.edu
Specialty
Radiation Oncology
Clinical Interests
Dr. Janowski is a board-certified radiation oncologist with special expertise in breast, gastrointestinal, and gynecological cancers.  She leads radiation therapy clinical programs in breast and gastrointestinal cancers.  Dr. Janowski has experience with multiple radiotherapy techniques including MRI linac guided adaptive radiotherapy, stereotactic body radiotherapy (SBRT), intensity modulated radiation therapy (IMRT), volumetric modulated arc therapies (VMAT), Gamma Knife Radiosurgery, intra-operative radiotherapy (IORT), and gynecologic brachytherapy.
Research Interests
As a clinical researcher, Dr. Janowski is focused on investigating relevant biomarkers to evaluate treatment response and to predict treatment related toxicity.  She is the primary investigator for numerous clinical trials, including a trial on high risk breast cancer patients found to have residual disease after upfront chemotherapy and a trial on rectal cancer patients treated with total neoadjuvant therapy for a non-operative approach.  She is also the director of the MRI linac program at UVA, which provides real time adaptive radiotherapy for difficult to treat tumors, including pancreatic and liver tumors. MRI Linac Advanced Radiation Therapy for Cancer.
Dr. Janowski grew up in South Carolina, where she developed a love for travel early on in life. She lives in Charlottesville with her husband and two children.
Committees
•Member, Gastrointestinal Colorectal Cancer Core Committee, NRG Oncology
•Member, UVA Cancer Center
•Member, UVA Breast Care Program Committee
•Member, Radiation Oncology Education Collaborative Study Group
Degrees
Ph.D., 2011, Georgetown University School of Medicine, Washington, DC
M.D., 2011, Georgetown University School of Medicine, Washington, DC
B.A., 2000, Biology, Agnes Scott College, Decatur, GA
Residency
Georgetown University School of Medicine, Washington, DC
Certification
American Board of Radiology (Radiation Oncology), May 2017
Select Honors
Bedside Manner Award (Our Health Magazine): 2017, 2018, 2019
ARRO Educator of the Year, 2017
Alpha Omega Alpha
Phi Beta Kappa