Einsley-Marie Janowski, MD, PhD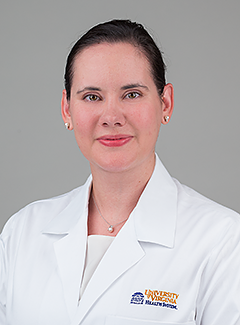 Einsley-Marie Janowski, MD, PhD
Assistant Professor and Residency Program Director of Radiation Oncology
Clinic Phone: 434-924-9333
Administrative Assistant: Caitlin Connelly 434-982-6278
Email: ct9nw@virginia.edu
Specialty
Radiation Oncology
Clinical Interests
Dr. Janowski provides radiation treatment for patients with sarcoma, breast, gastrointestinal and gynecologic cancers.  She is experienced with multiple radiotherapy techniques including intensity modulated radiation therapy (IMRT), volumetric modulated arc therapies (VMAT), stereotactic body radiotherapy (SBRT), Gamma Knife Radiosurgery, intra-operative radiotherapy (IORT), and gynecologic brachytherapy.
Research Interests
As a clinical researcher, Dr. Janowski is focused on investigating relevant biomarkers to evaluate treatment response and to predict for treatment related toxicity. During residency, she was a co-investigator for a pilot study evaluating circulating free DNA levels before and after neoadjuvant chemotherapy for locally advanced breast cancer. Her research has resulted in multiple peer-reviewed publications and national meeting presentations.
Dr. Janowski grew up in South Carolina, where she developed a love for travel early on in life. She lives in Charlottesville with her husband and two children.
Committees
•Member, UVA Committee on Women
•Member, UVA Cancer Center
•Member, Clinical Competency Committee for Radiation Oncology Residency Program
•Member, Radiation Oncology Resident Selection Committee
•Member, UVA Breast Care Program Committee
Degrees
Ph.D., 2011, Georgetown University School of Medicine, Washington, DC
M.D., 2011, Georgetown University School of Medicine, Washington, DC
B.A., 2000, Biology, Agnes Scott College, Decatur, GA
Residency
Georgetown University School of Medicine, Washington, DC
Certification
American Board of Radiology (Radiation Oncology), May 2017