Kara Downs Romano, MD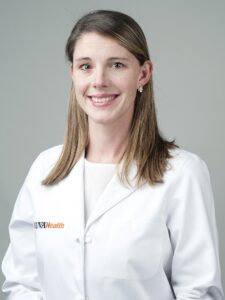 Kara Downs Romano, MD
Assistant Professor of Radiation Oncology
Clinic Phone: 434-924-9333
Administrative Assistant: Caitlin Connelly 434-982-6278
Email: ct9nw@virginia.edu
Specialty
Radiation Oncology
Clinical Interests
Dr. Romano cares for patients with gynecologic cancers (cervix, uterine, ovarian, vaginal, vulvar), genitourinary cancers (prostate, bladder, testicular), and pediatric cancers, as well as a range of malignant and benign conditions. Her practice involves advanced external beam radiation therapy techniques including intensity modulated radiation therapy (IMRT), stereotactic body radiation therapy (SBRT), stereotactic radiosurgery (SRS), image-guided radiation therapy, and image-guided HDR brachytherapy.
Research Interests
Dr. Romano is interested in enhancing patient outcomes through investigating techniques for improving the delivery of radiation therapy, exploring the interaction with systematic therapy, and focusing on quality of life throughout cancer treatment. Dr. Romano has multiple peer-reviewed publications and has presented at national conferences on a variety of cancers.
Dr. Romano lives in Charlottesville with her husband (also a physician) and three children. They love to travel and hike in the Blue Ridge Mountains.
Committees
•Member, Commission on Cancer
•Member, Clinical Competency Committee for Gynecologic Oncology Fellowship Program
•Member, Clinical Competency Committee for Radiation Oncology Residency Program
•Member, Radiation Safety Committee
Degrees
M.D., 2013, George Washington University, School of Medicine & Health Sciences, Washington, DC
B.A., 2008, High Honors, University of Virginia, Charlottesville, VA
Residency
University of Virginia, Charlottesville, VA
Visiting Resident – Paul Scherrer Institute (PSI), Center for Proton Therapy, Villigen PSI, Switzerland
Certification
American Board of Radiology (Radiation Oncology), May 2019