Timothy N. Showalter, MD, MPH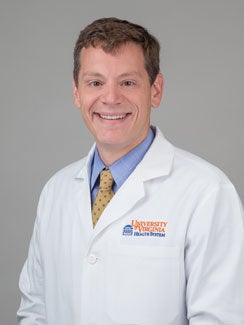 Timothy N. Showalter, MD, MPH
Professor
Clinic Phone: 434-924-9333
Administrative Assistant: Caitlin Connelly 434-982-6278
Email: ct9nw@virginia.edu
Specialty
Radiation Oncology
Clinical Interests
Dr. Showalter provides radiation treatment for patients with genitourinary (GU) gynecologic cancers. His practice involves advanced external beam radiation therapy techniques, such as intensity-modulated radiation therapy (IMRT), image-guide radiation therapy, image-guided brachytherapy, prostate seed implants and stereotactic body radiation therapy. As a part-time faculty clinician, Dr. Showalter works closely with urologists to care for patients with GU cancers, and shares clinical duties with Drs. McLaughlin and Romano for GU and GYN cancers and brachytherapy. He performs procedures and sees patients at the Emily Couric Clinical Cancer Center.
Research Interests
As a clinical researcher, Dr. Showalter is focused on improving outcomes for cancer patients by evaluating advanced technologies for brachytherapy and external beam radiation therapy. He is an experienced outcomes researcher and clinical trialist. He currently serves as a medical director of research oncology at Flatiron Health, with an emphasis on using real-world evidence in cancer research.
He is a native of Richmond, Virginia, and lives in Charlottesville with his wife and three children.
Committees:
•Board Member, American Brachytherapy Society
•Chair, Patient Safety Committee, American Brachytherapy Society
•Member, GU Cancers Committee and Patient Centered Outcomes Research Committee, NRG Oncology
Degrees
M.P.H., 2015, Bloomberg School of Public Health, Johns Hopkins University, Baltimore, MD
M.D., 2004, University of Virginia School of Medicine, Charlottesville, VA
B.A., 2000, Chemistry, Washington and Lee University, Lexington, VA
Residency
Thomas Jefferson University Hospital, Philadelphia, PA
Certification
American Board of Radiology (Radiation Oncology), May 2010