James M. Larner, MD, FASTRO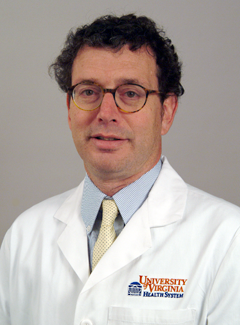 James M. Larner, MD, FASTRO
Chair and Professor of Radiation Oncology
Clinic Phone: 434-924-9333
Administrative Assistant: Jamie DeVore 434-924-5564
Email: jamie@virginia.edu
Specialty
Radiation Oncology
Clinical Interests
Dr. Larner's clinical interests include cancer of the brain, central nervous system, thorax and lungs. He specializes in Neuro-oncology including gamma knife radiosurgery, thoracic oncology (brain and lung tumors), and stereotactic body radiation therapy.
Research Interests
Dr. Larner's research interests include DNA damage-sensing pathways, radiation injury, radiosensitizers (drugs that make tumor cells more responsive to radiation therapy), prostate cancer, gliomas (brain tumors) and lung cancer.
When he is not in the lab or clinic, Dr. Larner plays racquet sports, restores houses and travels. He claims he spoils his son by allowing him to select where they travel each year. Some of Dr. Larner's favorite destinations include Mauritius, Thailand, Andora, Uruguay and Japan.
Committees
•Member of the UVA Cancer Center External Advisory Committee
•Member of the UVA Human Investigations Involving Radiation Exposure Committee
Degrees
M.D., 1980, University of Virginia
Residency
1981-1983 Resident in Internal Medicine
Thomas Jefferson University Hospital
Philadelphia, Pennsylvania
1986-1989 Department of Radiation Oncology
Bodine Cancer Center
Thomas Jefferson University Hospital
Philadelphia, Pennsylvania
Certification
1981, National Board of Examiners
1983, Internal Medicine
1987, Medical Oncology
1988, Hematology
1989, Radiation Oncology