In late 2017, UVA Pediatric Radiology faced a crisis in staffing. Within four months, three full-time pediatric radiologists had resigned from the department and the division needed immediate help to be able to continue caring for patients.
The crunch required quick and creative thinking. Department Chair Dr. Alan Matsumoto reached out to colleagues at departments across the mid-Atlantic, pulling in pediatric radiologists from the Navy and Army in eastern Virginia to help. He also reached out to his fellow Chair at Georgetown University Medical Center, who recommended contacting Dr. Frank Volberg. Dr. Volberg was retired as Professor of Radiology and Chief of Pediatric Radiology at Georgetown, but was still working occasional days as needed.
Dr. Volberg came down to Charlottesville in late December and met with Dr. Matsumoto. The two hit it off immediately. And so Nicole Vaughan, Faculty Affairs Coordinator, found herself working late on Christmas Eve to obtain clinical privileges for Dr. Volberg. There was no time to waste: he was needed right away, to start working over the holiday break.
Three years later, things have stabilized in the department. Dr. Reza Daugherty joined the department as division chief in 2018, and Marcus Hook came aboard in July 2020. One full-time position remains, and it's still a challenge to recruit when, as Nicole Vaughan points out, there are "more positions available nationwide than there are pediatric radiologists."
"He was a lifesaver (in 2017)," says Dr. Daugherty. "But for the first two years I was here, we were still severely short-staffed. Even now, with Marcus joining, we're still down one-and-a-half full-time positions. Frank continues to be a lifesaver."
The Journey to UVA
When Dr. Volberg arrived at UVA, it was on the tail end of an impressive career in radiology.
He completed his residency and fellowship at Cornell University. "I had a chief of pediatric radiology who I really liked at Cornell," he says, "and she asked me to stay and do pediatric radiology. I thought it was one of the few fields left in radiology that's still in some sense, general radiology – defined by the age of the patient, not by modality or methodology. It means endless variety."
After Cornell, Dr. Volberg headed south to the University of North Carolina, where he was the head of pediatric radiology for five years. He then moved to Wake Forest for a decade before moving to northern Virginia to start the pediatric radiology program at INOVA Fairfax.
In his 20 years at INOVA Fairfax, the department grew from one pediatric radiologist to four. The hospital built a pediatric hospital and Dr. Volberg loved the challenge of running the department. He retired in 2010 but he didn't stay retired for long: he was lured out of retirement to work part-time at Georgetown Medical Center, which he did from 2010-2017, until he took on a new challenge at UVA.
Dr. Volberg likes to joke that he's the only radiologist he knows to have worked at so many ACC (Atlantic Coast Conference) schools – four. "Good basketball follows me wherever I go," he says.
But beyond that, he's grateful to have had the opportunity to take on a new challenge and lend a helping hand at UVA.
"Physicians are interested in being helpful to people in need," he says. "It's an appealing role to me. I don't have anything to prove, here at the end of my career, and it's kind of fun to be philosophical about it, and look at it from the point of view of being useful, being a useful citizen."
Dr. Reza Daugherty echoes this sentiment. "It's clear that Frank loves being here, loves to contribute and likes to stay active," he says. "He's not the type of person that retirement is for."
On the Road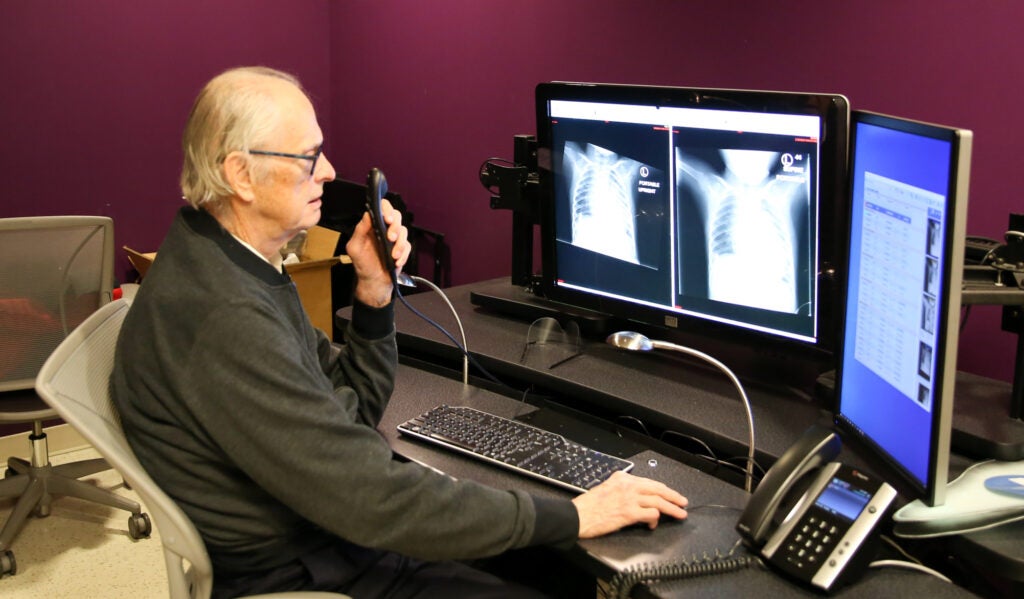 At age 77, most people would be enjoying their retirement years. But Dr. Volberg is spending two days every week commuting down from his home in northern Virginia and staying in a hotel in Charlottesville to work at UVA. "I know just about every curve on the road and where the speed traps are," he laughs.
In a typical week, Dr. Volberg spends Tuesdays and Wednesdays teaching residents and doing clinical work in the hospital and in the Battle Building. Teaching the next generation of radiologists is something he has always enjoyed.
"I tend to gravitate towards first year residents when teaching, because being an older radiologist, I have deep experience in plain films, ultrasound and fluoroscopy," he says. " The things that they need to learn to get going."
His fellow UVA Pediatric Radiologist Luke Lancaster has seen first-hand the impact that Dr. Volberg has on residents. "He can teach (them) all kinds of things not found in textbooks. And, more importantly, he teaches them that he really enjoys what he's doing, years and years into his career."
"He's a phenomenal teacher," adds Reza Daugherty. "He's seen and done things that we never have and never will, because radiology has changed."
A Labor of Love
It's a labor of love for Dr. Volberg. "Part of the appeal in coming here was that UVA has a top program," he says. "This department is quite diverse and extremely excellent, and I just love to see those two things come together in such a beautiful way as they have here at UVA."
"Also, I love Charlottesville," he adds. "I do an awful lot of bicycling, and it's so easy to ride out of the city and into the country. It's a beautiful place."
Dr. Volberg also has a deep respect for his pediatric radiology colleagues. "Luke Lancaster is the most versatile radiologist I've ever met," he says. "Reza Daugherty is not only a great radiologist, but a great administrator. And Marcus Hook, whose Chief at Children's Hospital of Philadelphia is one of my dear friends, is an amazing young talent."
For his fellow pediatric radiologists, working with Dr. Volberg is a joy. "As a colleague, he's ideal," says Dr. Lancaster. "He's easy-going and pleasant to be around and has a sly sense of humor. Nothing gets him upset. He puts people at ease – he has that kind of demeanor."
Dr. Daugherty is immensely grateful to have the benefit of Dr. Volberg's years of experience. "On a personal note, he's been a sounding board for me, a mentor for me. He has seen it all, done it all, been a division chief. And it just happens that we have identical research interests, in contrast ultrasound."
Dr. Volberg plans to stay at UVA for two to three more years, to give Dr. Daugherty the chance to recruit one more full-time pediatric radiologist. That would complete the rebuilding work that has been going on since 2017. Dr. Volberg is confident that this final piece of the puzzle will fall into place. And until then, he's delighted to play his part.
"This is an extraordinarily strong department," he says. "Not to get too bogged down in comparisons, but it's the best radiology department I've ever worked in. You can be sure that everyone who is working here is an expert in their field. It's a powerful group of people, and it's exciting and challenging to work alongside them."