When:
2018-08-03T00:00:00-04:00
2018-08-04T00:00:00-04:00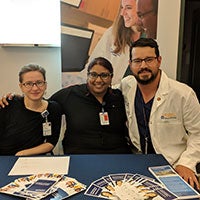 The Radiology Interest Group had the opportunity to host a table at UVA School of Medicine Class of 2022 Orientation Student Activities Fair. It was an important chance to get in front of the medical students early on in their schooling to spread the word about Radiology as a field. The goal was to inform students about the many and varied applications of our specialized field. More than 30 students stopped by the table to hear about Radiology that day.