When:
2018-10-16T00:00:00-04:00
2018-10-17T00:00:00-04:00
Where:
Old Rag Trail - Shenandoah National Park

Contact:
Mohammad Halaibeh
304.207.8329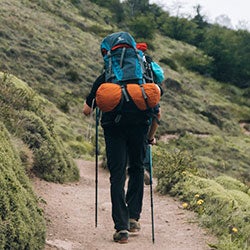 Get your hiking boots, Second-years, because you're going on a hike!
On Tuesday, October 16th your class will get the day off from work and will be going on a class hike together on Old Rag. Your class will be the first class to partake in this wonderful addition to the wellness initiative that will allow for each class to annually have a week day absence from work for a unique bonding experience similar to the 1st year ropes course.
Please be smart and safe, but don't forget to savor the views and experience! October fall foliage is the best time of year for a hike. Don't forget your camera! Also, group photos are encouraged for us to add to the website.
Details
Point Person:
Dr. Halaibeh (he will organize meeting time/location for carpooling, bringing snacks supplied by the department, etc.)
Hike Info:
-9 miles long
-Takes ~7-8 hours to complete
-Distance from Cville: ~1:15 hour drive
-Recommended Starting time: Prior to 9:00 am
(Please see this page by the National Park Service regarding risks of the hike and rock scramble, how to be safe, and how to plan the visit)
What to Bring:
-Sufficient water
-A packed a lunch