When:
August 21, 2018 @ 12:00 pm – 1:00 pm
2018-08-21T12:00:00-04:00
2018-08-21T13:00:00-04:00
Where:
Claude Moore Medical Education Building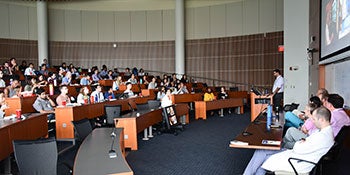 Radiology Panel for Medical Students
72 UVA medical students (MS-1 and MS-2) showed up to hear a panel of UVA Radiology faculty and residents talk about the importance of the specialty.
After a brief explanation, students had the opportunity to listen to thoughtful answers on the following questions:
1) Why did you choose to go into radiology/What drew you to the field of radiology? What made you choose diagnostic radiology over interventional radiology and vice versa?
2) What is the future of diagnostic radiology in light of AI, computer learning, etc?
 How is the field going to change in the next 10 years from both a policy and a technology perspective?
3) Do you anticipate a growing demand for radiology – either diagnostic or interventional?
4) Related to radiology, what are other options outside of diagnostic radiology?
5) What is the lifestyle of a radiologist?
6) Do physicians gain machine learning backgrounds in radiology, and get involved with development of diagnostic tech?
7) What kinds of experiences in medical school are valuable for matching into radiology?
8) What is the residency program like for radiology? How competitive is it to get into a radiology residency?
9) What are the different subspecialties in radiology?
10) Are there any careers in space radiology?