Irving L. Kron, MD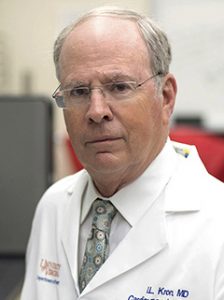 Professor, Department of Surgery, University of Virginia
Former Senior Associate Vice-President, University of Arizona Health Sciences, Tuscon, AZ (2018-20).
Former Interim Dean and Professor of Medicine, College of Medicine, University of Arizona (2018-20).
Former Chair, Department of Surgery, University of Virginia (2002-17).
MD 1975, Medical College of Wisconsin
Biography
Dr. Kron received his undergraduate degree in 1971 from the University of Pennsylvania and earned his medical degree from the Medical College of Wisconsin in 1975. He continued with a general surgery residency at the Maine Medical Center in Portland before completing his training in thoracic and cardiovascular surgery in 1982 at the University of Virginia. Dr. Kron was then appointed to faculty. In 1993, Dr. Kron was named Chief of the Division of Thoracic and Cardiovascular Surgery and became the Program Director of the Thoracic Residency program. Dr. Kron helped increase the national visibility of the Division and the Thoracic Residency program at UVA. Dr. Kron became Chair of the Department of Surgery in 2002 and held this position through 2017. He developed a successful NIH-funded research laboratory where many residents and students have gained experience in thoracic surgical research.
Dr. Kron has served on The American Board of Surgery, The American Board of Thoracic Surgery, The Thoracic Residency Review Committee (including serving as Chair), and NIH study sections. In 2002, Dr. Kron was named Chairman of the Department of Surgery at The University of Virginia.  He was elected the 91st President of the American Association of Thoracic Surgery from 2010-2011 and received the prestigious Bakken Scientific Achievement Award for his scientific contributions in cardiothoracic surgery during the 51st Annual Society of Thoracic Surgeons in 2015.
Throughout his career, Dr. Kron has published over 500 manuscripts, including 160 articles in The Annals of Thoracic Surgery, making him the most prolific author published in the STS journal's 50-year history. He also has made nearly 250 presentations on cardiothoracic surgery in the U.S. and internationally. He has published about 30 books and chapters, and has been the principal investigator for more than 20 funded research grants.
Dr. Kron's specialty interests include mitral valve and aortic valve surgery, surgery of the aorta, carotid artery surgery, coronary artery surgery, and heart transplantation.