Graduation FAQs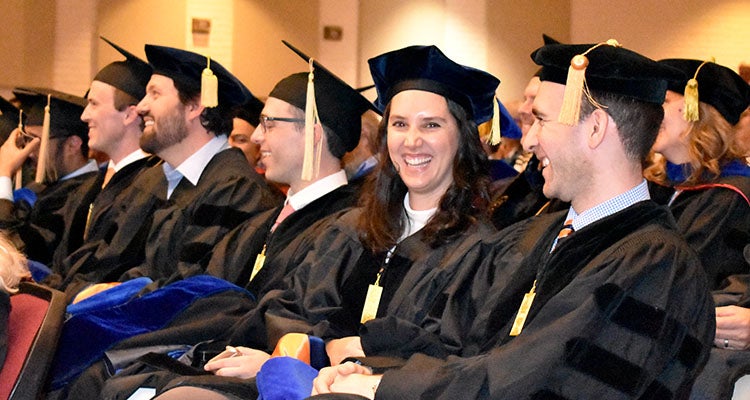 BIMS Hooding and Diploma Presentation Ceremony FAQs
When is graduation?
There is a single Biomedical Sciences diploma presentation and hooding ceremony each spring.  It is part of the "Finals Weekend".
When is the diploma ceremony?
It immediately follows the "Academic Procession and Final Exercises on the Lawn".  Please check the University schedule and look for the "Biomedical Sciences" Diploma Ceremony. Visit: https://majorevents.virginia.edu/finals to obtain the current "Finals Weekend" information.
Do I have to participate in the Lawn exercises to participate in the BIMS Diploma ceremony?
No, simply come to the location of the diploma ceremony at the correct time.
Do I need tickets for the BIMS Diploma ceremony?
No.  The ceremony is generally held in a large auditorium with adequate seating.  Bring your family.  The room is handicap accessible and children are welcome.
Is there a practice prior to the BIMS Diploma ceremony?
No.  The Biomedical Sciences diploma ceremony is formal from the perspective of caps and gowns but informal in the presentation style.  The number of degree candidates is relatively small and we have the opportunity to make the award personal.  For instance, each student is welcome to have their Ph.D. advisor or department chair or faculty member of their choice award the diploma and "hood" the candidate.  In the absence of such a choice, the ceremony host will award the diploma and the student can select someone who is special to them to place the hood on them.
I graduated in a prior semester, may I attend the diploma ceremony for pictures and for the benefit of my family and friends?
Absolutely!!  Just be sure to check with the ceremony host prior to the start of the ceremony.  The host will want to have your name on the list and will probably also ask for the title of your dissertation.  The host will have blank diplomas reserved especially for this purpose.
May I take pictures during the ceremony?
Absolutely!!  This event is for the graduate!
The Lawn exercises tend to be long, will I have time to get something to eat and drink before the BIMS Diploma ceremony?
We will have drinks available to ensure that everyone is hydrated and will have a light reception immediately following the ceremony.