Department History
The Department of Neurology was founded at the University of Virginia in 1967. To this very day, o
ur education programs offer an excellent breadth and depth of training with a robust mix of patient care and didactics.
We are extremely proud of our trainees and the accomplishments they achieve during their time here and throughout their careers.
Dr. Johns Makes History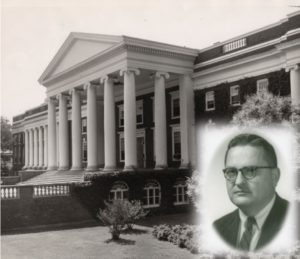 During his tenure, Dr. Johns laid the groundwork for a nationally known neurology program and served as Director of the American Board of Psychiatry and Neurology from 1975 to 1982.  Dr. Johns was succeeded in 1989 by the appointment of G. Frederick Wooten, recognized clinician and scientist in the treatment of Parkinson's disease.  Under Dr. Wooten's leadership, UVa Neurology thrived growing to its current stature of over 40 faculty members and graduating as many neurologists into academic careers as any other program of its size.  Dr. Wooten would see the expansion of neurology into new and vibrant subspecialties recruiting leaders in stroke, neurocritical care, neuro-oncology, memory disorders, and neuroimmunology, among others.  In 2007, UVa appointed its third Neurology chair, Karen C. Johnston, former Vice Chair of Research and leader in the field of acute stroke and clinical trials outcomes.  As Chair and educator, Dr. Johnston has furthered the Department's long tradition of mentorship developing the UVa Academy of Distinguished Educators and fostering career mentorship programs in conjunction with several national bodies including the ANA and NINDS.  The paradigm of neurology at UVa was further broadened in 2008 by the appointment of Steven T. DeKosky, former chair of the Department of Neurology at the University of Pittsburgh and leading researcher in Alzheimer's disease, to Dean of the UVa School of Medicine.
Dr. Dreifus
A seminal event in the history of UVa Neurology occurred in 1959 when Dr. Johns recruited Fritz "Fred" Dreifuss from Queen's Square to move to Charlottesville and join the neurology faculty.  Dr. Dreifuss (along with Jim Miller) established a series of field clinics in epilepsy and child neurology throughout the Commonwealth of Virginia, with a mission to provide neurological care for underserved patients in Appalachia at one time spanning a region from the Atlantic to the Mississippi.  Dr. Dreifuss and subsequent generations of trainees would be integral to the development of Comprehensive Epilepsy Programs, including video-EEG monitoring, of which UVa was one of three original centers in the U.S.  Dr. Dreifuss is perhaps best known by his 1961 description with Professor Alan Emery of a family in southwest Virginia with a distinct form of systemic muscle disease, now known as Emery-Dreifuss muscular dystrophy.
Dr. Miller the Renaissance Neurologist
In 1962, the UVa Neurology faculty was joined by one of its first trainees, James Q. Miller.  Dr. Miller was a true "renaissance" neurologist.  Dually trained in neuropathology, he started the first cytogenetics laboratory in Virginia to facilitate statewide screening for a range of childhood neurological disorders, and made an original description of familial lissencephaly now known as Miller-Dieker syndrome.  Later in his career, he established one of the first comprehensive multiple sclerosis programs in the country (now James Q. Miller Center for Multiple Sclerosis) and was highly active in research and advocacy efforts in MS at the national level. Yet, Dr. Miller's greater legacy lies in medical education, serving as Assistant Dean for student affairs from 1965-1970 and, being honored by both the American Academy of Neurology's A.B. Baker Teaching Award and the American Neurological Association's Distinguished Teacher Award.
Important Dates
UVA Neurology has a long standing history of important events. If you would Like to see what happened in history, simply click on the date below to find out more.
Archives of Neurology article lists UVa as top 15 residency program and top 20 medical school graduating neurologists into academic medicine, and in the very top accounting for program size.
UVa celebrates the 50th anniversary of the accredited neurology
residency program, training over 300 neurologists to date.
Drs. Dreifuss and Miller establish the Southwest VA Field Clinics to provide neurological care for underserved patients in rural Virginia, maintained by present faculty, fellows, and residents to this day.
First annual departmental photo is taken featuring 3 attending's, 5 residents, and one pathologist.
TR Johns joins the UVa faculty from the famous New York Neurological Institute, where he trained
under H. Houston Merritt.
UVa graduate, Walter O. Klingman, returns from Columbia to chair the Neurology section.  Dr. Klingman would later help found the American Academy of Neurology and serve as its 4th President.
Hugh Page Newbill pioneers the development of electroencephalography.
First neuropsychiatric unit is established as the Davis Wing,in honor of John Staige Davis, II.
David C. Wilson (UVA SOM '19) becomes first Professor of Neurology and Psychiatry and leads neurological services throughout the 1930-40s; notably introduces EEG to Virginia in 1947.
Neurology is first taught at the UVa School of Medicine by John Staige Davis in the Department of Medicine, a third generation UVa professor whose grandfather was one of the University's first graduates and whose father was a noted professor of anatomy throughout the latter half of the 19th century.