Unique Program Features
Mentorship
Residents are paired 1:1 with a faculty mentor during their PGY1 year. As they cultivate their subspecialty interest, their mentor can be more specific to their field of interest. They will also meet with the program director throughout the year to discuss their professional development goals.
Additionally, residents are assigned to a pod that consists of a PGY1, PGY2, PGY3, and PGY4 resident. The pods are focused on resident wellness and provide a social support system for residents outside of the hospital.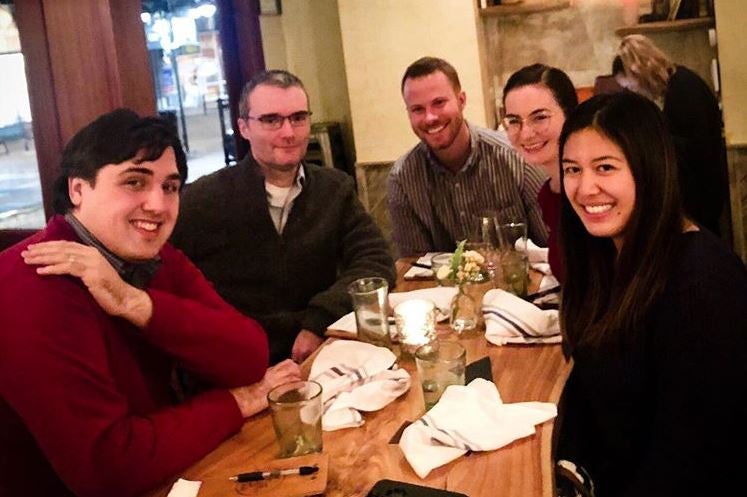 Wellness
UVA GME provides comprehensive medical, vision, and dental plans for residents, their partner, and dependents.

The UVA Department of Neurology provides an education allowance of $3,400 over 4 years of training for equipment (ophthalmoscope), books, regional and national conferences (including the AAN meeting during PGY4 year), and international rotations.

Residents are provided with a meal allowance to be used in the hospital cafeteria and Higher Grounds coffee cart.

Annual fall and spring retreats for all neurology residents. Fellows and attendings cover the inpatient services during these retreats for protected time off.

Residents have previously planned weekend hiking trips and social events such as dinners, ballroom dancing lessons, or trivia nights at the local brewery.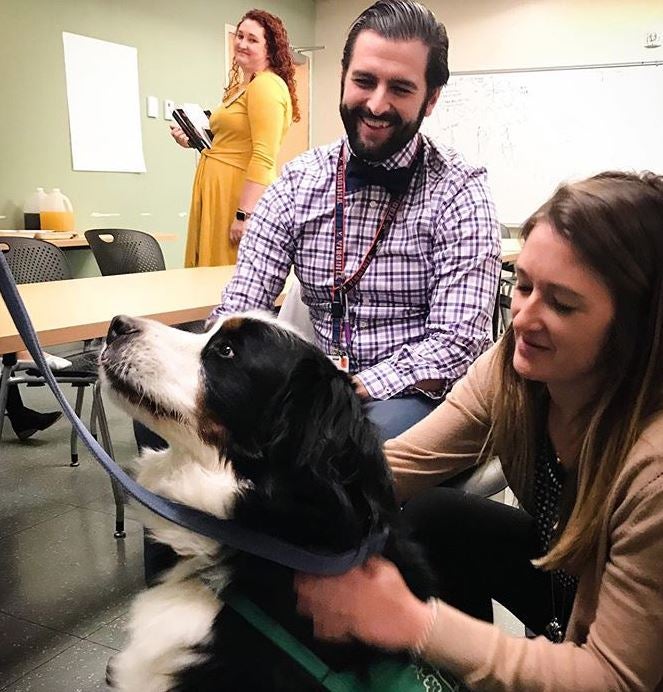 Community Outreach
Residents have several opportunities throughout residency for community outreach. Residents can volunteer at monthly Neurology nights at the Charlottesville Free Clinic (patient demographics include 24% Latinx, 24% Black people, and all below the federal poverty line). They can take an elective on LGBTQ+ Health including spending time in UVA's Transgender Clinic. During PGY4 year, residents travel monthly with faculty to Southwest Virginia (4-5 hours away) to our Neurology outreach clinics which serves Appalachia, a region that is primarily rural and underserved with limited access to health care resources.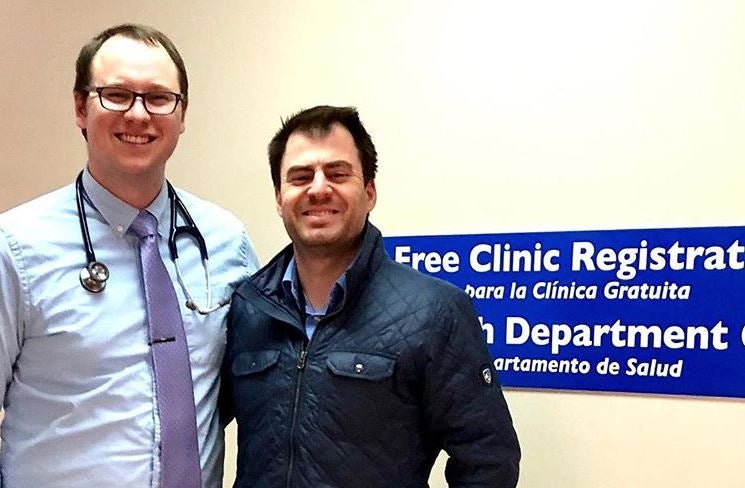 International Rotations
Residents have previously taken advantage of international rotations during their PGY4 year. Previous experiences have included:
Clinical rotations at the Institute of Neurological Science in Glasgow, Scotland, mentored by Dr. Maria Farrugia, an international expert in myasthenia gravis

Clinical rotations in Palmerston North, New Zealand, precepted by UVA Neurology Residency and Neurophysiology/Epilepsy fellowship graduate, Dr. Annemarei Ranta

Public health research on the treatment of epilepsy in Uganda

Epilepsy research in Italy
Research Programs
Residents can be involved with one of the many clinical or basic research projects within the Department of Neurology or within other departments in the School of Medicine or the University of Virginia. The University of Virginia School of Medicine is in the top one-third of 125 medical schools in the United States in amount of research funding by the National Institutes of Health (NIH). In 2019, the University of Virginia School of Medicine received $146.3 million funding from the NIH. Detailed descriptions of ongoing research in the Department of Neurology are available under Neurology Clinical Trials.
Examples of resident research publications/presentations (residents in bold):
Swingle N

, Vuppala A, Datta P, et al. Limited-Montage EEG as a Tool for the Detection of Nonconvulsive Seizures [published online ahead of print, 2020 Jun 25].

J Clin Neurophysiol

. 2020;10.1097/WNP.0000000000000742. Poster presentation at American Epilepsy Society Conference 2019. Baltimore, MD.

Narrett JA,

Ulep RD,

Murphy JM, Southerland AM. Teaching NeuroImages : Neurologic deterioration after atrial fibrillation ablation [published online ahead of print, 2020 Jul 8].

Neurology

. 2020;10.1212/WNL.0000000000010205.

Gastrell P,

Carrera J, Batchala P, Southerland A. Teaching NeuroImages: Diffuse cerebrovascular susceptibility artifact following ferumoxytol infusion.

Neurology

. 2019;93(17):e1662-e1663.

Beachy N, Satkowiak K

, Gwathmey KG. Vasculitic Neuropathies.

Semin Neurol

. 2019;39(5):608-619.

Pyland D, Davis E, Quigg M. Repetitive Basllistic Movements as High Risk Comorbidity in Ventricular Assist Device Patient. Neurology: Clinical Practice. 2019 Oct.
Ulep R, Arteaga D

, Southerland S, Worrall B, Faber J, Wintermark M, Johnston KC. Relationship between intracranial collateral status and hyperglycemia during acute ischemic stroke, a sub-analysis from the Shine Hyperglycemia Insulin Network Effort (SHINE) Trial. Poster presented at International Stroke Conference 2019. Honolulu, HI.

Guha R

, Cathcart K,

Arteaga D

. Teaching Video Neuro

Images

: Hemifacial spasm due to cerebellopontine angle mass.

Neurology

. 2017;89(18):e226. doi:10.1212/WNL.0000000000004603