Current Residents
Several of our residents (names in red) have volunteered to answer your questions about residency at UVA and they are available to be contacted by email.
Class of 2023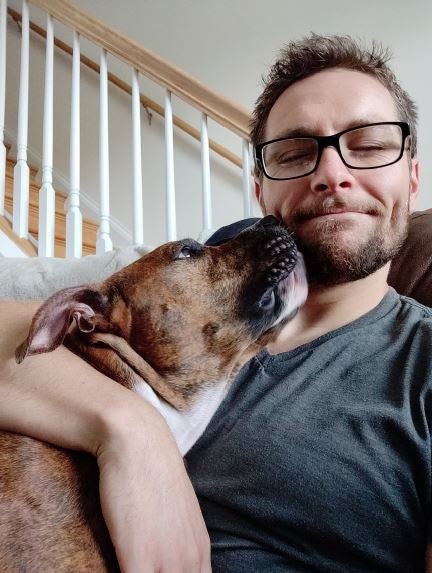 Nathan DeTurk, M.D., M.B.A.
Pennsylvania State University College of Medicine
Pronouns: He/Him
Hi! I'm from Bethlehem, Pennsylvania, a little city about an hour north of Philadelphia. I spent almost half my life at Penn State, so naturally have love-hate relationship with college football. Other than attending a lot of football games, I also spent my time studying biomedical engineering in undergraduate followed by a dual degree MD/MBA program. As you could guess by the business degree I'm very interested in health policy and health system economics, primarily how this shapes healthcare system structure and accessibility. I plan to utilize this knowledge of health economics later in my career to advocate for both patients and providers in neurology. That said, I'm very excited to begin my career as a neurologist here at UVA – the faculty and residents are among the best in the country when it comes to charisma and experience. They are also wonderful people to spend time with, inside and outside the hospital.
Along with a great education, Charlottesville is also a wonderful place to live; the beautiful hiking, great restaurants, and outstanding wineries make it an easy place to call home. My free time is often spent with co-residents or attendings getting dinner and a drink, enjoying the outdoors, or playing with my dogs.
After residency, I'll be pursuing a fellowship in movement disorders to combine my love for neurology, engineering, and patient care.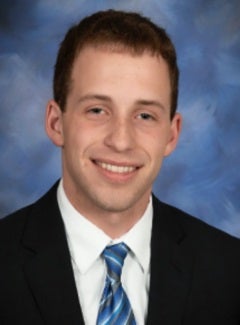 Alexander Elias, M.D., M.Sc.
Indiana University School of Medicine
Pronouns: He/Him
Hi all! I was born in Muscatine, Iowa, but really grew up in Indiana, having moved there when I was five years old and staying there until moving out to Virginia for residency. I studied chemistry at Indiana University in Bloomington, IN, for undergrad and then went to the IU School of Medicine in Indianapolis, IN, for med school. I plan to practice General Neurology in a largely outpatient setting once I graduate from residency. I love teaching and certainly anticipate integrating medical education into my future in some capacity. Outside of medicine, I enjoy spending my time with other people, whether family or friends, and I've been extremely lucky to develop meaningful relationships with so many people in the three short years that I've lived in Charlottesville. I generally like to run to clear my mind, check out new restaurants or breweries, hit up a hike and maybe a winery afterward, and sometimes it's nice to just lay in my bed and watch Netflix. I'm also an avid sports fan with particular emphasis on the Green Bay Packers and Indiana Hoosiers. Honestly, what drew me to UVA was a gut feeling about the overall vibes of the city and the program. When I visited Charlottesville for my residency interview, I could feel the supportive culture of the Neurology Program at UVA and was taken aback by the incredible camaraderie among the residents, and I knew during that short time that I would be very happy here. I can safely say that UVA has only exceeded those expectations with top-notch resident colleagues, extremely supportive faculty, and a strong culture across the hospital system. I am so happy I made the leap out of my comfort zone to move out here for residency!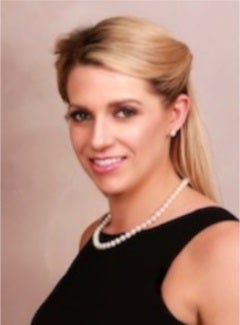 Rebekka Hooks, M.D.
Semmelweis University Faculty of Medicine
Pronouns: She/Her
Ciao, Hallo, Siza, howdy! Some call me Bekks others call me Bekka, I came to beautiful Virginia from the desert land of Viva Las Vegas. Prior to making UVA/Virginia my new home I adventured off into the world of Neuroscience majoring at the University of Nevada, Reno then whisked off to Berlin, Germany to fulfill a master's in medical Neurosciences; as clearly I became fascinated by the complexity of the nervous system. In between my neuroscience obsession I took an 8 month gap to live the "Eat Pray Love" life in Italy, because why not; you only get one life, live it well! The fun didn't stop there, after completing my masters I adventured to Semmelweis University in Budapest, Hungary to complete medical school. My ~8 year European life was an unforgettable experience and the next was pursuing a residency and a place to call home. During my trips visiting residency programs I INSTANTLY fell in LOVE with UVA! What stood out to me the most was the camaraderie and the genuineness of the entire program from faculty to residents to staff. On top of UVA Neurology being a great program, the city of Charlottesville has captured my heart. Don't be fooled by little 'ole Cville, there is a plenty to do here. If you love the outdoors there is great hiking, kayaking, paddle boarding, running and cycling. More of a foodie, the restaurant scene is superb. All in a community compromised of amiable and kindhearted people. Now you might ask – what's my next adventure? Vascular Neurology Fellowship and plans to become more involved in residency wellness education. In the interim I plan on continuing my daily yoga and meditation along with paddle boarding until the weather stops me and traveling to more exotic places. Bottom-line it's an excellent program in a wonderful city. We look forward to meeting you!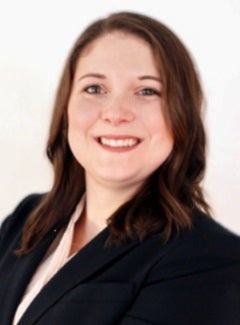 Courtney Huval, M.D.
Louisiana State University School of Medicine – Shreveport
Pronouns: She/Her
Hi everyone! My name is Courtney. I am from Louisiana where I completed all of my education until moving to the "north" for residency when I fell in love with Charlottesville and UVA. When I was searching for residencies, above all else I prioritized a welcoming community that fostered learning and compassionate patient care. I still remember the warm feeling I left with on my interview day. UVA  couples this with a strong educational experience across a breadth of neurologic disease and produces stellar neurologists. I am currently applying to neuroimmunology/MS fellowships and see myself in academics as a clinical educator.
Outside of medicine, I enjoy spending time outdoors whether that is gardening, hiking, swimming or relaxing on a beach. Virginia is a great place for any and all outdoor activities and that was one of the biggest attractions I had to the area. Since moving here, my husband and I have also developed a taste for local wines and craft beers. There is no shortage of new places to try all with beautiful mountain views. We are so happy to call this home.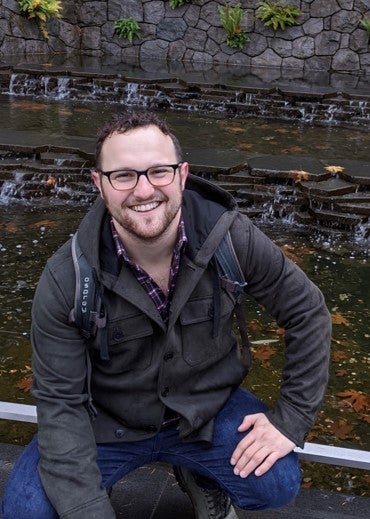 Jacob Perlman, M.D.
New York Medical College
Pronouns: He/Him
Hi, I'm Jake! I'm originally from the Jersey Shore, about 10min from the house where Snooki and the squad partied up (sorry GTL crew, not a fan). I went to New York Medical College before relocating to beautiful Central Virginia. I uprooted from the Northeast to come to Charlottesville because UVA gives me the opportunity to train in a highly renowned academic center that is not buried in the concrete and crowds of the big city.​
UVA Neurology provides me with the resources I need to hone my clinical and teaching skills. We have no shortage of enthusiastic learners at UVA! Everyday, I look forward to teaching our interns in medicine, psychiatry, and PM&R, as well as medical students who join us throughout the year. My primary career goal is to become a clinician educator in Multiple Sclerosis/ Neuroimmunology. I am particularly interested in the impact of diet and other lifestyle modifications on disease progression and quality of life in patients with MS.
When not localizing lesions, I'm jamming out on my drums, guitar, or singing. I'm a music snob who loves progressive rock, grunge, and jazz. I also enjoy cycling through the Virginia countryside. Our tight-knit neurology crew frequently meets to go hiking in Shenandoah National Park or to play trivia at a local brewery, but my favorite moments are playing music and singing with my co-residents. Rock on!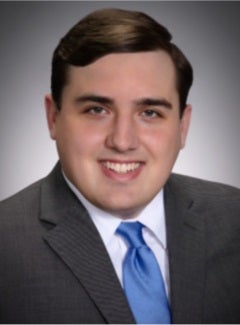 Nicholas Swingle, M.D.
University of Nebraska College of Medicine
Pronouns: He/Him
I grew up in different places throughout the Southeast and Midwest, but I suppose I consider either Charlotte, NC, or Des Moines, IA, to be my hometown. I studied Biomedical Engineering at Case Western Reserve University in Cleveland, Ohio, where my interest in medicine became focused on neurology by experiences with bioelectric research. I then completed medical school at University of Nebraska Medical Center in Omaha, NE, where I started to develop my interest in epilepsy. I chose to train at UVA because I was excited to join such a supportive academic community. My career interests include epilepsy/neurophysiology, medical education, and biomedical devices. Outside the hospital, I like to improvise on the piano, play board and card games with my wife, Mia, and play tug of war with my dog, Wendy.
Class of 2024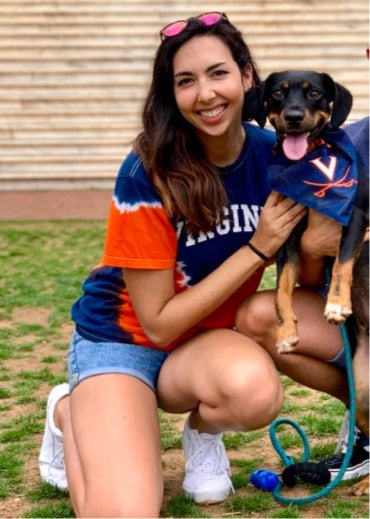 Brianna Bagalkotkar, M.D.
University of Virginia School of Medicine
Pronouns: She/Her
Hi! I was born and raised a couple hours from Charlottesville in the Hampton Roads area. I came to UVA for college in 2012 and haven't left since! (#triplehoo) It was clear to me that the residents at UVA were a tight-knit group of friends that loved what they did and fiercely supported each other, which is why I ultimately chose to stay- and I'm so glad I did. It's hard to say no to living in such a beautiful and vibrant town surrounded by innumerable wineries, breweries, good restaurants, and hiking trails. Outside of medicine, you might see me cooking, taking my pup (Miko) on dog park play dates, tubing down the Rivanna, caring for my ever-growing family of houseplants, playing in my rec volleyball league, planning my next trip to a national park, getting way too invested in board games, or doing weekly bar trivia with my co-residents. I am still figuring out the exact specialty and practice type I want to pursue at the moment, but I feel confident I will figure it out with the help of my many amazing faculty mentors. UVA is the kind of place that feels like home and makes you never want to leave (even if you haven't lived here forever!) because of the incredible people, culture, and education. You'll leave here not only with an excellent clinical foundation, but a lifelong support system as well.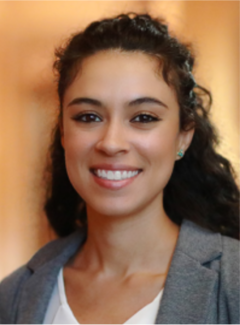 Kristina Key Cain, M.D.
University of Virginia School of Medicine
Pronouns: She/Her
Hello! My name is Kristina and I'm originally from Panama City, Panama. Growing up, I moved a ton and finally settled at UVA for college and have stayed ever since (currently working on that triple hoo status). I'm primarily interested in pursuing a fellowship in Behavioral/Cognitive neurology and am interested in both clinical and basic research. I grew up speaking Spanish (and some German) and am passionate about improving communication and providing quality care to non-English speaking patients. Outside of the hospital, I enjoy hanging out with my favorite person in the world, my daughter Ava, who has now reached toddlerhood. In my spare time, you can also see me running or hiking in my neon five finger shoes, jamming to reggaeton, keeping up with the latest in astronomy, and reading sci fi. I chose to stay at UVA for residency because Charlottesville has truly become my new home. I love that I can easily escape the hustle and bustle of hospital life and go hiking or skygazing in the mountains in just a matter of minutes.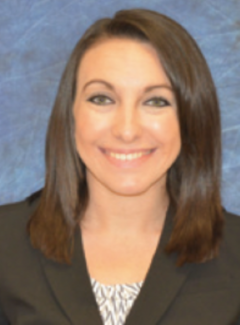 Valerie Casuccio, M.D.
West Virginia University School of Medicine
Pronouns: She/Her
Hey! I grew up outside of Pittsburgh, Pennsylvania, (Let's go Bucs/Pens!). I went to the University of Pittsburgh for undergrad, where I got my first taste of Neurology as a neuroscience major. Country roads took me to West Virginia University for medical school. I was one of those weird people who came into medical school knowing exactly what I wanted to do, and I never really looked back. I think there's a huge stigma against Neurology because people assume that you can't do anything for your patients, but this isn't the case anymore! It's such an exciting time to be a part of this specialty, and I can't wait to see where we go from here. At this point, I'm not sure what kind of Neurologist I'll be. If I'm not in the hospital, you can find me laying by my pool reading, recreating recipes that I've seen on the Food Network, or on my Nintendo Switch. When Covid-19 calms down, I look forward to checking out the live music scene in Charlottesville and seeking out the spin class with the best playlist. I picked UVA for residency because I felt that I would be pushed to be the best physician that I can be while being supported by those around me. It has been such a welcoming environment that has made the transition from medical school to intern year so much easier.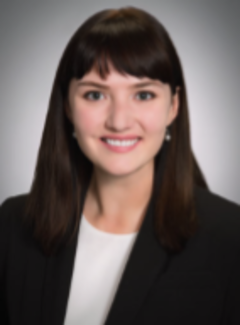 Donna Petko, M.D.
Creighton University School of Medicine
Pronouns: She/Her
Hello! I was born in Ukraine and then raised in northern New Jersey and then New Mexico. I went to University of Denver for undergrad, during which time I also studied abroad at the University of Glasgow (which looks exactly like Hogwarts). I attended medical school at Creighton University in Omaha, Nebraska. My favorite part about UVA Neurology is the collegiate atmosphere- everyone here is so kind and wants you to succeed. My co-residents are amazing and I enjoy spending time with them both in and out of the hospital. I enjoy traveling and exploring new places, hiking, drawing/painting, watching movies, and reading. If I'm not in the hospital, you'll either find me in a bookshop buying more books than I need, walking around Riverview Park, or enjoying the sunshine at a winery.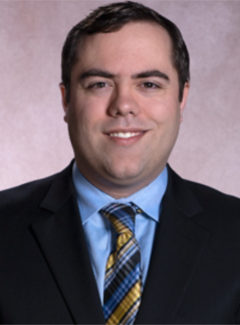 Matthew Rumschlag, M.D.
Western Michigan University School of Medicine
Pronouns: He/Him
Hello! I lived in Michigan my whole life (until residency). I grew up in Rochester Hills, and I went to the University of Michigan for undergrad and Western Michigan University for medical school. I studied Neuroscience and German in college and I was especially fascinated by my neurobiology courses. This led me to do neuroscience research about the genetics of drug abuse. During medical school I found Neurology to be an exciting field, with many medical advances on the horizon. I felt the faulty and residents at UVA were fun and supportive, and I thought Charlottesville was beautiful. There are so many places to hike, numerous vineyards and great food. As far as my current career interests, I am still undecided about inpatient/outpatient Neurology and I have not decided what sub-specialty to pursue yet. I am interested in research and teaching, and there are so many different paths one can take in Neurology. There are many interesting sub-specialties, and possibly new ones on the horizon. Outside of medicine I enjoy soccer, hiking, brewing beer, cooking, board games, video games and traveling.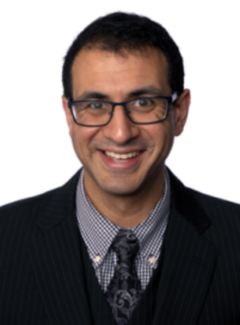 Darayus Toorkey, M.D.
Thomas Jefferson University Sidney Kimmel Medical College
Pronouns: He/Him
Hi there! While born in Milwaukee, I called South Jersey my home growing up. After a decade in Los Angeles first for undergrad at USC and then subsequently work in marketing research, I couldn't hold back the desire to go to med school. This brought me right back east to Thomas Jefferson University in Philadelphia. During this time neurology went from, "one thing I'm sure I don't want to do" to "the thing I absolutely most wanted to do."  The mystique of the brain, the unique pathology, and the importance of the clinician-patient relationship made for a field I just couldn't pass up! I chose UVA simply because it was where I was most comfortable. The staff immediately have made me feel so welcome and are constantly working to make sure residents have the opportunity to grow, while never feeling unsupported. I was (and continue to be) amazed at how proficient the residents were at running the team. I found it easy to fall in love with Charlottesville, even though I'd consider myself a big city person. I love having easy access to the mountains for hiking on off days and swinging by the myriad of wineries and breweries on my way back. It feels like there's something for everybody here which makes it feel like your own hidden gem!
Class of 2025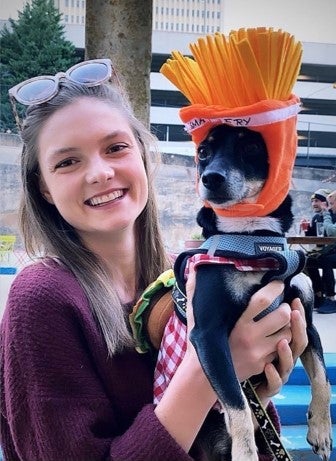 Suzahn Ebert, M.D.
Wake Forest School of Medicine
Pronouns: She/Her
My name is Suzahn, and I am from Lewisville, North Carolina which is right outside of Winston-Salem. I went to the University of North Carolina at Chapel Hill for undergrad (Go Heels!) and then returned to Winston-Salem to attend medical school at Wake Forest. While in medical school, I discovered my interest in neurology by doing research in neuro-muscular medicine. I am specifically interested in genetics and neuro-muscular ultrasound (right now, at least!) I chose UVA because of the excellent reputation, diverse clinical opportunities, and wonderful faculty and co-residents, not to mention the great location in Charlottesville. Additionally, the early exposure to outpatient and inpatient Neurology during intern year helps us meet all of the upper level residents and many of the attendings before we become fully integrated into the program. In my free time, I spend time with my dog, Boss, kayaking on the Rivanna, walking on the many nearby trails, hiking, and exploring local restaurants and wineries with friends.
Daniela Fishbein, M.D.
Thomas Jefferson University
Pronouns: She/Her
My name is Daniela Fishbein and I'm from Washington D.C.! I went to undergrad at Georgetown University and left the DMV area for medical school at Thomas Jefferson University in Philadelphia, PA. I was so excited to move to Charlottesville which is truly my dream city in the mountains with so many restaurants, breweries, and fun people. Most of all, I love that I'm able to enjoy the natural beauty of Virginia on my days off and I always have a buddy with similar interests and hiking-speed. My 2 cats also love living here. I'm not sure what direction residency will take me in the diverse field of neurology, but I can't wait to learn from the thoughtful faculty and residents here at UVA Neurology these next few years!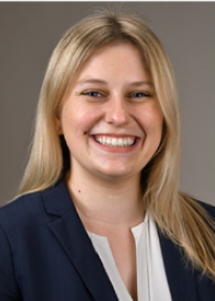 Emily Fisher, M.D., M.P.H.
University of Texas at Houston
Pronouns: She/Her
Hi everyone! I grew up in Austin, Texas (Go Horns), and went north to Indiana for college at the University of Notre Dame (Go Irish). Afterward, I returned to Houston, Texas for my medical and my master in public health degrees at the University of Texas-Houston. Right now my career interests are in inpatient-based neurology, such as stroke, neurocritical care, or neurohospitalist medicine. Additionally, I am excited to be already be connected with new research and career mentors in various sub-specialties here at UVA as I'd like to incorporate clinical research as part of my career. I couples matched here with my husband (psychiatry), and so far we have both felt very welcomed and supported by our new departments, and have been amazed at how much there is to do for fun in Charlottesville. Outside of medicine, I enjoy jogging, spending time with my dog Beans (any Even Stevens fans?), and exploring the expansive restaurant/brewery/winery scene in town.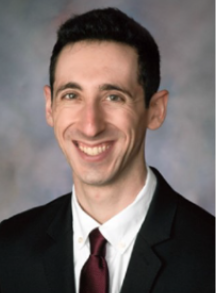 Benjamin Meyers, M.D.
Thomas Jefferson University
Pronouns: He/Him
I'm Ben! I grew up in Connecticut and went to the University of Michigan for undergrad. I studied neuroscience but after class spent my time broadcasting college sports and cooking. After two years in science news in NYC and DC, I went to Thomas Jefferson in Philadelphia for medical school (shoutout Darayus and Daniela!) I'm interested in medical journalism, general neuro, headache, or sports neuro. UVA's program is already a great fit because everyone is so ready to help each other and emphasizes patient communication. Not to mention the faculty and best program coordinator! Charlottesville's outdoors, views, and pace of life are what restore me after a long day. When I'm home, I'm thinking about dogs, puns, college sports, and Bodo's bagels. (East-coaster approved). There are so many pets in our residency, it's the best!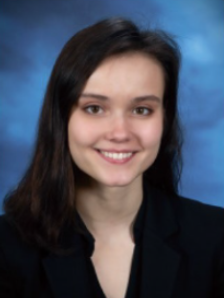 Kalina Misiolek, M.D.
Indiana University
Pronouns: She/Her
Hi there! My name is Kalina. I'm from South Bend, Indiana, studied mathematics at Columbia University for undergrad, and then returned to Indiana for medical school. I'm very interested in language and aphasias, and my goal is to incorporate my math background into language modeling research that complements my clinical career. All that to say, I'm not sure what I'll specialize in yet, but I do love cognitive neurology and stroke. Outside of the hospital, I love to read, explore the beautiful hiking trails in Charlottesville, and play soccer!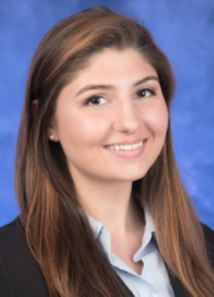 Naseem Zomorodi, M.D.
Pennsylvania State University
Pronouns: She/Her
Hello there! My name is Naseem. I grew up in Central Pennsylvania and went to Penn State for both undergrad and med school. My partner Elliott (internal medicine) and I couples matched at UVA together. I picked neurology because who doesn't love a good game of localize the lesion?! (Elliott and I actually have a board game called ~The Lesion~) In terms of subspecialities, I think neuroimmunology and neurohospitalism are interesting, but I'm still not positive what I'd ultimately like to pursue – I'm looking forward to all of the exposure we get to the neuro service intern year so I can begin to figure it out! My hobbies include hiking/star gazing/most other outdoor activities, tending to my houseplants, painting, food, and exploring Cville with my lovely coresidents.
Class of 2026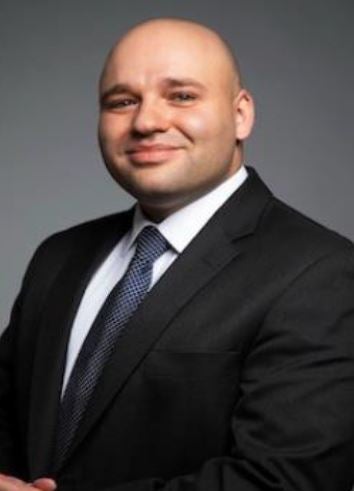 Andrew Chapman, M.D.
Chicago Medical School at Rosalind Franklin University of Medicine & Science
Pronouns: He/Him
Hi! I was born and raised in the beautiful Appalachian Mountains of Southwest Virginia. These mountains provided ample opportunity for discovery and, as a kid, I spent most of my time exploring the forests, caves, and rivers around my childhood home. I began my collegiate career at the University of Virginia's College at Wise, where I studied biology and physics under some truly incredible professors. While an undergrad, I had the opportunity to contribute to research on the atmospheric dynamics of variable stars, a fascinating field of study that further fueled my lifelong love of astronomy. Later, while continuing my studies here at UVA, a course in biochemistry piqued my interest in clinical medicine. Upon recognizing the plethora of biochemical processes occurring within our bodies, I became fascinated by the complexity and beauty of life. Inspired by this reality, I decided to pursue a career in medicine. I was subsequently accepted into the MD class at Rosalind Franklin University in Chicago, IL. While studying in Chicago, I was fortunate to make great friends, enjoy awesome cuisine, and learn from some very dedicated and knowledgeable physicians. During my second year of medical school, a course in neurology introduced me to the incredible nature of the human nervous system. I was immediately amazed by how synchronized electrochemical processes within our cells give rise to movement, sensation, and (most incredibly) cognition. After completing my third-year clerkship in the field, I was hooked, I wanted to be a Neurologist. On Match Day, I was thrilled to learn that I would be returning to UVA for residency! The people that comprise our program are some of the kindest, most intelligent, and patient-centered folks you will ever meet. I feel incredibly fortunate to train at UVA and to be given the opportunity to help care for our wonderful patients. Aside from our world-class health system, we are just south of Shenandoah National Park and all the hiking trails, swimming spots, and remarkable wildlife contained within its ancient mountains. I honestly enjoy being in the hospital above most things, but when I am away, I like combating entropy by working on old cars, cleaning up my yard, and maintaining/upgrading my telescope. I also enjoy reading about philosophy and theology. Furthermore, I am proud to serve our nation as a captain in the US Army Reserve Medical Corps. To all who read this, I wish you good health and much fulfillment in life.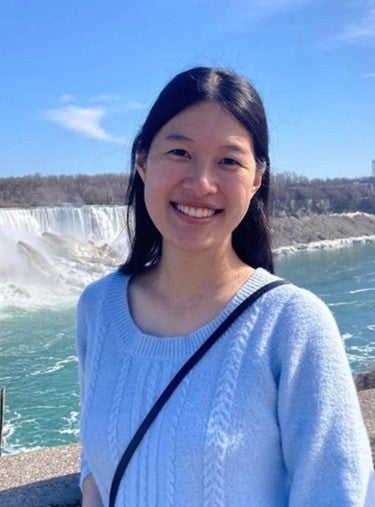 Arlinda Deng, M.D., M.H.S.
University of Maryland School of Medicine
Pronouns: She/Her
Hello! I grew up in St. Catharines in Ontario, Canada and went to McMaster University for undergrad. I decided to go down to Baltimore to pursue an education in epidemiology, and then attended medical school at University of Maryland. I'm excited to explore the different subspecialties of neurology, though currently most interested in outpatient neurology. I am interested in teaching and epidemiological research, and look forward to pursuing medical education and academia in the future.
I chose UVA because of supportive faculty and co-residents, and the variety of opportunities to expand my clinical and professional interests. I'm so excited to explore everything that Charlottesville has to offer! Outside of the hospital, I enjoy running, virtual pilates and yoga with friends, and feeding my food and coffee cravings by trying out various local restaurants and cafes.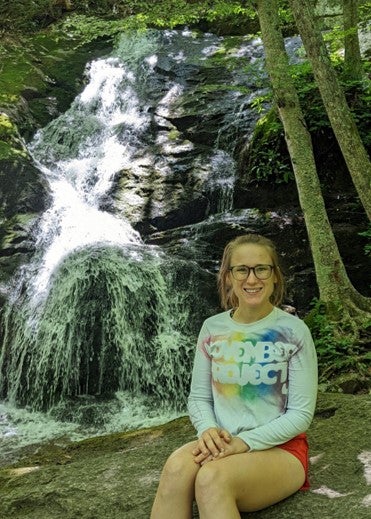 Katharine Henry, M.D.
Mayo Clinic Alix School of Medicine – Arizona
Pronouns: She/Her
Hi there! I'm originally from Atlanta, GA but have moved around quite a bit and went to high school in Minnesota. I attended Emory University for undergraduate and spent two years at the NIH conducting brain imaging research after graduating. I moved to Arizona for medical school in 2018. I had an inkling that neurology was for me prior to medical school. My third year clerkship confirmed to me that neurology is a hidden gem of a specialty (but I don't need to convince you of that if you are looking at UVA Neurology). I'm currently most interested in movement disorders and neuroimmunology but am open to all that neurology has to offer.  I have additional interests in medical education and plan to pursue academia.
When looking for a residency program, I wanted to find a supportive program with leadership and current residents that cared about creating a genuine community. It was important to me to find a program with exposure to a wide variety of neurologic diseases and the resources to provide a firm foundation to pursue academia. On the interview trail, I found that perfect combination in UVA Neurology.
When I'm not at the hospital, you will likely find me outside, reading science fiction or spending time with my significant other. I love to play tennis, hike and trail run. For that reason, UVA's location is perfect. Charlottesville is a friendly town with access to amazing trails (Shenandoah national park). My picture is from Crabtree Falls, not far from UVA. The town is just the right size where it is easy to get around while still having access to fun weekend activities and great food.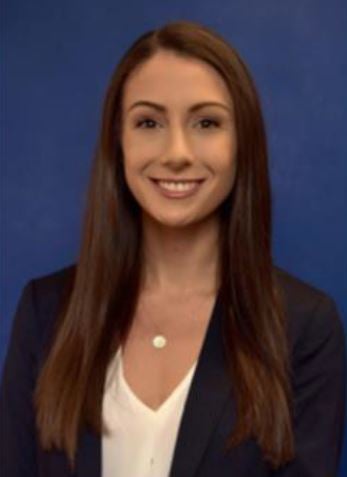 Rachel Mascari, M.D., M.S.
University of South Carolina School of Medicine – Columbia
Pronouns: She/Her
Hi all! I'm originally from Edgewater, MD – a town right next to Annapolis. I moved down South for undergrad at the University of South Carolina, and after a 2-year jaunt of living in DC I went back to Gamecock country for med school. Going into med school, I had a hunch that I would choose neurology but wanted to keep my mind open. Then I started doing stroke research and what can I say, I was hooked! I'm interested in stroke but I look forward to exploring more fields until I actually decide.
When I was a fourth year med student, I did an away rotation at UVA and I immediately knew this was where I belong. This program is full of people who truly love the field and show it in their enthusiasm for teaching, attendings and residents alike. Needless to say, I was absolutely ecstatic to match here! Outside of work, I love exploring Charlottesville from the Downtown Mall to the many hiking trails nearby and checking out the wide selection of wineries/breweries around town.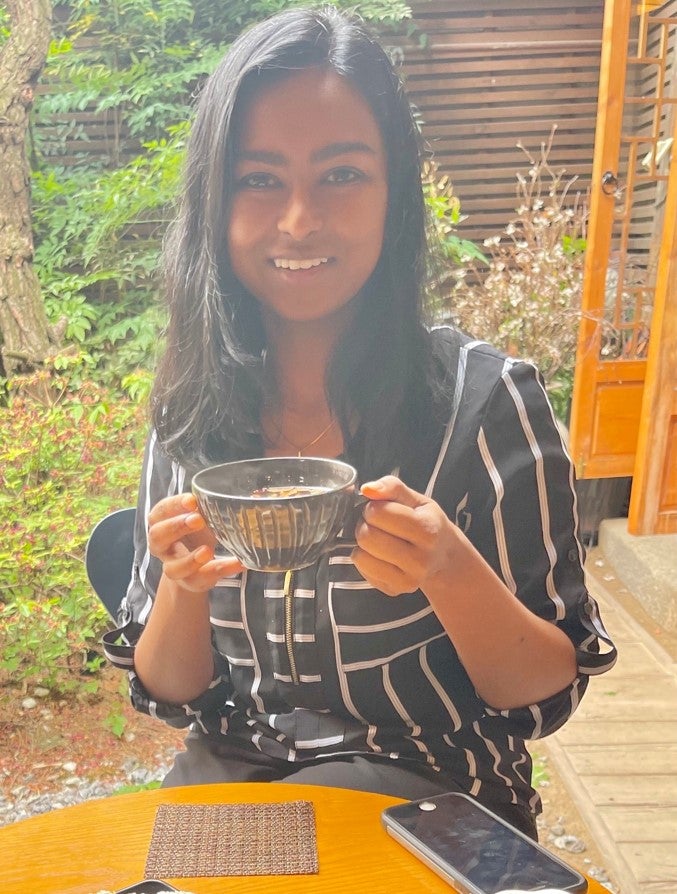 Harika Rayala, M.D.
University of Michigan Medical School
Pronouns: She/Her
Hi all, I was born in India and moved to Ohio after making pit stops in Barbados and the East Coast. I studied anthropology and journalism at Northwestern University and attended University of Michigan for medical school. Neurology was my first clinical rotation and I immediately fell in love with the physical exam and the localization-based approach. UVA stood out to me for the warmth and camaraderie that was apparent even on Zoom when I was interviewing. Now that I am here, I find that to be doubly true. My co-residents are genuinely kind, fun and supportive and the program leadership invested in your individual career goals. Outside of clinical care, I am most interested in neuroethics, journalism and researching models of healthcare delivery. In my free time, I am usually spending as much time outdoors as possible (Charlottesville has stunning scenery), catching up on the news, reading and cheering on Liverpool.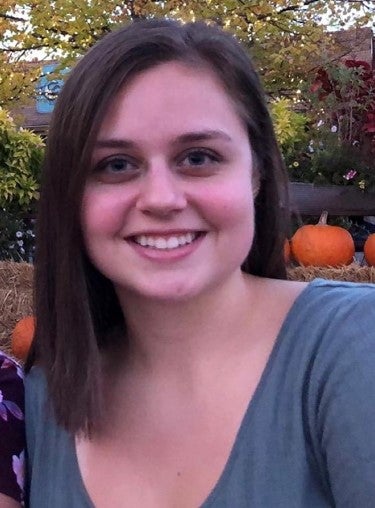 Rachel Shaffer, M.D.
Drexel University College of Medicine
Pronouns: She/Her
Hey! My name is Rachel, and I am from southwestern Pennsylvania (from a VERY small town called Hyndman), about two hours southeast of Pittsburgh. I went to Shippensburg University for undergrad, then continued my move across the state to Philadelphia for medical school at Drexel. I discovered my passion for neurology starting with neuroscience research on psychoactive drugs during undergrad and med school, then came to find I loved it just as much in the clinical setting! As of now, I am interested in more hospital-based neurology (possibly as a neurohospitalist) but am excited to learn more about the other subspecialties of neurology during residency. No matter the subspecialty I choose down the road, I hope to incorporate plenty of teaching, and maybe even some research. I chose UVA because of the supportive environment, clear friendship between the residents (which was apparent even over Zoom), the diversity of professional experiences offered, and the "small town city" nature of Charlottesville. I've really enjoyed getting to know all my new co-residents and faculty, and have instantly felt at home in this program, the hospital, and Charlottesville as a whole. Outside of the hospital, I love cycling (indoors or outdoors), hiking, grabbing dinner with friends, watching hockey (Go Pens!), spending too much money at the Saturday farmers market, and cooking/baking while enjoying music or a podcast.