Equipment
10X Genomics Chromium Controller
The Chromium Controller instrument performs the integral first step in constructing 10x Genomics single cell NGS libraries by creating the emulsion bubbles in which single cells are isolated and individually tagged with a unique 16nt barcode. Current applications include 5′ single cell RNA-seq with or without additional VDJ immune profiling (B cell or T cell) and cell surface feature barcoding libraries (allowing more than one individual sample to be multiplexed into a single library, thus saving on reagent and prep costs), ATAC-seq, and cell surface protein to RNA transcript association analysis (same workflow as the previously mentioned feature barcode multiplexing strategy). Up to 10,000 cells can be captured per library, allowing for deep profiling of complex cell populations. This instrument is core operated only.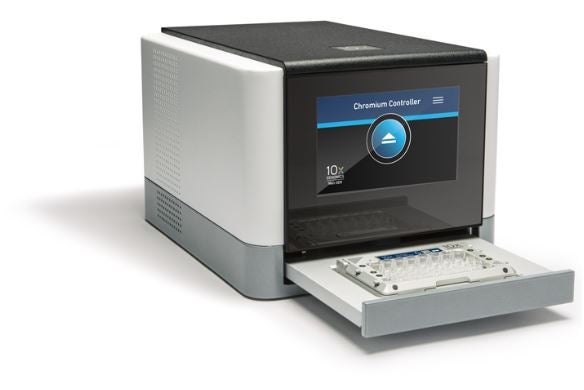 Illumina NextSeq 500 Sequencing System
The NextSeq 500 is the first desktop high-throughput sequencing system and can perform whole-genome sequencing, exome sequencing, RNA-Seq, and single cell sequencing. In a single sequencing run, the NextSeq 500 running in High output mode can generate 400 million reads allowing it to sequence up to 80 small RNA sequencing libraries (5M reads per sample), 40 RNA profiling libraries (10M reads per sample), 30 chip-seq libraries (15M reads per sample), 12 transcriptome libraries (40M reads per sample), 12 exome libraries (100X coverage on average), or one human whole genome library (30X coverage).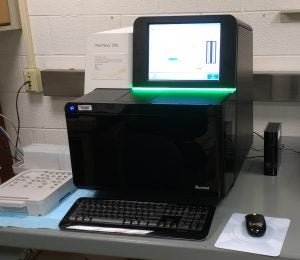 Illumina MiSeq Sequencing System
The miSeq desktop sequencer allows access to more focused applications such as microbiome sequencing (bacterial and fungal), amplicon sequencing, metagenomics, and small genome sequencing, starting with 10ng of DNA. New MiSeq reagents enable up to 25 million sequencing reads and 2×300 bp read lengths.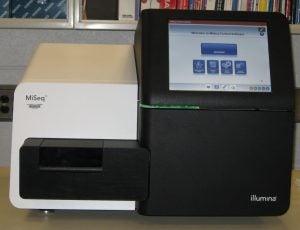 Nanopore GridION
The Oxford Nanopore GridION is a flexible benchtop sequencing and analysis device designed to run and analyse up to five individually addressable MinION or Flongle Flow Cells. It is ideal for labs with multiple projects that need the advantages of nanopore sequencing: simple library preparation, real-time analysis and new biological insights from long reads. The GridION also allows users to offer nanopore sequencing as a service.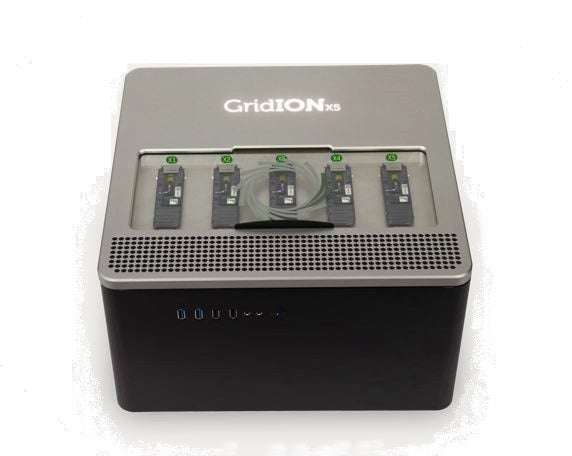 Bio-Rad QX200™ Droplet Digital™ PCR System
The QX200 Droplet Digital PCR (ddPCR) System provides absolute quantification of target DNA or RNA molecules for EvaGreen or probe-based digital PCR applications. The QX200 Droplet Digital PCR System consists of two instruments, the QX200 Droplet Generator and the QX200 Droplet Reader, and their associated consumables.
The QX200 Droplet Generator is used to partition ddPCR reaction mix into thousands of nanoliter-sized emulsion droplets. After PCR on a thermal cycler, droplets from each sample are analyzed individually on the QX200 Droplet Reader. Droplets are read well by well as they are streamed single file past a two-color optical detection system in a serial manner. Up to 96 samples can be processed per run. The PCR-positive and PCR-negative droplets are counted to provide absolute quantification of target DNA in digital form. Alternatively, amplified products can be extracted from droplets following PCR for downstream applications, such as sequencing or cloning.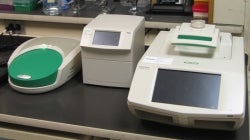 Applied Biosystems QuantStudio 6 Flex Real Time PCR System
The QuantStudio 6 performs both SYBR Green and TaqMan qPCR. Real-time quantitative PCR (qPCR) is a highly sensitive and specific method for SNP genotyping and for amplifying, detecting and quantitating target transcripts.  The QuantStudio 6-Flex enables detection as small as 1.5-fold changes in singleplex reactions and with 10 logs dynamic range.  It can also be used to identify new variants quickly and accurately with high resolution melt.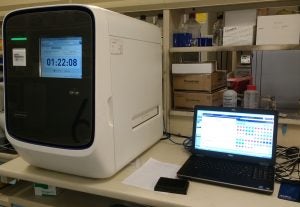 Agilent Bioanalyzer and Tape Station
The Agilent 4200 TapeStation system is an automated electrophoresis tool for assessing size, quality, and concentration of up to 96 DNA or RNA samples per run. This instrument is commonly used to QC RNA prior to RNAseq library prep and to QC finished NGS libraries. The core currently stocks a variety of kits for analyzing RNA and DNA of both high and low concentrations. This instrument is both Core and user operated, but requires user training before use.
The Agilent Bioanalyzer uses a microfluidic chip to perform similar analyses to the TapeStation. This instrument is currently only available for special request runs of a type that are not supported by the Agilent TapeStation. Please inquire.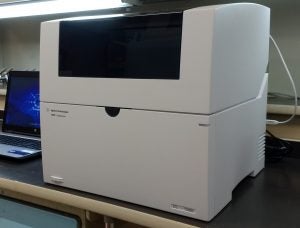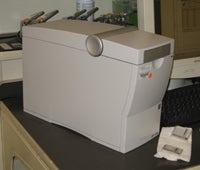 NanoVue spectrophotometer
The GE HealthCare NanoVue performs spectrophotometric absorbance readings of small volumes for the quantitation of RNA and DNA. This instrument is Core operated.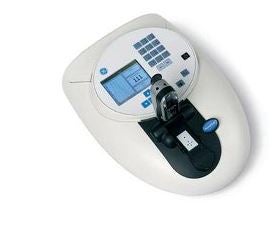 Qubit 3.0 fluorometer
The Qubit 3.0 Fluorometer performs fluorescence based quantitation of DNA and RNA samples. The Core currently stocks the dsDNA HS kit, but other kits are available upon request or can be user supplied.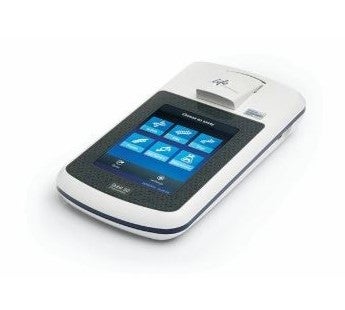 Covaris S2
The Covaris S2 shears nucleic acids into suitably sized fragments for NGS library prep using focused acoustic energy. Protocols are available for shearing DNA to sizes of 150 to 1500 base pairs. This instrument is user operated only.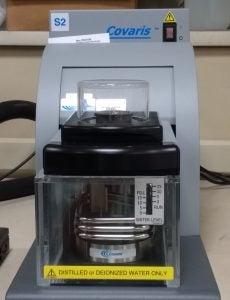 QIAcube
The Qiagen QIAcube performs semi-automated nucleic acid extraction using Qiagen's spin column kits. In addition to reducing hands on time, the QIAcube can give more reproducible results than a manual procedure.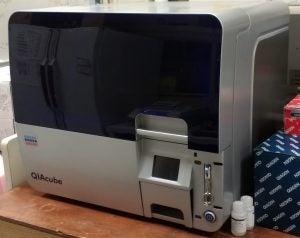 Sage Science Pippin Prep
The Pippin Prep performs automated gel size selection within a premade gel cartridge, particularly useful in the preparation of NGS libraries. Fragments can be size selected within a range of 100 bp to 1.5 kb and are eluted from the gel into a collection chamber with no need for further purification or clean up. Run time is less than 2 hours. This instrument is currently user operated, and users must provide their own reagents and supplies.