Core Faculty
Nassima Ait-Daoud, MD – Program Director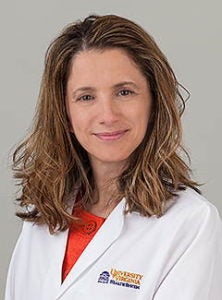 Dr. Nassima Ait-Daoud Tiouririne is the Addiction Medicine Fellowship Director and the Associate Director for Psychiatry Residency Program in the Department of Psychiatry and Neurobehavioral Sciences at the University of Virginia Medical Center. She is a Board-certified psychiatrist and Addiction Medicine specialist and Director of the Center for Leading-Edge Addiction Research (CLEAR) outpatient Psychiatry services. She is also the Medical Director of Ambulatory Psychiatry, Medical Director of the Office Based Opioid Treatment Clinic and Director of Medication Assisted Treatment Clinic at UVA. Her research focuses on the development of medications and other treatment modalities for addictions; and linking clinical psychopharmacological research with basic biochemical studies to understand the underpinnings of addiction associated with craving and treatment response. Dr. Ait-Daoud also does research collaboration with other specialties, such as neurosurgery to test focused ultrasound to affect brain circuitry involved in addiction with the hope of developing new treatment options and individualized treatment for addictions based on genetic and psychosocial profile to maximize benefits and reduce adverse events.
---
Christopher Holstege, MD – Clinical Faculty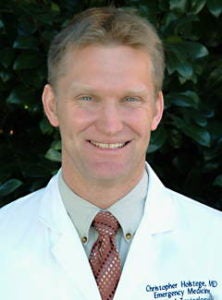 Dr. Christopher Holstege is a Professor of Emergency Medicine and Pediatrics, Chief of the Division of Medical Toxicology, Medical Director of the Blue Ridge Poison Center and Executive Director of University of Virginia Elson Student Health Center. His areas of research interest include appropriate clinical care of poisoned patients, epidemiology of poisonings, substance abuse trends in student populations, chemical agents utilized in terrorism/murder and the emergence of new substances of abuse. Dr. Holstege has extensively contributed to the Medical Toxicology fellowship and rotation curriculum development and is a recipient of numerous teaching awards in both Emergency Medicine and Medical Toxicology. He is a distinguished leader and member of several institutional, state and national committees in both specialties.
---
Erik Gunderson, MD – Clinical Faculty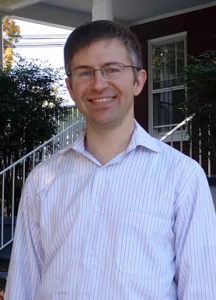 Dr. Erik W. Gunderson is an Associate Professor in the Department of Psychiatry and Neurobehavioral Sciences, an Associate Professor in the Department of Medicine and a member of the Data and Safety Monitoring Board in the Department of Psychiatry and Neurobehavioral Sciences. In the Association for Medical Education and Research in Substance Abuse, Dr. Gunderson currently serves as the Lead Mentor for the Clinical Support System for Medication Assisted Treatment (PCSS-MAT) and is on the Abstract Plenary Selection Committee. Areas of research interest include the following: office-based treatment effective of opioid dependence, behavioral psychopharmacology, integrated substance use screening and treatment in general medical settings, designer drugs and substance use medical education.
---
Justin Smith, MD – Clinical Faculty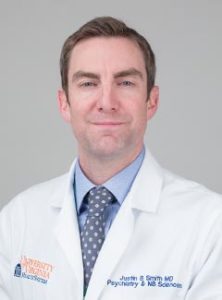 Dr. Justin B. Smith is an Assistant Professor of Psychiatry and Director of the Psychiatric Consultation Service at the University of Virginia Health System. He also serves as a Psychiatric Consultant to the Comprehensive Epilepsy Service in the medical center. Dr. Smith is Board Certified in Psychosomatic Medicine by the American Board of Psychiatry and Neurology.
---
Robert Klesges, PhD – Research Faculty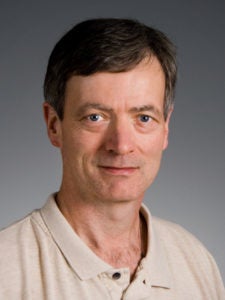 Educational activities involved in teaching clinical aspects of addiction and prevention, essential components of scientific writing, introduction to clinical trials, clinical psychotherapies and psychopharmacology. Research interests include the following: smoking cessation, cancer prevention and control in young adults, clinical trials, health promotion in underserved populations (women, minorities and the military), obesity treatment and weight gain prevention in children and adults
---
Amit Shahane, PhD – Clinical Psychologist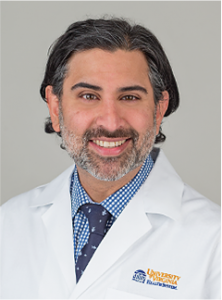 Dr. Amit Shahane is an Assistant Professor at the University of Virginia, School of Medicine. He is the Director of the Behavioral Medicine Center and Director of the UVA School of Medicine Psychology Postdoctoral Fellowship Program. His educational activities involved teaching on evaluation and delivery of various psychotherapeutic interventions to patients experiencing addictions or medical illness that impact psychiatric functioning and/or psychiatric illness that exacerbate medical illness or addiction. Dr. Shahane's areas of research include the psychiatric and physiological (i.e. cytokines) impact of cognitive behavioral therapy for insomnia in patients with HIV/AIDS.