Program Leadership
Program Director - Nassima Ait-Daoud Tiouririne, MD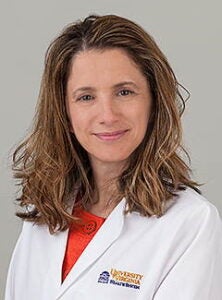 Dr. Nassima Ait-Daoud Tiouririne is the Director for Psychiatry Residency Program in the Department of Psychiatry and Neurobehavioral Sciences at the University of Virginia Medical Center. She is a Board-certified psychiatrist and Addiction Medicine specialist. Dr. Ait-Daoud is the Vice Chair for clinical affairs and the Medical Director of Ambulatory Psychiatry. Dr. Ait-Daoud is dedicated to teaching, clinical care and research. Her research focuses on the development of medications and other treatment modalities for addictions; and linking clinical psychopharmacological research with basic biochemical studies to understand the underpinnings of addiction associated with craving and treatment response. In her time off, Dr. Ait-Daoud enjoys hiking, gardening and yoga. Fun fact: she loves dark chocolate
Associate Program Director - Jordan Rosen, MD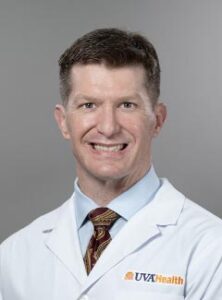 Dr. Jordan Rosen is an associate program director for the adult psychiatry program and the director of the consultation-liaison service. He completed his residency and chief residency at UVA before doing his C/L fellowship at Yale. He then worked at Brigham and Women's Hospital and Harvard Medical School as the director of critical care psychiatry. His academic interests focus around delirium and psychiatric illness in the critically ill and he is the vice-chair of the critical care special interest group within the Academy of Consultation-Liaison Psychiatry. He has always been devoted to education and is excited to be back with the residency program where he trained! Outside of medicine, he enjoys spending time with his family, including his golden retriever and his standard issue cat (SIC). He also really likes cookies.
Associate Program Director - Anne Louise Stewart, MD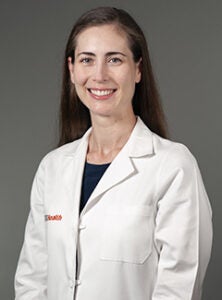 Dr. Anne Louise Stewart is an associate program director for the adult psychiatry program and joined the team as one of the consultation liaison psychiatry faculty after completing a consultation liaison psychiatry fellowship at University of Texas Southwestern.  She is a researcher in the reproductive psychiatry research program, active in national clinical trials, and passionate about resident education. She enjoys art museums, rose gardening, and time with her daughter, husband, and animals.
Program Administrator - Laura Covert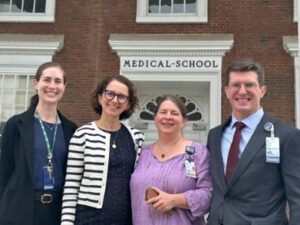 Laura Covert is the program administrator for the psychiatry residency and fellowship programs.  She grew up in Charlottesville and received a Bachelor of Arts degree from Warren Wilson College in environmental studies. She supports residents and fellows in their personal and professional growth and enjoys introducing candidates to the city and the program. In her spare time, she works on her urban farm with her husband tending a few goats, a small flock of ducks and a large vegetable garden.