Day in the Life
PGY 1 - Inpatient Unit (5E)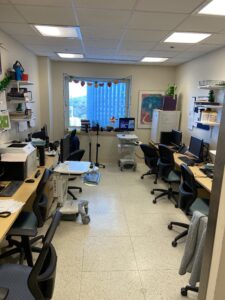 The inpatient unit is divided into three teams, two consisting of an intern/PGY2 and a third with only a PGY2. The day begins by arriving at 7am to receive sign out from the night PGY1 where we discuss overnight events or new admissions. Before rounds we will review charts and determine patient plans for the day. At ~8:30am we start rounds and work with the attending and psychiatric team to generate daily clinical plans. At 11:30am our residents meet with the interdisciplinary team of nurses, occupational therapists and social workers and discuss goals for admission and disposition planning. After "huddle" we return to our work room to complete progress notes, obtain collateral, participate in hearings or family meetings, do capacity assessments and discharge patients. The PGY1 carries the team pager and will respond to nursing pages throughout the day. The night intern returns at 5:30pm for evening sign out
PGY 2 - Consult-Liaison Service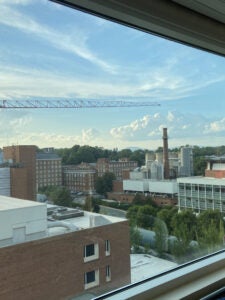 The day starts by receiving a sign out from the covering night PGY2 at 7:30am. We discuss any behavioral emergencies overnight or new emergency room consults. After sign out, the consult list is distributed among our two consult teams. Each team is made up of several first and second year residents as well as medical students. We meet with the attending at 8:30am and discuss the patients. After this, we round on all patients in person as a team. The PGY2 on call will receive new consults on the service pager ("1225") and delegate these floor or ED consults to the other interns and PGY2's on the team. The rest of the day is spent completing notes, coordinating admissions to our inpatient unit and seeing new consults. We also participate in the Behavioral Emergency Response Team, a multi-disciplinary team that responds to behavioral emergencies throughout the hospital. At 5:30pm the covering night PGY2 returns and the day team signs out.
PGY 3 - Northridge Outpatient Clinic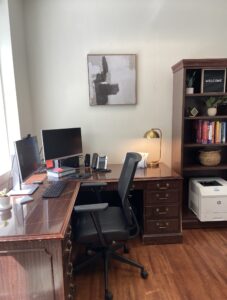 The day starts at 8am seeing a follow up patient for medication management. This continues until 10am when a new patient is scheduled for an intake visit. The intake visit is completed over two hours and includes time to staff with an attending and formulate an appropriate plan. Noon is lunch and admin time (1hr) which allows for time to eat, check in on peers and make sure notes and inbox messages are up to date. In the afternoon, medication management appointments as well as therapy appointments continue until the last patient of the day is seen at 4:30pm. Two hours a week are dedicated to meeting with attendings for both therapy and medication supervision. (*times vary among residents).