Faculty Development
At UVA, we are always striving to improve our clinical, educational, and research efforts. The Section of Hospital Medicine provides group and individual faculty development with the goal of continuous performance improvement and career advancement towards promotion. Activities include:
New Hospitalist Faculty Development
Early Career Scholars Program
Hospital Medicine Grand Rounds
Orthopedics Co-Management Joint Case Conference
Quality Incentives Faculty Development Series
Hospital Medicine Journal Club
Mentor Groups
New Hospitalist Faculty Development
The Section of Hospital Medicine continues to grow and regularly welcomes new faculty members. The transition from resident to faculty and from one institution to another can be quite complex. To help smooth this transition and ensure our new Hospitalists start their UVA careers on solid ground, Drs. Alex Millard and George Hoke have created an early career faculty development program.
The components of this program include mentorship and a Professional Development Conference Series. Each participating Hospitalist is assigned a primary mentor from the Section of Hospital Medicine. This senior Hospitalist will serve as a guide for exploring the opportunities within Hospital Medicine at the University of Virginia. Additional mentors with expertise in the faculty member's area of interest will be added to the mentorship team as needed. The mentorship team may include faculty from outside the Section of Hospital Medicine. After the first year, each faculty member will work with their mentorship team to create goals for year two.
The Professional Development Conference Series kicked off in September 2022 with a session on Facilitating Safe and Effective Care Transitions led by Drs. Amber Inofuentes and Jess Dreicer. See the full schedule below. We believe this program will facilitate the development of clinical and nonclinical expertise in areas of personal interest to promote career satisfaction, faculty retention, and academic promotion.
September- Facilitating Safe and Effective Care Transitions
October – Documentation, and Billing
November – Effective Hand-off of care
January – Teaching ACE students on hospitalist rotations
February – Perioperative Medicine
March – Teaching the 3rd year student and resident team
April – Learner Evaluation and Feedback
May – Making the most of mentorship
Early Career Scholars Program
Begun in early 2022, the UVA Hospital Medicine Early Career Scholars (ECS) Program provides protected non-clinical time for selected faculty hospitalists to complete a mentored project focused on clinical research, medical education, hospital or section operations, development of a new clinical program, or quality improvement, in alignment with departmental and institutional priorities. Preference is given to hospitalists at the level of assistant professor, more than a year beyond completion of residency training, and with 100% clinical effort (cFTE). Selected hospitalists are required to attend the Society for Hospital Medicine (SHM) Academic Hospitalist Academy. Scholarly output is expected in the form of local/regional presentation during year one or two and national presentation during year two or three. Applications are accepted annually February 15-April 15 and the ECS Program begins in September. Learn more about exemplar projects below.
Category: New Clinical Program
Topic: "Development of a Hospital Medicine Ultrasound Program"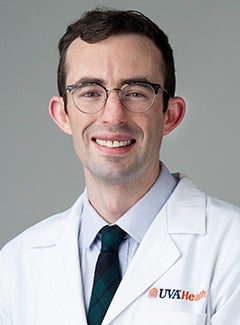 Ian Crane, MD
Category: Medical Education
Topic: "An Untaught Fundamental: Simulated Pre-Rounding in the Advance Clinical Elective"
Hospital Medicine Grand Rounds
Hospitalists as a national specialty, and specifically at UVA, fill an important niche within the community of internal medicine. To address the specific faculty development needs of hospitalists, UVA Hospital Medicine Grand Rounds occurs bimonthly, with expert speakers, on a variety of topics specific to inpatient medicine. The speaker series seeks to ensure that our hospitalists can:
Perform skills specific to the needs of hospitalist medicine physicians.
Describe up-to-date literature on best practices for caring for hospitalized patients.
Describe the importance of diversity, equity and inclusion within a hospital medicine program.
Effectively engage in scholarship focused on inpatient medicine.
Educate learners on topics specific to hospital medicine and the needs of hospitalized patients.
Engage in interprofessional care as a member of a broad healthcare team.
Mentor junior faculty/engage as a mentee as part of a growing hospital medicine program.
Heart Failure Updates
Benign Hematology Updates
Career Showcase
Opioid Use Disorder
Upcoming topics include best practice pearls from clinical consultants in Geriatrics, Pulmonology, Palliative Care, Pain Management, Rheumatology, and others.
Building Individual and Group Procedural Expertise
Commonalities and Collaboration with Pediatric Hospital Medicine
Hospital Medicine Career Showcase: High-Value Care
Hospital Medicine Career Showcase: Medical Humanities
Improving Transitions of Care: What We Know and Where We Can Go
Inpatient Glycemic Management: Common Pitfalls and Practical Solutions
Managing Behaviorally Complex Patients in the Hospital
Optimizing Hospital Discharge: Can we re-engineer an overlooked tool to enhance patient self-management?
Rapid Updates in Infectious Diseases for the Hospitalist
Hospital Medicine Career Showcase
As part of a rotation within Hospital Medicine Grand Rounds, the "Career Showcase" series aims for successful hospitalists outside of UVA to share their career journey so that our group may learn about different career trajectories. We invite hospitalists with career expertise in high-value care, quality improvement, patient safety, clinical reasoning, hospital administration, advocacy, medical education, and more. Each Hospitalist shares their career path, highlighting pivotal moments along their journey and providing tips for developing a niche in a given area. One-hour informal sessions take place virtually.