Who We Are
Our Mission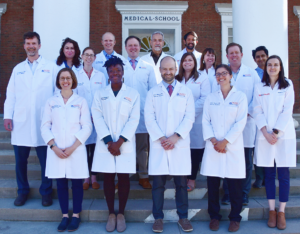 Meet Our Faculty
UVA Hospital Medicine seeks to ensure that all patients receive high quality care that is safe, equitable, efficient, effective, and patient-centered.  We pride ourselves on delivering compassionate care and working to understand and mitigate the impacts of social determinants of health.
Apart from our clinical work, we strive for excellence in many other domains including: medical education, research, and quality improvement and patient safety. We also seek to mentor and educate the next generation of clinicians and to lead research and innovation to improve individual patient and health system outcomes.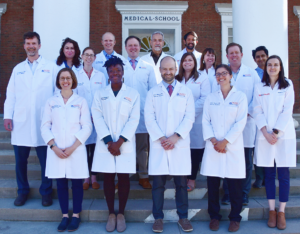 Meet Our Faculty
Amber Inofuentes, Section Head
Andrew Parsons, Associate Section Head for Education and Scholarship
Jessica Dreicer, Associate Section Head for Quality
George Hoke, Director of Faculty Development
Alex Millard, Associate Director of Faculty Development
Rahul Mehta, Director of Perioperative and Consultative Medicine
Usmaan Bashir, Director of Hematology-Oncology CoManagement
Alex Lawson, Director of Staffing
Miriam Gomez-Sanchez, Director of Moonlighting
Shrirang Gadrey, Director of Research, Division of General, Geriatric, Palliative & Hospital Medicine
Testimonials
Explore what has led some of our hospitalists to pursue a career with the University of Virginia / UVA Health and to enjoy all that life in the Charlottesville-Albemarle region of Virginia has to offer!
There are so many opportunities for career customization and leadership at UVA.
I am a lifelong Virginian, but first came to Charlottesville for my undergraduate degree at UVA in biomedical engineering. Medical school took my now-husband, Merrick, and me to VCU in Richmond, after which we were delighted to return to UVA for residency in dermatology and medicine, respectively. Fast forward to the present, and Charlottesville has fully captured our hearts due to the vibrant, welcoming community both in the hospital and the city beyond.
I always had vague aspirations to stay in "academic medicine" from a purely clinical curiosity standpoint given all the diverse pathology, specialty expertise, and collegiality that come with university hospitals. However, it wasn't until my time in residency and the opportunity to work closely with truly amazing clinician educators that this became a specific, tangible goal. Obviously, the incredible collection of physicians that comprise our UVA hospitalist group were formative in this ultimate career path. Beyond their enthusiasm and teaching on the wards, I was particularly impressed by the many ways members of the group complement their clinical time bringing balance and creativity to the career. From faculty roles within UME and GME, to QI project heads, to unit medical directors, it was eye opening to see the opportunities for career customization and leadership. For me, that path has primarily been medical education and, in addition to my role in the hospitalist group, I am also Associate Program Director and Core Faculty Advisor for the Internal Medicine Residency Program. Some curricular areas of interest for me are clinical reasoning and cognitive bias, as well as transitions of care and multidisciplinary communication.
During my time at UVA, I have been lucky to form a diverse and extensive network of mentors at different phases of their careers with varied clinical and educational interests. Community is such an important component of longevity in this field, and from day one, I have been blown away by how the group has welcomed me as a new faculty member and helped connect me with opportunities to become involved beyond the direct patient care realm. One of my favorite experiences so far has been serving as an attending mentor on the resident longitudinal quality improvement projects, a curriculum led by fellow hospitalist and APD, Jess Dreicer. This role has been such a fun opportunity for me (and many other hospitalists in the group) to not only teach QI skills, but also to get to work one-on-one with our amazing QI coaches as well as help the residents change the way we practice for the better. My group last year focused on discharge communication with PCPs and ultimately rolled out a new discharge summary template used by the entire Department of Medicine!
Outside of the hospital, I enjoy Charlottesville's easy access to hiking, breweries, and great restaurants. From taking my toddler (Rhys) and dogs (Lucy and Franklin) splashing in the Rivanna River, to hiking on the Appalachian Trail, there are so many fun outdoor activities in the region. I have now been lucky enough to live many phases of life in this area and yet still continue to discover new things about Charlottesville every weekend!
UVA is a great "fit" for me and my family.
After being born, raised, and educated in the Midwest, my husband and I took a leap and  traveled to the West Coast for me to complete my internal medicine residency at Oregon Health & Science University in Portland, Oregon. We then traveled to the other side of the country for me to take my first job as an academic hospitalist at UVA. When interviewing at UVA, I experienced the difficult-to-describe "feeling" that this job and place would be a great fit. Four and a half years later, I am quite happy I listened to my gut! I have found Charlottesville to be a lovely place to live and UVA to be a wonderful place to grow my career with amazing colleagues.
I left residency with a strong but imprecise interest in teaching and medical education. During my time on the teaching wards (my happy place) I came to realize that one of my passions is teaching clinical reasoning and evidence-based-medicine in the context of clinical care. Under the mentorship of Dr. Andrew Parsons, I continue to grow this interest and am currently working on a clinical reasoning assessment tool for the clinical environment. I serve as a member of the COACH program run by Dr. Karen Warburton in which I provide one-on-one coaching to trainees to improve their clinical reasoning.
Additionally, during my time at UVA I discovered a passion for quality improvement and patient safety (QIPS) work after getting involved with a longitudinal interdisciplinary quality improvement project led by Dr. Amber Inofuentes to improve medication reconciliation in the hospital. Through my work in the QIPS field, I have had opportunities to help lead quality improvement efforts in the Section of Hospital Medicine and oversee the residency QIPS curriculum and a leadership track in my role as Associate Program Director. These roles allow me to combine my love of teaching and continuously improving patient care!
Outside of the hospital most of my free time is spent enjoying the semi-controlled chaos of life with my husband, our two young kids, and dog ("Boo"). We love getting outside and have become quite the aficionados of local parks, playgrounds, and the many family-friendly wineries, breweries, and cideries in the area. I also enjoy running, yoga, and Barre, reading fiction and memoirs (including with our hospitalist book club that meets every other month) and listening to medical and non-medical podcasts.
At UVA, no vision is too audacious.
After residency, I felt pretty certain about my career choice as a private practice hospitalist. As my clinical acumen grew, I was deeply impacted by instances of abrupt deterioration in patients and I developed an interest in predictive analytics. Every time I managed a "crashing" patient, I began envisioning novel patient monitoring methods that could have alerted me earlier, giving me a better shot at averting the collapse. Before long, this creative impulse became too strong to ignore. I realized that a career focused solely on clinical practice was no longer for me. And so it came to be that I joined the University of Virginia in 2016 with grand ideas for novel algorithms and devices.
There was just one problem. I had never done anything like it before! I had no training or experience in clinical research or medical innovation. But none of this mattered at UVA. Its faculty development and translational research ecosystems helped me ride over such barriers. I have been mentored by a multidisciplinary team of UVA clinicians, engineers, and scientists. And my work has been funded by UVA's many translational research foundations (Center for Engineering in Medicine, Ivy Foundation, Coulter Translational Research Partnership, and Manning Fund). As a result, two of my original innovations have successfully reached the proof-of-concept stage.
When I joined UVA, I knew that it would be difficult to achieve the career transition that I sought. I had planned to return to private practice in 3-4 years if my efforts did not yield any tangible results. But my personal journey has convinced me that at UVA, no career vision is too audacious. I feel privileged to be a part of this amazing institution.
Charlottesville is home, but I didn't start here.
My career began in the Army, where I trained as an academic internist and practiced world-class medicine, teaching some of the finest students and residents how to practice good medicine in bad places. After two incredible deployments overseas, we decided it was time to shift gears. And when my service obligation was complete, we began our search for a home.
As a Virginia Tech Hokie, fewer locales stimulate as much immediate visceral discontent than the mere utterance of "Charlottesville, Virginia". Yet who can deny the academic prowess of my longtime undergraduate rival? Or the gorgeous setting, nestled before the Blue Ridge mountains? But the undeniable attraction to UVA was the strategic aim to be the safest health system in the Commonwealth – quite a lofty goal but entirely aligned with my professional aspirations. And while that was entirely magnetic for me professionally, I also knew that much of job satisfaction is built on the relationships with your colleagues and fellow healthcare workers. On my interview day I found the inpatient care environment to look similar to many others I have seen throughout my career. Yet there were several notable differences. For one, the quality elements were alive. Visual management boards outlined current initiatives and strategic goals. Secondly, I met a patient care assistant (PCA) who dutifully knew how to report and access the patient safety reporting system we all know as BeSafe. I then sat down and met some of the most down to earth, friendly and open-minded hospitalist faculty I'd ever encountered. UVA felt home.
Since arriving at UVA, I've found a highly-stimulating and gratifying practice as an academic hospitalist, with opportunity to pursue a diversity of interests. As the medical director for the first acute care unit tasked to provide COVID care, our team worked through initial PPE protocols, PPE shortages and staffing challenges. Important to note that we never felt alone as UVA leaders and experts shared knowledge and wisdom to ensure we had everything necessary to provide world-class care. At the height of the pandemic, I pivoted to help the hospitalist section transition to an Admitter-Rounder staffing model, providing a scalable practice focused on provider wellbeing through more discrete clinical duties. This achieved an improved work-life balance and serves as an investment in our most precious resource – each other.
My family and I appreciate the endless outdoor activities, charm of the UVA campus and walkable downtown mall. The food scene is delectable and family-friendly activities abound. The natural landscape provides year-round beauty. Hence, my family has taken to mountain biking, running, hiking and skiing, each less than an hour from our doorstep. Sports opportunities for children range from state and nationally competitive programs down to recreational leagues across a host of sports. My kids have busied themselves with soccer, lacrosse, and flag football, building strong friendships along the way.
In a nutshell, Charlottesville is home. UVA offers me a diverse and stimulating practice in a family-oriented community with excellent schools, wonderful outdoor spaces, fabulous food and four seasons that stimulate the senses year-round!​
What is a "Hospitalist"
Physicians board-certified in internal medicine who practice exclusively in the hospital setting are called "hospitalists." As hospitalists, we serve as the hub in the many-spoked wheel of inpatient medicine and coordinate care for individual patients with an array of services and specialists. Responsibilities include initial evaluation, diagnosis and hospital-based treatment for a wide range of acute and chronic medical conditions. Hospitalists orchestrate complex care across the continuum from admission through discharge in close partnership with other health care professionals including nurses, social workers, pharmacists and physical therapists.
Throughout the pandemic, hospitalists have been at the frontlines of care for those with complications of COVID-19 and adapted operational and clinical care paradigms to the unique challenges of this patient population.
Clinical Care
Clinical diversity is a strength of the Hospital Medicine program. We care for patients on a variety of teaching and non-teaching services including general medicine, orthopedic co-management, and medical oncology at the UVA hospital. We gain significant exposure to students and residents on traditional teaching services and on direct care services such as the 'acting internship' rotation and the inpatient medicine consult elective.
In 2021, the Hospital Medicine program shifted to an 'admitter-rounder' model to improve workflow efficiency, patient throughput, and physician satisfaction. This model allows for a direct care hospitalist to either admit patients in the Emergency Department or 'round' on patients already admitted to the hospital. Separating these roles and maintaining staffing flexibility allows us to keep our direct care patient census close to 10 encounters per day as we strive to maintain high quality care and strong quality of life for our physicians.
Hospitalists work closely with the Internal Medicine Residency Program to provide teaching and mentoring to trainees. Our hospitalists hold positions within the Graduate Medical Education leadership structure focused on curriculum development, the resident experience, evaluation and assessment, quality improvement, and dedicated coaching. Many others provide focused teaching on relevant topics through the Acute Care Lecture Series, Quality Rounds, and Resident Case Conference.
Hospitalists at UVA make up the majority of faculty attendings on the Inpatient General Medicine Teaching Service. During two-week clinical blocks, our hospitalists lead clinical care teams composed of senior residents, interns, and fourth and third year medical students. In this capacity, hospitalists provide bedside teaching on clinical skills and focused didactics on a range of clinical topics. With expertise in systems-based practice, quality, and hospital operations, our hospitalists provide a valuable perspective to learners on the modern practice of medicine.
Andrew Parsons, MD, Associate Section Head for Education and Scholarship
Hospitalists work collaboratively with orthopedic surgeons and nurse practitioners to deliver high-value care to complex patients from the moment they enter the hospital, to when they are well on the path to recovery and ready to depart our institution. Throughout this perioperative phase, they perform the full gamut of tasks including preoperative risk stratification, fine-tuning significant chronic medical issues, guiding immediate postoperative transitions and managing acute post-procedural problems. Providing a full range of consultative services, hospitalists strive to deliver the same high-quality care to patients cared for by General Surgery, ENT, Neurosurgery, Urology, Psychiatry and OB-GYN departments. They are also the first point of contact when medical issues necessitate transfer to Medicine, facilitating transfers to General Medicine services as well as to other medical subspecialties.
Through the General Medicine Perioperative Elective of the School of Medicine and the Perioperative Elective of the IM Residency Program, hospitalists play a pivotal role in advancing perioperative and consultative skills of medical students, and residents from several departments including PM&R and Psychiatry. With wide-ranging interests from promoting evidence-based care, to building clinical pathways, to an ever-expansive scholarship portfolio with regional and national impact, perioperative hospitalists are clinician-educators at the forefront of advancing medicine.
Rahul Mehta, MD, Director of Perioperative and Consultative Medicine
The Hematology Oncology Hospitalist Co-Management service is jointly managed by the Division of Hematology and Oncology and the Section of Hospital Medicine. The goal of this service is to provide comprehensive cancer care of the highest quality. Hospitalists work in an interdisciplinary team with Hematology/Oncology attendings, advanced practice providers, pharmacists, case managers, social workers and more to provide hospital-based care for patients at all stages in their cancer treatment journey. Patients admitted for scheduled chemotherapy are followed and monitored for development of treatment-related side effects. Patients experiencing complications related to their disease or treatment may also be admitted to the hospital where they can be carefully evaluated and treated. Close relationships between the hematologists/oncologists and hospitalists allow for support and guidance on next steps in treatment and in coordination of care on discharge.
More recently, the partnership between hospital medicine and hematology/oncology has expanded to include the co-management of patients admitted for autologous and allogeneic stem cell transplants. These patients can have unique challenges during their often prolonged hospitalizations. This collaborative model creates an opportunity for internists and oncologists to work together in the support of a complex patient population.
Usmaan Bashir, MD, Director of Hematology-Oncology CoManagement
The 3 North Acute unit has risen from what was formerly known as the Transitional Care Hospital (TCH). The Transitional Care Hospital was a UVA-operated Long Term Acute Care Hospital (LTACH) serving the needs of patients from across the state of Virginia and surrounding regions. The TCH specialized in ventilator weaning, management of complex respiratory and medical conditions, complex wounds and other complicated care requiring acute care hospitalization for up to 30 days.
In August 2022, our dedicated team of nurses, PCA's, PT/OT, RT, SLP and physicians moved to the main University Hospital to become 3 North Acute. This move supported enhanced access to consultant services, imaging, and critical care to better support the needs of our patients. 3 North has a similar mission to care for the needs of Virginians with complex medical needs who require longer hospitalizations until they can reach a lower level of care to Acute Inpatient Rehab, Skilled Nursing, or Home with Home Health. We are currently running an 8-bed unit accepting patients from the Medical ICU and other acute care units with hopes to grow the unit later in the year.
Sara Brumfield, MD, Medical Director