Salary & Benefits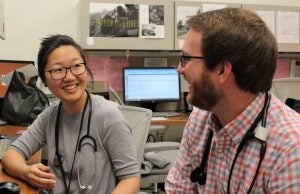 Housestaff are paid bi-weekly, receiving 26 paychecks per year.  Pediatric resident stipend and benefits information can be found on the Graduate Medical Education's Salary and Benefits page.
Benefits
Malpractice insurance, life insurance, disability insurance at 70% of monthly pay, medical and dental insurance by MAMSI with minimal co-payments
Three weeks vacation per twelve-month period, plus six days off over the winter break holiday, not including time away for educational purposes (five days annually)
Six weeks of paid maternity leave plus departmentally approved vacation time
Board prep material provided in PGY2 year
Reimbursement for the cost of Step 3
Pediatric Advanced Life Support (PALS) and Neonatal Resuscitation Program (NRP) certification in PGY1 year and recertification in PGY3 year
Membership dues to the Academy of Pediatrics with subscriptions to Pediatrics, Pediatrics in Review, AAP Newsletter, Pediatric Infectious Disease, and Pediatric Annals
Reimbursement for selected professional travel and allowances for educational expenses
Funding for journals, and travel to meetings or off-site electives in PGY2 and PGY3 years
Meals for residents required to remain overnight in the Hospital
Gym and lounge facilities (The University's athletic and recreational facilities may be used by residents for a nominal annual fee.)
University-affiliated child care is located adjacent to the Children's Hospital.
Further details and benefits may be found at the Graduate Medical Education's Salary and Benefits page.
The staff of the Graduate Medical Education (GME) Office serve as personnel and benefits managers for medical residents. They seek to provide "one-stop-shopping" and offer a broad range of information, services, and support related to your employment.