Life as a Resident
All our residents are assigned an advisor upon entering the residency. The program advisors meet with residents twice a year, the time with the advisor is used to track individual progress through the program by reviewing milestones accomplished. This time can also be used to review educational goals and to provide performance feedback.
Training is designed to provide an outstanding balance between general pediatrics and the pediatric subspecialties, including clinical and basic research. The result will give you confidence as a general practitioner as well as a strong background should you choose to pursue a specialization or a career in academics.
Residents and their families can expect a healthy work/life balance at UVA. We offer an excellent pediatric residency program in an environment that is friendly, safe and full of rich cultural opportunities.
While not on the clock, you'll be glad to know that Charlottesville and Albemarle County provide the most relaxing settings you could imagine. From the gently rolling slopes of the Blue Ridge Mountains, to the casually cosmopolitan style of the Downtown Mall. There are many events for a variety of interest like summer nights at Sprint Pavilion Fridays After Five, shopping at the City Market to support local vendors, running in many of the charity marathons, hiking our scenic trails,, attend an event at the John Paul Jones Arena, or picking apples at the local orchard, you're sure to find something to do that will bring a welcome balance to your day.
Ben Biddix, M.D.
"When choosing residency it was important to me to find a program that was top notch academically and located in a city that offered fun activities during my off time. I have found that here at UVA. I feel challenged in learning pediatric medicine and supported at the same time. The faculty is just as invested in my education as I am. It's amazing how our residents have such diverse personalities but gel into one big family. I have made friends that I will have for the rest of my life. Charlottesville is a great town for singles and to raise a family. Whether you are hiking along the Appalachian Trail or enjoying an afternoon outside on the mall there is always something going on. We often get a group together to visit local wineries/breweries, go to one of the many music venues in town, or eat at some of the best restaurants in Virginia. Two of my favorite things so far are playing on our pediatric softball team as well as winning the city kickball league with our resident team."
Craig McKinney, M.D.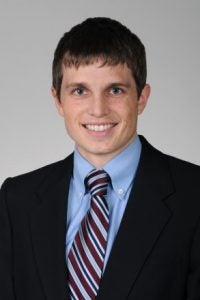 "I really cannot imagine a better place to complete my residency training than UVA. We have the opportunity to learn in a collegial atmosphere from a dynamic group of clinicians who are not only experts in their field but also passionate educators and mentors. All the while we are surrounded by an amazing group of co-residents. Although residency comes with its share of challenges, the close-knit community of our program offers so much support. From the camaraderie during a tough call shift, to the competitive spirit of intramural softball games, to the relaxation of intern beach week, we have forged lasting friendships and memories. Living in the charming city of Charlottesville is the icing on the cake, as it offers the pace of a small town with a wealth of activities such as wineries, hiking, concerts, and restaurants to enjoy in our free time."
Lucas Wilson, M.D.
"Life as a resident is a lot of things – busy, fun, tiring, interesting, and occasionally frustrating. I think this is true no matter where you are or what you do; it's just part of the job. Fortunately, I feel that we keep a good balance of these things here at UVA with a little more of the fun and interesting and less of the frustrating. We always see plenty of interesting pathology from Charlottesville and the surrounding area. Mix that in with great attendings, fellows, and other residents from around the country and you've got a recipe for success. Before you know it, you'll catch yourself enjoying all Charlottesville has to offer and forgetting to be tired."