Meet Our Residents
Pediatric Chief Residents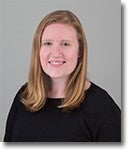 Elizabeth Dexter-Rice
Thomas Jefferson University
Hi everyone, and welcome to UVA Pediatrics! I am originally from Bethlehem, PA. I went to Cornell University for undergrad and then attended Jefferson for medical school. When I was looking at residency programs, I decided I wanted a medium-sized program where I would get lots of individual attention and still see a wide variety of patients. Over the course of my residency, UVA has definitely surpassed my expectations! It's a close-knit community, so my attendings and fellow residents quickly got to know me. Throughout residency I felt that I got plenty of individual attention and guidance, which really helped me to develop as a physician over the course of my residency. At the same time I also got lots of exposure to different pathologies and types of patients.
UVA combines being a great program with being located in a great place to live. Charlottesville is beautiful and charming while also boasting lots of great restaurants and other attractions without the traffic of big cities. I have really enjoyed my past three years here, and look forward to staying in Charlottesville for my chief year.
Thanks for taking a look at UVA, and feel free to email me with any questions!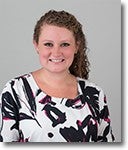 Kaitlin Blackard
University of Virginia
Hey everybody! Welcome to UVA Peds, and thanks for checking us out! I grew up in Fishersville, VA, which is only about 30 minutes west of Charlottesville, or as people say here, "just over the mountain". I went to college at UVA and majored in biomedical ethics. Luckily, I was able to stay here for another four years. As medical school came to an end, I had to think seriously about whether or not I wanted to spend another 3 years in the same place. Sure enough, when interview season was over, my decision was easy – UVA was the best fit for me! All of the residents here are so friendly. They are not only co-workers – but friends! The attendings are approachable and love to teach. The program size is perfect for getting to know your co-residents as well as getting to know your attendings on a more personal basis than is possible at some larger programs. Overall, UVA has proven to be a great place to learn how to be a great pediatrician – general or specialized! In case it's not apparent by my "Triple Hoo" status, I think Charlottesville is the best place to live! I grew up in the area and have always been in love with the outdoor activities this area offers. The hiking around here is incredible, and you will never run out of wineries and breweries to try on your days off. The downtown mall is always lively, and it's very common to run into your co-residents there for "Fridays After Five" or the Saturday morning farmers market. We have big and small concert venues that attract great shows. And of course, I wouldn't be a true C'villian if I didn't mention the great food here – I have so many favorite restaurants that it's a struggle to choose just one every time I go out!