Fellowships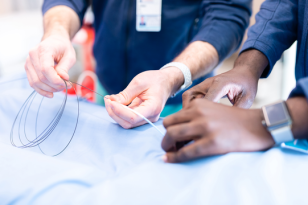 The Department of Anesthesiology offers opportunities for advanced training with ACGME accredited fellowship programs in Pain Medicine, Regional Anesthesia & Acute Pain Medicine and Anesthesia Critical Care Medicine, as well as  one-year Clinical Instructorship positions with special focus on specialized clinical training. Currently, the Department is able to offer instructorships with focus on regional anesthesiology, neuroanesthesia, medical simulation, and education research.
All fellowship applicants must be Board eligible to apply.
Pain Medicine
The Fellowship in Pain Medicine, directed by Lynn Kohan, M.D., accepts six fellows annually.  Pain fellows work with our multidisciplinary team at the Pain Management Center. The Center is the recent recipient of the American Pain Society Center of Excellence designation.
We have MATCHED through the NRMP all 6 of our ACGME accredited fellowship positions for the 2021-22 academic cycle.  We will begin reviewing applications for the 2022-23 in the new year.
Please apply through ERAS for the Pain Medicine Fellowship.
Questions about the Pain Fellowship, please contact us: anesthesiology-painmanagementfellow@virginia.edu
Critical Care Medicine
The ACGME accredited Fellowship in Critical Care Medicine accepts two fellows annually.  The fellowship is under the direction of Bhiken Naik, MBBCh, Associate Professor of Anesthesiology and Neurological Surgery.
We have MATCHED our 2 ACGME positions through the SF Match for the 2021-22 academic year.  We will review applications for the 2022-23 academic cycle beginning soon.
The fellowship participates in the San Francisco Match.  Applicants can send supplemental information or contact us with questions at  anesthesiology-criticalcarefellow@virginia.edu
Regional Anesthesia Instructorship
BOTH the ACGME Fellowship spots and the non-accredited Instructorship positions are filled for the 2021-2022 cycle.  We will review applications for the 2022-23 academic cycle beginning soon.
We have two positions in our newly accredited ACGME Regional and Acute Pain Fellowship under the direction of
Ashley M. Shilling, M.D., Associate Professor of Anesthesiology and Orthopaedic Surgery, Co-Director of the Outpatient Surgery Center.
We also offer a Clinical Instructorship in Regional Anesthesia with a varying number of positions available annually.  This track offers the experience of being an OR generalist one/two days per week and focusing on advanced regional training and education the other few.
These tracks have different hiring platforms.
Medical Simulation Research and Education
The Department of Anesthesiology offers a one year Fellowship in Simulation Education and Research at our 22,000 sq. ft state-of-the-art Clinical Performance Education Center. The fellow is directly supervised by Dr. Keith Littlewood, Assistant Dean, Clinical Skills Education, Co-Director, Medical Simulation Center, Vice-Chair for Education, Department of Anesthesiology. The Education fellow holds an appointment as Instructor in the Department of Anesthesiology, with the assignment of one day per week as a generalist in the OR. For more information about this position, see the Fellowships page on the Simulation Center website.  Please contact Dr. Vaia Abatzis for more information.