Regional Anesthesia
A Day in the Life as a UVA Regional Anesthesia Resident
Learn more
UVA is a high volume regional block program, and as an institution we perform approximately 5000 – 6000 blocks per year. By the time of graduation, each resident will have performed an average of 200 blocks – which is in the 80-85th percentile nationally.​ Each resident will have the opportunity to perform all types of blocks including single shot and continuous catheters. Nearly all blocks are performed using ultrasound guidance, but landmark and nerve stimulator techniques are also performed. The resident experience is supported by a dedicated team of regional anesthesia attendings, two regional anesthesia fellows, and dedicated block nurses. Examples of the blocks typically performed include:
Brachial plexus (interscalene, supraclavicular, infraclavicular, axillary) and forearm for upper extremity surgeries
TAP blocks for abdominal surgeries
PECS 1 and 2 blocks typically for breast surgeries
Femoral, fascia iliaca, sciatic, saphenous, and ankle blocks for lower extremity surgeries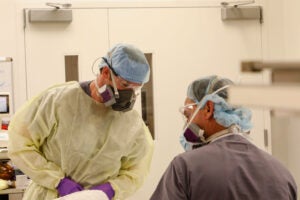 During the CA2 year you will have a 3-week regional rotation, generally consisting of 1 week in the main OR and 2 weeks in the outpatient surgery center. During the CA3 year you will have a variable amount of elective time on regional rotation depending upon each individual's interest, generally ranging from 2 – 5 weeks at a combination of the main OR and the outpatient surgery center. Also during the CA3 year, residents have an opportunity to participate in a regional anesthesia oriented cadaver dissection elective for 1 week.
A Day in the Life as a UVA Regional Anesthesia Resident
Learn more
Regional Rotation Faculty