Day in the Life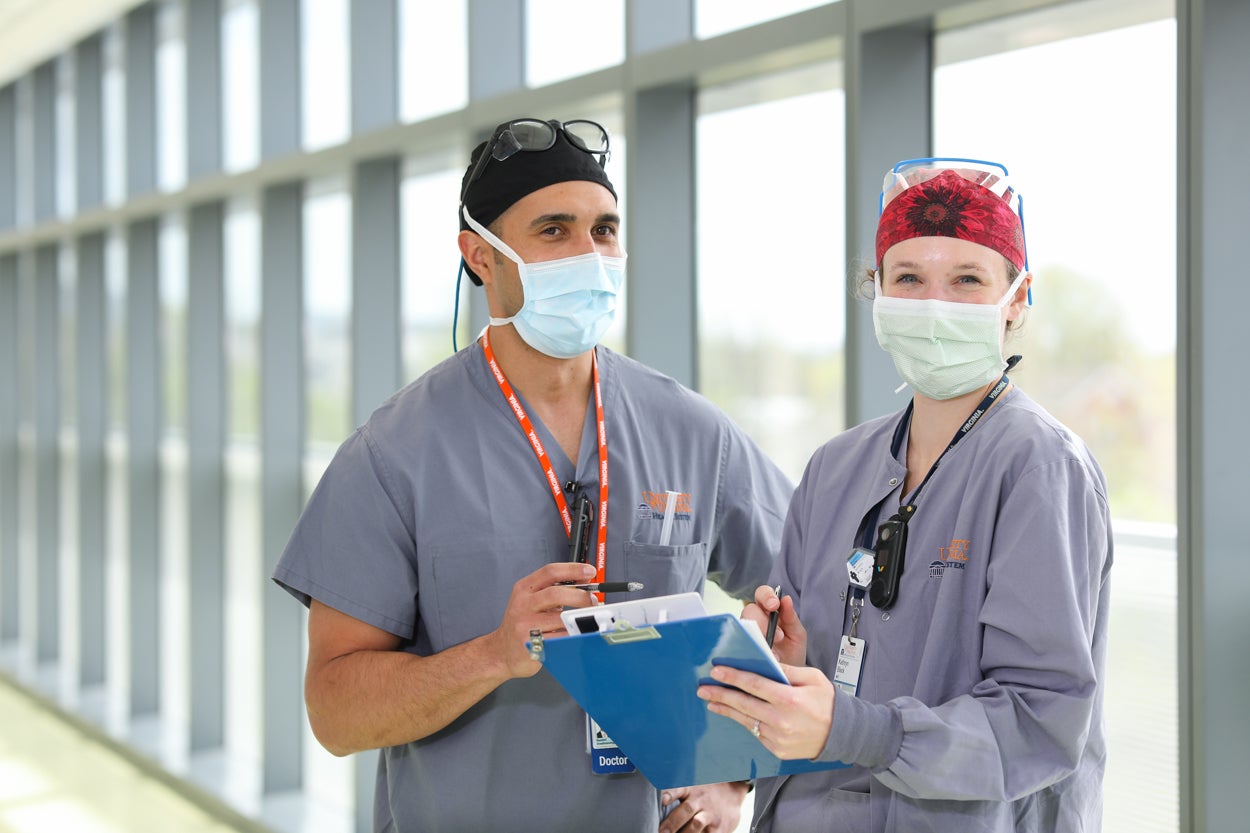 What is life like as a Resident in Anesthesiology?
Have you found yourself wondering what life is like for a UVA anesthesiology resident? We get to experience many clinically challenging and high acuity cases on our rotations. A few of our residents invite you to virtually come along and experience a day (or night) with us on our favorite clinical rotations. Click on the rotations below and join us!
A Day in Obstetrics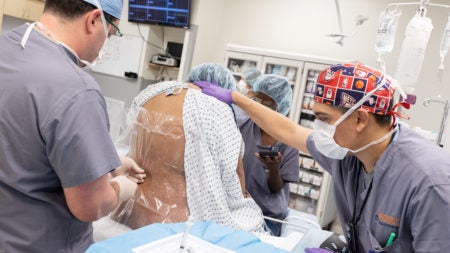 Updated description provided by Matt Cross, Class of 2022
Three residents share the responsibility and privilege of providing obstetric anesthesia over a four week period at UVA. The basic outline of the schedule divides between weekdays and weekends. During the week, two residents alternate working a short and long shift, 7am to 1pm and 7am to 7pm respectively, while the third resident covers the night shift from 7pm to 7am. Friday and Saturday are covered by 24 hour resident shifts, and the Sunday 24 hour shift is covered by a CRNA.
Residents do one month of OB anesthesia in both their CA-1 and CA-2 year.  During the CA-3 year, residents typically rotate for 1 or two weeks on OB anesthesia at UVA, then they have the option of working 3 weeks at Fairfax Hospital in Northern Virginia (our only rotation in a different hospital).  Most senior residents elect the Fairfax rotation, as it is a high-volume center that helps them fine tune their neuraxial procedural skills.
Described below are the events of a long day shift from a rotation on OB.
One Long Day Shift
0645: Clay, Emmarie, and I meet a few minutes before 7 am to make sure the two OB operating rooms are set for the day and to go over the current list of patients on the labor and delivery unit. Clay, our night resident kept busy overnight with a pair of C-sections and a labor epidural that is still running.
0730: Emmarie and I meet with the OB residents to discuss the current list of patients and their anticipated anesthesia needs. They would like to perform one C-section and feel that another patient would benefit from a labor epidural. The short resident generally will take on the first C-section, so Emmarie goes to meet that patient. This is her first pregnancy and she is lucky enough to have twins; however, the first twin is in a breech position. She is otherwise healthy and her labor has just started. She presents the patient to Sachin and suggests we perform a spinal anesthetic. He agrees to the plan and we discuss implications of twin-pregnancy on neuraxial anesthesia, including the risk for exaggerated hypotension. While she and Sachin discuss this, I prep the laboring patient for the epidural, which goes smoothly.
0830: I run to the OR to help Emmarie position the patient in the OB OR for a spinal anesthetic, which she places on the first stick. The patient tolerates the spinal block well hemodynamically, and after ensuring a T4 sensory level, the C-section is underway.
1100: Two new patients arrive on L&D during the C-section. I meet and consent them for epidurals if desired later. The C-section wraps up, and Emmarie departs for the main operating rooms to help out with a few lunch breaks before heading home at 1pm. I go see all the patients who delivered yesterday to make sure they don't have any residual neurologic symptoms after their surgeries, then write quick post-anesthetic notes on all of them. This only takes about 20 minutes in total, and I then head back to the floor.
1400: After about two hours of a very quiet OB floor (I used the time to do some practice questions for the upcoming ITE exam), one of the patients I met earlier is requesting a labor epidural. She is a multiparous patient and has already advanced to 7cm dilation. She appears in considerable discomfort and we decide to perform a combined spinal-epidural. Within minutes her pain begins to subside from the spinal component. After starting the epidural infusion, I return in an hour to assess the sensory spread of the epidural catheter. She is still comfortable and it is not too much longer until she delivers.
1800: The OB resident calls to ask for an urgent C-section for fetal decels on an antepartum patient. I've previously met the patient, but go to reassess her and discuss options for anesthesia. She is amenable to a spinal anesthetic. The OB nurses help to get her back to the operating room and the procedure is soon underway.
1900: Clay arrives to start the night shift and take over for the C-section. I sign out to him the rest of the patients on the floor, and go home to look forward to my short day tomorrow.
Updated 2020
A Day at the Outpatient Surgery Center
UVA Outpatient Surgery Center Ambulatory Anesthesia at UVA Battle Building
2020 update provided by Stephanie Caldwell, Residency Class of 2022
OPSC Ambulatory
The University of Virginia Outpatient Surgery Center is located in the Battle Building on West Main Street by "the Corner." It is directly connected to the Main Hospital via a skybridge. It has twelve operating rooms and a two-phase post anesthesia care unit. Surgeons from several different specialties perform procedures at the center. Approximately half of all pediatric procedures are performed there. The ambulatory rotation provides an exceptional view into the potential "private practice" anesthesiology work environment as well as a nice change of scenery from the Main Operating Room. The pace is much quicker, with rapid turnover and generally shorter surgeries in healthier patients. Because a good portion of the cases also involves pediatrics, we have a dedicated pediatric anesthesia rotation at the Battle building. A day of outpatient pediatrics might look something like this:
0630: Arrive to OPSC and start to set up my room for the day. We have 10 cases today involving GI procedures – EGDs and colonoscopies. The room will move quickly so I am sure to set up multiple IV kits!
0700: Meet with my attending for the day, Dr. Joseph O'Brien. We briefly discuss the different ways to safely conduct anesthesia for pediatric GI cases and then it is off to pre medicate the first patient, a 15 month old with reflux.
0725: We get in the room early after a successful pre medication. We mask the child to sleep and I place an IV while Dr. O'Brien maintains the airway. Given the patient's age, we decide to place an ET tube. So after the IV placement, I take over the airway and place the ETT.
0750: The procedure is finished and we are able to extubate the patient without incident. It is a quick jaunt to PACU and then head straight back to the room to prepare for the next case.
1130: We have completed 5 cases so far when one of our pediatric CRNAs is able to come in and offer to do the next cases so that I am able to eat some lunch. I gratefully accept her offer and tell her about the next case, a 5 year old with EOE.
1545: We finish the final case in our room and take the patient to PACU. I am the late OPSC resident today so I will be the last person to leave after all the patient's leave PACU, recovered from their anesthetic. I take a break and then am able to get out one of my colleagues from an orthopedic room.
1730: The last case of the day at the outpatient surgical center finishes and is taken to PACU. I now am able to help our PACU nurses handle a case of nausea following her knee arthroscopy.
1930: Finally, the last patient is discharged from PACU after a bout of nausea. The patient is doing much better and is grateful for her care today. I head home and get ready to come back tomorrow for a day of pediatric ENT! As a bonus, I will be the first resident out tomorrow and I anticipate a short day!
Updated October 2020
Regional Anesthesia
Description of OPSC REG provided by Dom Jose, Class of 2022
UVA residents begin training in regional anesthesia in the CA2 year. We work in both the main OR and outpatient surgery center (OPSC) to provide these services to our patients. We receive a wealth of clinical experience as both areas are busy! Our regional anesthesiology division performs more than 8500 regional blocks and catheters annually, more than 2500 neuraxial techniques, and more than 2100 consults. Residents and regional fellows work side-by-side to take care of our many patients. Join our resident Dom Jose, Class of 2022 and future UVA regional anesthesia fellow, for a day in the life of a resident on regional at OPSC.
0600: I arrive at OPSC and take a look at the schedule. One of our great regional fellows will have arranged a list the day before with all the blocks for the day, and today we have 26 total blocks. It's great to have the fellows as both a resource and an extra set of hands, as there is no way I could place 26 blocks in one day! After drawing up drugs, the fellow and I split up the blocks that need to be done before the first start cases: there are 4 total so we each take 2.
0650: The first patient is getting an ulnar nerve transposition, and will be getting a brachial plexus block. We perform our time-out, and take a look with the ultrasound. He has good anatomy, which makes the block fairly technically easy. Soon after, I ask him to try to lift his arm to the ceiling before heading back to surgery. He can't do it—success! I repeat this process for the other first start block, an adductor canal block.
At both the Main ORs and OPSC there is a nurse dedicated to assisting with nerve blocks, and they are a tremendous help. Their help ranges from moving the patients to the block rooms, to placing EKG leads, to the paperwork of charting vitals and postop notes. Also, at OPSC there are 12 ORs, and 6 attendings. Generally, there are between 2 and 3 regional trained attendings, and we work with all of them to get through all the blocks.
0800: The next round of cases is ready to get going, so I start consenting, and getting ready. By 0930: I've done 5 blocks already, with good variety (brachial plexus, forearm, adductor canal, femoral, sciatic).
0930: There is a little lull between cases, and I start to call patients from the previous day to see how their pain is and make sure their block has worn off. Ninety-nine percent of patients are extremely grateful for their regional anesthetic, and most were pain free for a significant amount of time postoperatively. Everyone's block has appropriately worn off 24 hours postop, and it seems the patients are tolerating their pain with oral meds.
1030:–1430: This time was a nonstop whirlwind of consenting patients, drawing up more drugs, and performing blocks. By the end of the day I've performed 14 blocks, which is fantastic. The fellow did the other 12. The OPSC regional resident can go home whenever all the blocks are done. I stick around for about 15 more minutes to quickly check on my patients in PACU and to place a few more phone calls for patients that I blocked the previous day.
We get a fantastic regional volume at UVA. The minimum ACGME requirement is 40 blocks, and by the end of my first OPSC week I have done… exactly 40!
Updated 2020
A "Day" on Nights
2020 update provided by Katherine Barefoot, Class of 2022
1730: My fellow night resident and I arrive and are ready at the "Big Board" to meet with the Board Runner responsible for assigning cases and personnel to the rooms. We usually get assigned to rooms already in progress to help relieve our colleagues who have been working all day, although occasionally there are urgent or emergent cases to start at that time that we will do. The next few hours will follow this pattern; as we finish cases, we'll take a small break and then do the same thing for a different room or start the next case. Over time, the non-call residents and then the other call residents of the day will gradually get relieved and be able to go home.
2030: One by one, the call residents' cases are completed or they are relieved, and at this point there are only a few cases running. I'm able to take the code, consult/airway, and PACU pagers from the 2nd call resident who has been holding at least some of those pagers since 0700. Eventually another case or two finishes and the 1st call resident is also able to leave. While my colleague is still in a room finishing his case, I work on evaluating the late-posted cases for tomorrow.
2200: I get a call from the Transplant Surgery fellow: they have accepted a deceased donor liver for transplant, and the patient is on their way to the hospital. They would like to get the case started at about 0600. I call our liver transplant attending on call to let them know and read about the patient.
0000: All of the previous days' cases have finished, and today the urgent cases started in the evening have all finished, so my colleague and I are afforded some valuable time to relax and rest.
0100: A call comes from the MICU – one of their patients has worsening respiratory distress and they would like to us to assist with intubation. We get up to speed of the patients' history and lab values and then head up to the MICU to examine the patient and prepare for intubation. Once everything is set up, we call our attending and have her come upstairs to assist us. Fortunately, everything goes smoothly, and by 0130 we're able to make our way back downstairs to the ready room.
0200: We get another call – this time from a surgery resident letting us know that a patient down in the Emergency Department needs an appendectomy. Since fortunately both of us are still free, we work together to read up on the patient and prepare the OR. Since I've been out of the ORs for a while, I volunteer to take this case and give my colleague the pagers.
0400: The appendectomy is finished and the patient is dropped off in the PACU. My colleague has already seen the liver transplant patient and set up the room, so at this point we both retreat to our call rooms to get a quick nap before the case starts.
0555: The liver transplant patient arrives at the front desk and is "checked in" by our team, the surgical team, and the nurse from the room. We bring the patient back to the OR and get ready to start. There's a lot to do in a liver transplant at the beginning of the case, so we're fortunate that both of us are free to help one another get started. Our attending and I induce anesthesia and intubate the patient while my colleague places a right radial arterial line. I place a RIC catheter in the left arm while my colleague places a right femoral arterial line. Finally we place a central line in the right internal jugular vein.
0700: All of this takes a while, and by the time we are done the resident assigned to the room for the day arrives. We sign out the case to him and make our way to the ready room, where 2nd call for the day has just come in to get us out. We head home to get some more sleep and get ready for another day!
Updated 2020
"A Day in the Pain Management Center (PMC),"
Dom Jose, CA2, presents this video on his Chronic Pain Rotation in 2020
"A Day in the Life of the Pain Clinic," video by Dom Jose, CA2  
Our residents rotate through UVA Anesthesiology's Pain Management Center during a few weeks of their intern year (categorical) and during a month of their CA-2 year. The PMC is located approximately 5-10 minutes from the main hospital amongst many of UVA's outpatient medical facilities.
You will typically arrive for clinic just before 0800 and see patients until about 1630. Your time is split between seeing new and follow-up patients in clinic and performing procedures. The procedure suite is located within the PMC. On a few occasions residents will shadow fellows performing procedures in the Main Operating Room (same location as the rest of your rotations as a resident). Many residents will wear clinic attire or scrubs while seeing patients at the PMC.
With the help of our scribes you will help evaluate patients, formulate plans, and discuss the patients with the Chronic Pain Attendings. There are usually multiple fellows from the chronic pain fellowship and PMR residents seeing patients alongside our residents. When observing procedures you're usually one on one with the attending and the fellow. Our program performs a large number of procedures which include varying blocks, epidural steroid injections, denervations, MILD, pump placements, kyphoplasty, vertiflex, etc.
The rotation is beloved by many residents as you will have the opportunity to see a wide variety of procedures while a taking a break from the busy pace of the main OR. If you are interested in pursuing a pain fellowship or just want to learn more, please click the video link above and take a moment to watch Dr. Dominic Jose walk you through his time on the PMC rotation!
A Day at Fairfax OB
Fairfax away Rotation update provided by Jamie Smothers, CA-3
Fairfax OB is an elective 3-week rotation at Inova Fairfax Hospital in Falls Church, VA (approximately 2 hours north of Charlottesville). CA-3s often opt to do this popular rotation to get feel of doing OB anesthesia in a private practice setting. The department provides a condo for housing which is about 20-25 minutes away from the hospital, however I opt to stay with family in the area.
A typical day starts at 7:00 am with preop assessments for the first scheduled c-sections. The resident then quickly goes to the OR to set up to for a spinal for the first case. With my attending nearby for help if I need it, I successfully place the spinal for the patient. Once the block sets up the nurse anesthetist takes over the case while I go to set up for the next spinal.
On average we will place 5-6 spinals a day. The most I've done is 9! Often there will be add-on cases from the Labor & Delivery floor, so my attending and I will go assess the patient and bolus epidurals for conversions to c-sections. The resident gets relieved at 5:00pm. No call, no weekends makes for a great  rotation with lots of time for reading and relaxation!
A Day Fixing Pediatric Hearts, Pediatric Cardiac Anesthesia
Peds Hearts "Day in the Life" video provided by Lindsay Brown,  CA3(2020)
"A Day on Peds Hearts," video by Dr. Lindsay Brown, CA3
Rotation description provided by Greg Smith, CA-3(2017)
As residents at UVA, we have a unique opportunity in our CA-3 year to do a dedicated congenital pediatric cardiac anesthesia rotation. This rotation is 3-4 weeks and is a very well structured and worthwhile experience.
Residents are typically in the operating room on Monday, Thursday, and Friday for on-bypass and off-bypass congenital cardiac cases. On Tuesdays, we typically do cases in the pediatric cath lab. Wednesdays are dedicated 'educational days', where residents attend our department morning conferences and then attend a pediatric congenital conference where cardiologists, surgeons, and intensivists review cases that will take place the coming week.
Residents often spend the rest of the day either in a pediatric cardiology clinic, or with a pediatric perfusionist, to further understand the differences between adult and pediatric cardiopulmonary bypass. There are typically 1-2 surgical cases daily – which include but are not limited to the following pathologies: VSD and ASD, tetralogy of fallot, transposition of the great arteries, palliative staging for single ventricle physiology, complete and partial AV canal, coarctation of the aorta, valvular abnormalities, outflow tract obstructions, and conduction abnormalities. Residents are expected to start and finish their own cases, but are not included in the general call pool during the rotation. Residents are typically on call for emergency congenital cardiac cases throughout the rotation. The rotation is designed to enhance the resident's understanding of congenital cardiac anesthesia, so residents are given ample time to read about their patients and associated comorbidities throughout the rotation.
In the operating room, residents typically start their day between 0530 – 0600 to set up for the case. Medication doses have to be carefully calculated beforehand, as patients are not uncommonly 2 kg or less. We typically meet with and premed the patient around 0650 with the goal of being in the room about 0715. Unless contraindicated, we typically induce the patient by mask induction, place a peripheral IV, and then nasally intubate. Once the airway is secured, the resident places both the arterial line and the central line, which can be quite challenging in these small babies. Once lines are placed, we start our infusions, sort our lines, and place a TEE for the cardiologists to review. Due to the complexity of these cases, the resident always has a dedicated attending available throughout the entirety of case.
During cardiopulmonary bypass, the attending will often discuss the pathophysiology of the congenital abnormality and provide teaching to further the resident's understanding of the case. Bypass is also a great time to get the resident out for lunch. Coming off bypass can be rather challenging, the resident and attending will orchestrate vasoactive and inotropic infusions, manage arrhythmias as they arise, and communicate with the surgeons and perfusionists to successfully separate from bypass. As the surgeons start to close, the resident calls the PICU to give report to the receiving nurse.
At the end of the case, the patient may be extubated in the operating room, or transported intubated to the PICU depending on the status of the patient. The receiving nurse will help with transport to the PICU. In the PICU, the resident and attending will provide a detailed sign-out of the patient to the receiving intensivists and cardiologists, detailing the events of the case.
A Day in the Life on Cardiac Surgery
Provided by Ed Gillig, Class of 2022
Our cardiac anesthesia rotation here at UVA is one of our most challenging and rewarding rotations we do as residents. We have a busy cardiac surgery service and no cardiac anesthesia fellows, which means we do all cases from start to finish – from a simple 2 vessel CABG to a heart transplant. Our exposure to cardiac anesthesia starts as early as our CA-1 year for those residents in the categorical track and early in the CA-2 year for those in the advanced track. We have a wonderful team of cardiac anesthesia attendings to work with who are enthusiastic about resident education and do a wonderful job helping you to get the most out of your cardiac rotation. I consider this rotation one of the strongest aspects of our clinical training here at UVA!
Residents are prepared for this exciting service with "pre-TCV." This is a one-week orientation completed in the week preceding your first cardiac rotation. It provides the opportunity to get a handle on the workings of the heart room, solidify your procedural skills, and learn the basics of cardiac anesthesia so you can hit the ground running when you start your cardiac rotation. Pre-TCV provides a variety of learning opportunities including helping a senior resident set-up and start cases, didactic sessions with cardiac anesthesia attendings, shadowing a perfusionist during cardiac surgery, and simulation sessions. It can feel a little frantic getting the cases started initially, as there is a lot to learn. However, these cases provide an excellent opportunity for real time learning with respect to procedural skills, cardiovascular pathophysiology, fluid resuscitation, anesthetic management of a critically ill patient, and using a wealth of information to guide clinical decision making on a minute-to-minute basis.
The following is day with me on pre-TCV with my senior resident Brittany:
0530 AM: The days start early on cardiac, I get there and begin to set up the room with Brittany, one of the CA-3s on her cardiac rotation. First case of the day is a combined CABG and aortic valve replacement (AVR). We prepare airway equipment, central and arterial line, pressors including epinephrine and norepinephrine, and infusions of ketamine and tranexamic acid. By 6:30 we head to the preop area to see the patient and go over some final plans with Dr. Singh, our attending for the day.
0700 AM: We roll back to the room with the patient, get all the monitors on, and I get started on a pre-induction arterial line. After the a-line is in, we drift the patient off to sleep, and Brittany intubates while I get all set to put in the central line. We get the patient prepped and draped, and I put in the internal jugular central line. After this, we float a Swan (PA catheter) so we can measure PA pressures and cardiac output. Brittany then puts in the TEE probe and starts on an exam.
0815 AM: The surgeons finish prepping and draping, get the case started, and they work on taking down the internal mammary artery. Dr. Singh comes by to do some teaching about aortic stenosis findings on TEE, and I get my first chance to hold the probe and work on finding a few basic views.
0930 AM: All the cardiopulmonary bypass cannulas are in place, and the function of the patient's heart and lungs are taken over by the perfusionist. We are now "on pump." Harrison (the other pre-TCV resident) and I get a cup of coffee and go over some review questions about the bypass circuit with Dr. Kleiman before heading back to the OR to re-join Brittany.
1130 AM: It's time to come off bypass – one of the busiest and most exciting moments in cardiac anesthesia. It is a team process requiring communication between the anesthesia team, the cardiac surgeons, and the  perfusionists. Things change fast, and we are processing a lot of information to ensure a successful end of cardiopulmonary bypass. Eventually things stabilize and we are able to wean off some of the pressors, check a ROTEM, give some blood, and make sure the valve looks good on TEE.
1230 PM: It's time to transport the patient up to the TCV ICU where we give a report. We then grab a quick lunch before getting things set up for our next case. I sure am glad to have someone help me figure this all out, as it seems like a lot is happening at once.
1330 PM: Our second case gets started, which means an opportunity to get to do some more lines, and I feel like I'm gradually getting the  hang of how this is supposed to work. Shortly after we get everything settled, Harrison and I head over to the simulation center for some extra teaching on central lines and valvular pathology with Dr. Bechtel. There seems to be a lot to learn!
1600 PM: We head home for the day to rest up and do some more reading. Sounds like we are doing an LVAD tomorrow!
A day of Thoracic Anesthesia, Thoracic Rotation
2020 Rotation Update provided by Katherine Barefoot, Residency Class of 2022
Video by Travis Hayden, Class of 2023
0610: Arrived at the hospital a little earlier than usual to set up my room for the day. Today is Wednesday, and every Wednesday starting at 0700 our department has mandatory lectures for both faculty and residents. I ensure that my anesthesia machine is operating correctly, draw up my drugs, and make sure that I have all my airway equipment available and arranged appropriately.
0655: Made a pit stop at Higher Grounds for my regular Caramel Latte with soy before heading to lecture. It's like our own version of Starbucks in the hospital – only better.
0850: Lectures are over and I, along with the rest of the Anesthesiology department, walk back to the ORs to get our cases started for the day. I find my attending, Dr. Blank, and we briefly review the plan for our first patient that we had discussed the night before. He is a 51 year old man who has laryngomalacia and is scheduled to have a tracheobronchoplasty performed via a right thoracotomy incision. Since this is a type of procedure that is highly variable in its approach, we find the attending surgeon so that we can understand his approach and organize our anesthetic plan accordingly. Flexibility and communication with the surgeon is critical to optimal patient care.
0902: Just finished introducing myself to the patient and his family and discussed the anesthetic plan, which included offering the patient an epidural to help with his post-operative pain. After going over the risks and the benefits, the patient consented but only after telling me that he has a history of spondylolithesis. This might affect the ease of epidural placement, but we will do our best as always!
0935: After multiple attempts to put in the epidural, I am finally successful! He was a bit more difficult than expected, but at least I was forewarned! I make a mental note to call the Acute Pain Service once we're at a steady point in the case to make sure the patient gets his epidural infusion so he will wake up comfortably and pain free.
0951: Just finished inducing the patient and intubating him on the first attempt with my trusty Miller blade. The left-sided 39 French double lumen tube was inserted without any difficulty and I confirmed placement with a fiberoptic bronchoscope. I then went and placed an additional peripheral IV and arterial line before getting ready to position the patient.
1016: Rechecked the position of my double lumen tube now that the patient has been properly positioned on his side. After some mild adjustments I'm satisfied with its position and begin ventilating one lung in preparation for his ensuing thoracotomy.
1026: Surgical incision. No changes in the patient's heart rate or blood pressure. He seemed to tolerate that well. Now time to catch up on charting.
1133: The attending comes in to do some intraoperative teaching on ventilator settings and his preferences for one-lung ventilation. After a quick discussion and some ventilator management tweaking, I leave for my lunch break.
1215: Trying to facilitate the flow of the OR schedule. Our next patient is scheduled to receive a pre-operative epidural. I contact the Acute Pain Service and inform them that the patient has been called for early to allot additional time for epidural placement.
1340: Revisited the plan for extubation with my attending. Our patient has had documented repeat episodes of laryngospasm following emergence. Anything but a smooth emergence might disrupt the integrity of the surgical repair and lead to additional post-operative complications. We confirm the plan to extubate our patient deep while running a lidocaine infusion.
1458: At last, after more than 6 hours, the long surgical repair is complete. The patient tolerated one-lung ventilation without any problems. Now, since they're closing up, I can resume two-lung ventilation.
1521: It's showtime! The procedure has just ended so I ensure that the patient has been adequately reversed from his paralytic, suctioned his posterior oropharynx and placed both a nasal and oral airway. I had an LMA ready in case we needed to establish emergency airway access. Had sevoflurane running at 1.2 MAC and the lidocaine infusion going. Pulled the tube and… whew! Patient tolerated the extubation well with no signs of laryngospasm. Transported him to the PACU and was there to see him as he woke up and rated his pain as… a 2/10. I'll take that!
1608: Ready to start the next case. The patient is in her 20s and has a paraesophageal mass that needs to be removed under one lung isolation. Since she's so healthy and fairly thin, we opt to go with a bronchial blocker as opposed to a double lumen tube so that I can get more experience.
1615: Just finished the IV induction which went smoothly. The bronchial blocker was finally placed, but not without some difficulty as we tried to maneuver the blocker down the correct mainstem. Nonetheless, I'm grateful that my attending was willing to let me try something new.
1652: Now for the real test as one lung ventilation is initiated. Surgeons report good lung isolation! That was like music to my ears given that this was the first bronchial blocker I had ever placed. Getting ready to settle in and catch up on charting.
1656: Before I could get too settled in, the colleague who was on call for the night came in to relieve me for the day.
1725: Walking home. I still have my whole evening ahead of me. I call my attending to discuss the cases for the next day and settle into an evening of reading and relaxation.
Updated October 2020
A Day Managing Acute Pain
Acute Pain Service
Rotation description provided by Scott Heller, Class of 2022
The Acute Pain Service at UVA is an opportunity for residents to become comfortable with neuraxial anesthesia in the operative setting and managing acute pain consults. The APS team is responsible for placing the majority of thoracic and lumbar epidurals as well as spinals for the operative anesthesia teams. On top of this, they manage all of the pain consults, postoperative epidurals on the floor, as well as any lidocaine or ketamine infusions. It is a unique anesthesia experience in that it is half procedural and half clinical, with lots of one on one hand-on instruction with one of our chronic pain or regional attendings. With our high operative volume and robust Early Recovery After Surgery (ERAS) program, the APS rotation is a busy service and residents become comfortable with neuraxial anesthesia and postoperative pain management.
The day usually begins around 7am, when the daily schedule is reviewed for potential preoperative epidurals and spinals. The team – pain/regional attending, nurse coordinator, resident, and medical student – will then perform any necessary first start procedures and then begin rounding on postoperative patients. Rounds will focus on multimodal analgesic methods ranging from epidurals, blocks, lidocaine/ketamine infusions, opioids, neuromodulators as well as various other modalities. The team will work closely with the surgical teams and nursing staff to troubleshoot any issues and come up with an optimal pain control plan.
Epidural and spinal placements will occur throughout the morning and early afternoon. The day also includes lots of teaching from our skilled faculty. Great one on one experience in performing procedures or discussing mechanisms of action constantly occurs throughout the day making it a great learning rotation for everyone from CA-1s to CA-3s. Around 5pm, the APS resident signs out to the night OB call resident who will cover any overnight needs. On average, most residents will do around 2-4 epidurals and spinals daily. CA-1s spend one week on APS, usually prior to doing OB anesthesia to hone their epidural skills. Our CA-2s spend two weeks on APS. CA-3 can do an elective rotation through APS, which is a useful refresher prior to graduating and a nice change from the operating room.
Updated 2020
A Day of Transesophogeal Echocardiography (TEE) Rotation,
TEE Rotation description provided Matt Lavallee, residency class of 2022
In addition to performing intraoperative TEE's, we also have key roles in helping start cardiac cases on time, giving breaks to the cardiac residents, and helping transport patients post-operatively. We perform a lot of cardiac surgeries at UVA, so a lot of teamwork and coordination are involved to ensure the day runs smoothly.
0645: I arrive at the hospital, and pick which of the cardiac rooms I'm going to go into first. I see the patient in the pre-op area with the primary anesthesiology resident assigned to the case and help transport the patient to the OR by 7:00am (morning cardiac cases are always 7:00 start). Once in the OR I place all the monitors (ECG, pulse-ox, BP cuff, cerebral oximetry, and BIS), FAST patches, and pre-oxygenate the patient. While I'm doing all this, the other resident puts in the pre-induction arterial line. Now it's time for the patient to go to sleep – while the attending and myself induce and intubate the patient, the cardiac resident has gowned and prepped for central line placement. I then position the patient and sterilize the patient's right neck, and the cardiac resident places and dresses the central line. Once the central line is in, I can place the TEE probe and start the exam. Since this is my first TEE rotation the attending helps by tweaking probe positioning to maximize image clarity for a variety of the views – by CA-3 year I should gain enough experience to independently see all 12 views without any assistance. It's great to work with attendings who are so good that they can take one look at a non-optimized view and immediately know which way I need to move the probe.
0830: go to the 2nd cardiac room (we usually have 2 adult cardiac rooms running, sometimes 3) and perform the TEE on that patient (who, of course, has already been intubated and lined up with someone else's assistance). I also often give a morning break and lunch break to the residents in the 2 cardiac rooms. Once the operative repair is complete we perform our post-repair intraoperative TEE, then once the case(s) are completed I help transport the patient to the cardiac ICU. These patients typically have a lot of lines, monitors, and infusions running so an extra set of hands is quite helpful to the primary anesthesiology team.
1300: after grabbing a quick lunch, I repeat the morning routine for the 2nd start cardiac cases – induce and intubate while the cardiac resident lines the patient up, perform the intraoperative TEE's both pre-repair and post-repair, and give a couple of breaks. Before long, it's time to head home for some dinner and rest, and prepare for tomorrow. A day of TEE is a fun combination of staying busy and doing cool stuff – I'm often bouncing from room-to-room and up the ICU and back, and doing interesting things like echo exams while in the OR. On our TEE rotation we typically leave the hospital after the last cardiac case of the day is off bypass, so it generally is a somewhat early day which is great!
We perform enough cardiac surgeries at UVA that anyone who wants to obtain at least basic TEE certification has the option to do so, and will easily have enough cases by end of CA-3 year. Part of this certification involves reading a minimum number of TEE's that were performed by someone else – so one of the things that our attendings do to facilitate this is hold TEE reading sessions where they bring TEE images from a variety of other cases and show them via projector. We read several TEE's as a group to gain experience, and have time to ask questions without being under time pressure in the OR. This"extracurricular" TEE is completely optional.
Updated 2020