Residency Program
It is our pleasure to welcome you to UVA Anesthesiology!
Follow us on Instagram: 

uvaanesthesiology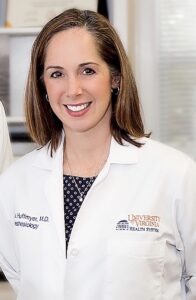 We are committed to providing residents with the environment and mentoring that will foster the development of outstanding clinicians, researchers, and future leaders in medicine.
Julie L. Huffmyer, MD is a tenured Associate Professor in the UVA Department of Anesthesiology. She was appointed Residency Program Director in 2016, after serving as Associate PD for 5 years.  Stephen R. Collins, MD serves as the Associate Program Director, and Chair of the Clinical Competency Committee. 
The University of Virginia Hospital is a Level I trauma center, with cases referred from a multi-state area.  Our residents have the opportunity to provide anesthetics for a broad spectrum of complex cases.  Our training fully satisfies the requirements of the American Board of Anesthesiology for residency training in anesthesiology.  Over the course of the residency program, our residents will far exceed national required minimums.  Our graduates go into private practice, fellowships, and academic positions–and to become leaders in the field.
The University of Virginia is consistently rated among the best public institutions in the country, achieving national stature for its teaching, research, and public service while maintaining the intimacy that characterized Thomas Jefferson's original Academical Village.
Becoming a Resident
The University of Virginia participates in the NRMP (National Resident Matching Program), accepting residency applications only through ERAS. For more information about the application process, see our applicant page.
Our Newest Intern Class began in June…
Proof they not only survive but THRIVE…
Program information
We invite you to explore these pages to find out more about our program.
Available rotations (see sidebar)
Still have questions? Email: anesthesiology@virginia.edu
or call us at 434-982-4307.