Resident Wellness
UVA Anesthesiology Resident Wellness Program



 Our goal for the Anesthesiology Resident Wellness Program is to help our trainees to find better overall balance in their busy lives. Our curriculum is multi-faceted and is focused on learning about work-life balance, developing coping mechanisms for stress, creating opportunities for development of resilience, improving trainee engagement, emotional well-being, collegiality, professionalism and patient care.
Resident Development and Leadership Retreat:  An annual retreat held in Sept/Oct focused to help residents with career and professional development.  Sessions include:  personality types and leadership styles, time management and organizing, CV and personal statement prep when applying to fellowships, private practice setting and contracts, and financial tips.
POD Program: Groups of 3-4 residents of each clinical training level along with 1-2 faculty to not only provide peer to peer mentorship, but faculty mentorship as well. PODS meet at least once quarterly to check in with one another, and to facilitate growth and wellness throughout residency.
Quarterly Thursday Wellness Check-Ins: Each quarter we pick a theme (Physical, Mental, Professional, Social) to focus on for short didactic/workshop presentations along with time to reflect, participate, talk, interact regarding events in the residency. Workshops include preparation for fellowship, practice, financial planning, team building, resilience training, coping with stress and management of difficult outcomes.
In addition, the UVA Graduate Medical Education community is committed to the well-being of its trainees and has developed a website of resources:
https://med.virginia.edu/gme/resident-well-being/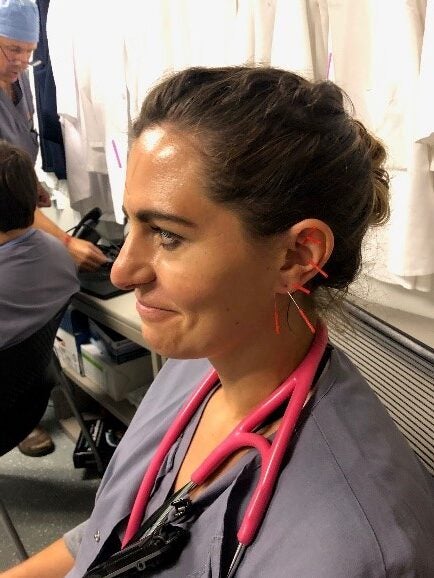 An example of  a Lunch & Learn event planned by our residents,
Ready Room Spa Day… It was relaxing, fun, and renewing for residents and faculty alike!  For the residents, the Ready Room is a "home base" where time is spent in between cases, catching up with other residents, and enjoying the camaraderie of residency. The Resident Wellness and Development Committee turned the Ready Room into a "Zen spa" environment for a day, complete with calming essential oil diffusers, beach scenes, aromatherapy neck pillows, spa music, and healthy treats. The goal of Ready Room Spa Day was to promote resident self-care, relaxation, and stress-management techniques, which we hope will prove useful in day-to-day life. If you walked in the RR you just felt relaxed and rejuvenated!  We were also lucky enough to learn about acupuncture treatments from our very own Dr. O'Brien– many of the residents even had treatments to promote strength and resilience themselves! We are so grateful for everyone's efforts and participation that made this event such a success and a welcome break from the hectic OR environment…we NEED more days like this!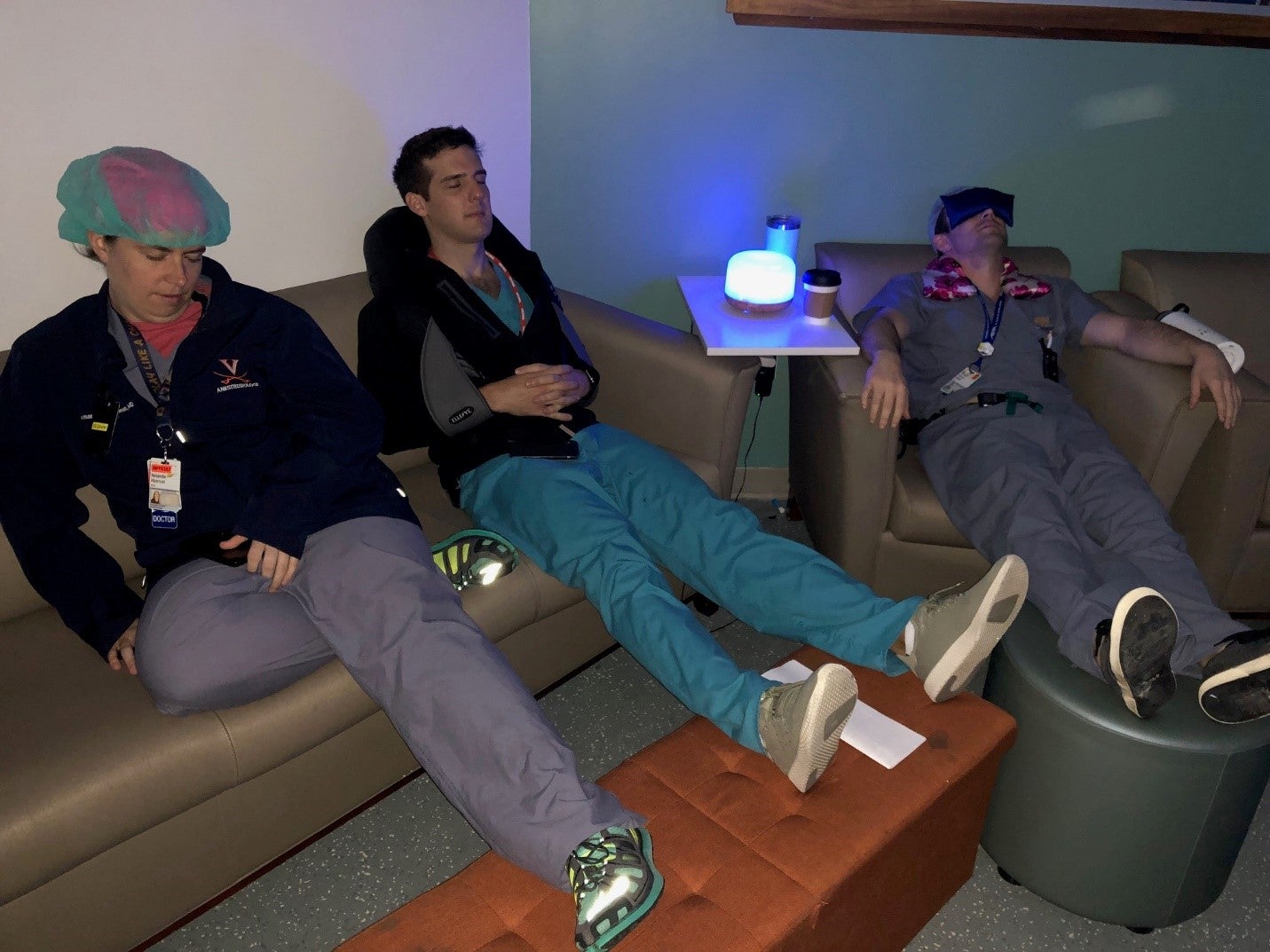 Another wellness sponsored event was the 1st annual Gingerbread House contest!  Each residency class asked faculty to provide candy, decorating supplies, and then had a week to create their masterpieces!  The CA3 Class came out on top, followed by the Interns(CA0s)!
Underdogs…out of no where the 2019-20 interns created the second place finishing gingerbread house "UVA Rotunda"
Many of our faculty, residents and staff are avid runners and walkers!  A UVA ANES favorite WELLNESS activity!