Current Residents
Check out our current residents! They are diverse yet commonly united. Our residents are from all over the world, around the country, various medical schools, and they work together to advance the field of Emergency Medicine, clinically and academically.
---
---
INTERNS
Jackson Agraz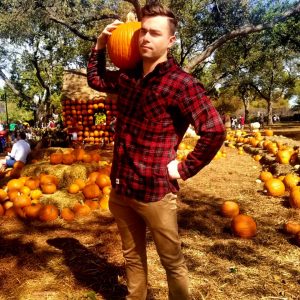 Hello! I was born and raised in North Carolina before moving to Dallas during high school. I then went to Notre Dame for undergrad where I met my wonderful partner, Katie; afterwards I returned to the heat to attend medical school at UT Southwestern where I developed my interests in emergency medicine and medical education. Katie and I are thrilled to couples match here at UVA and we are incredibly excited to return to the east coast, where we envision our long term future. Outside of medicine, I love playing and watching soccer, golf, anything Notre Dame, and giving belly rubs to our dog, Teddy.
____________________________
Funmi Akinlade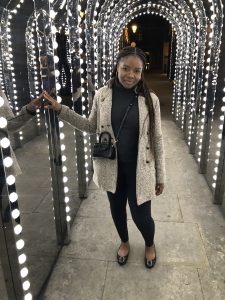 I was born in Lagos, Nigeria. I moved to Hamilton, Ontario, Canada, to start my undergrad at McMaster University. I then transferred to St. Kitts, West Indies, to complete my undergrad and medical school at Windsor University. I did my clinical rotations here in the US, and then between Chicago, Michigan, and Ohio, I got exposed to emergency medicine and fell in love with the specialty. After medical school, I moved back home to Abuja, Nigeria, where I worked on global health policy. I'm most interested in international emergency medicine and health policy and am currently studying global health part-time at Johns Hopkins. I'm stoked to join the UVA EM family and am excited to get to know my co-residents and the rest of the team. If you couldn't tell already, I love traveling. I also love the outdoors and am pretty much always down for an adventure.
____________________________
Sarah Appeadu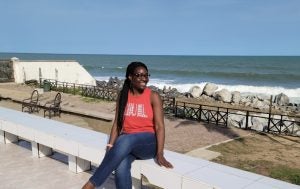 Hi, I'm Sarah! I'm from Johns Creek, GA, a suburb north of Atlanta and am proudly Ghanaian-American! I went to the University of Pennsylvania for undergrad and graduated with a B.A in biology, and then went to Boston University for an M.S in medical sciences. It was during grad school that I was first introduced to Emergency Medicine while working as a scribe, and I am convinced that's where the seed was planted! I attended the University of Cincinnati College of Medicine for my MD and am interested in global health, wellness, and mentorship. In my free time I enjoy writing, watching game shows, old sitcoms and movie reruns, dancing/Zumba, singing, trying random grocery products, and traveling! I am thrilled to be joining UVA Emergency Medicine and am looking forward to exploring Charlottesville!​
____________________________
Erin Bell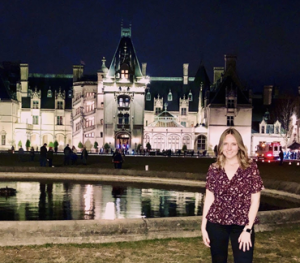 I grew up in Connecticut, but these days my family is mainly in Maryland. For undergrad, I went to Miami University in Oxford, OH (Love & Honor). After graduation, I worked as a clinical research coordinator in an Emergency Department, where I first became interested in Emergency Medicine. I went to Penn State College of Medicine, and ultimately decided to become an EM physician. My interests include research, education, and critical care. Outside of medicine, I love trying new restaurants, so I am excited to explore Charlottesville!
____________________________
Zach Brown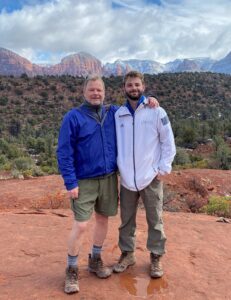 Hi! I was born in a small town just outside Lexington, KY and I have lived in Kentucky my entire life up until matching at UVA. I went to a really small school, Centre College, which only had about 1600 students but it was one of the best decisions of my life. I played soccer there, and you'll still find me out (of shape) playing pick-up in C'ville. I went to the University of Louisville for medical school and was fortunate to study with some of my closest friends. Outside of medicine, I love to hike (especially out west), play sports, watch Liverpool, cook, and spend my downtime with friends, family, and my cat, his name is Kitter Catter.
____________________________
Gustavo Carmen Lopez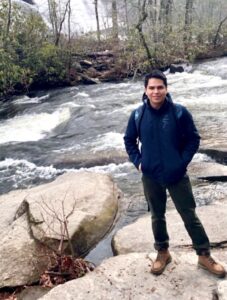 Hello! I was born and raised in Guanajuato, Mexico, and moved to South Carolina during high school. After learning a whole new language and finishing my bachelor's degree in biology, I began working as a research specialist in a lab at the Medical University of South Carolina, later attending medical school. My interests in emergency medicine orbit around trauma, ultrasound, and education! Outside of work, you can find me in the gym or jogging along city streets and parks. I enjoy spending my free time with family and friends and dedicate personal time to meditate, listen to podcasts/music, and the occasional hike/road trip. I am so excited to start EM residency at UVA and cannot wait to explore Charlottesville & Virginia.
____________________________
Christian Cayon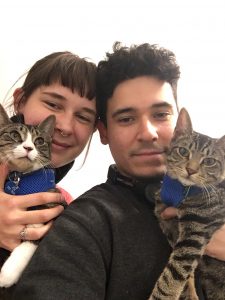 Hi! I was born and raised in Miami, Florida before going to Baltimore for undergrad at Johns Hopkins and then NYC at Mt. Sinai for medical school. I am especially interested in climate policy, health care reform, and public advocacy. Charlottesville has been a dream so far, and I can't wait to keep exploring all this quirky city has to offer. Outside of work, music is my biggest passion —I play guitar, attend concerts whenever I can, and most recently got into DJing/electronic music.
____________________________
Daniel De Los Santos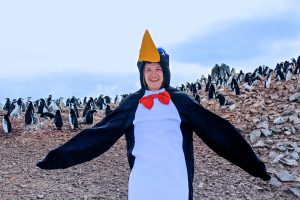 Hey y'all! I'm originally from Garland, TX, where I stayed until high school and then moved a city over to start undergrad at the University of Texas at Dallas. With a brief half-year hiatus from college to go on tour with a hard rock band, I returned to UTD after finding an interest in medicine and graduated in 2014. Two gap years later including a covert mission to Antarctica, I  started medical school at the University of Vermont where I also completed a preliminary year in Internal Medicine. Now, I'm overjoyed to start my EM residency at UVA! My interests in EM include global health, ultrasound, and medical education. In my free time, I enjoy playing guitar, hiking, fishing, sports (boxing, basketball, football, bowling, golf), and watching the Cowboys, Mavs, Stars, and Rangers always build me up to let me down.​
____________________________
Vanessa Khoury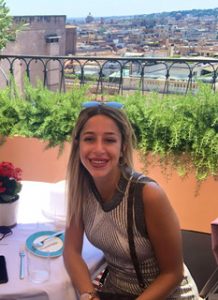 Hello! I was born in California and lived there for the first four years of my life, after which I moved to beautiful Lebanon and have lived there ever since. I completed my undergrad studies in biology as well as medical school at the Lebanese American University. Moving away from my family and friends in Lebanon for the first time in my life is definitely overwhelming, but my new UVA family has been the warmest and most welcoming! I feel so grateful to be joining the UVA EM team, and my decision to move here was a no-brainer right after the first encounter! Outside of EM, I enjoy live music, both traveling and staycations, going to the gym, a Netflix binge, and spending time with my family, friends, and most definitely my 15 year old puppy (big time dog mom here)! I cannot wait to explore all that Charlottesville has to offer as I have only heard wonderful things about the area… and especially the wineries!
____________________________
Dylan Soderstrum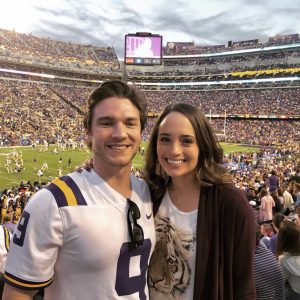 Born and raised in south Louisiana in a town that ends in our notorious "-eaux". I bleed purple and gold through and through and attended Louisiana State University for undergrad and medical school. For the first time ever, I can call another state my home and I could not be happier. I couples matched with my fiancé, Mackenzie, who is training to become a pediatrician. Accompanying us is our two dogs Cooper and Ollie. My free time is spent either with my dogs, going to breweries, KanJam, watching sports, running, and looking at memes. Looking forward to exploring all of what Charlottesville has to offer!
____________________________
Greyson Vann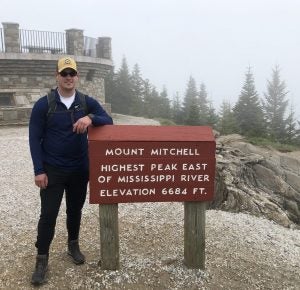 Hey! After being born and raised in Fayetteville, NC, I went to East Carolina University for undergrad, where I double majored in public health studies and chemistry. My passion for emergency medicine grew out of experiences that I had during high school and college. After beginning in emergency services as a volunteer firefighter in high school, I became a paramedic and worked throughout my undergraduate years at Lenoir County EMS and Bell Arthur EMS. After graduating from ECU, I decided to spend another four years in Greenville, NC to attend medical school at ECU, still working as a paramedic at Bell Arthur during that time. My EM interests include critical care, EMS, and ultrasound. Outside of the hospital, I enjoy cycling, hiking, camping, kayaking, and homebrewing. I am excited to explore all of the great restaurants, breweries and wineries, and outdoor activities in Charlottesville, and to become a part of the UVA team!
____________________________
Winston Wu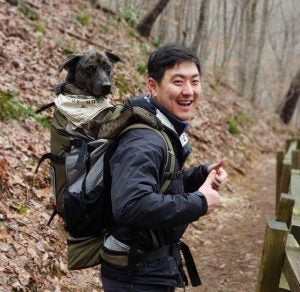 Hello! After growing up in Richmond, VA, attending Virginia Tech for undergrad, and taking a pit stop in Philadelphia for medical school, I'm absolutely thrilled to be joining UVA emergency medicine!  Like so many others, I worked as an ED scribe before medical school and from that experience always knew I'd eventually end up in EM. My life outside of the hospital revolves around my wonderful fiancée and our dog Watson. We've already hiked a couple trails in the Blue Ridge Mountains and are excited to explore so many more along with all of the restaurants, wineries, and breweries in the area.
---
---
PGY 2
Ben Alexander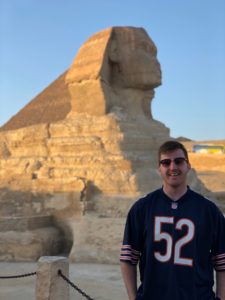 I was born and raised in West Texas and split my time in college at Angelo State and TCU, where I got my Bachelors in Biology. I then attended Texas Tech in Lubbock for medical school. I grew up around a lot of great doctors and learned Emergency Medicine was the specialty for me early on. I'm especially interested in the critical care aspect of Emergency Medicine and am excited about further developing that passion at UVA. I fell in love with the people and scenery of Charlottesville during an away rotation in my fourth year and I'm happy to call this place my home for the next three years. In my spare time I enjoy golf, racquetball, boxing, exploring wineries, and taking my dog, Aspen, hiking and camping.
____________________________
Steve Garbin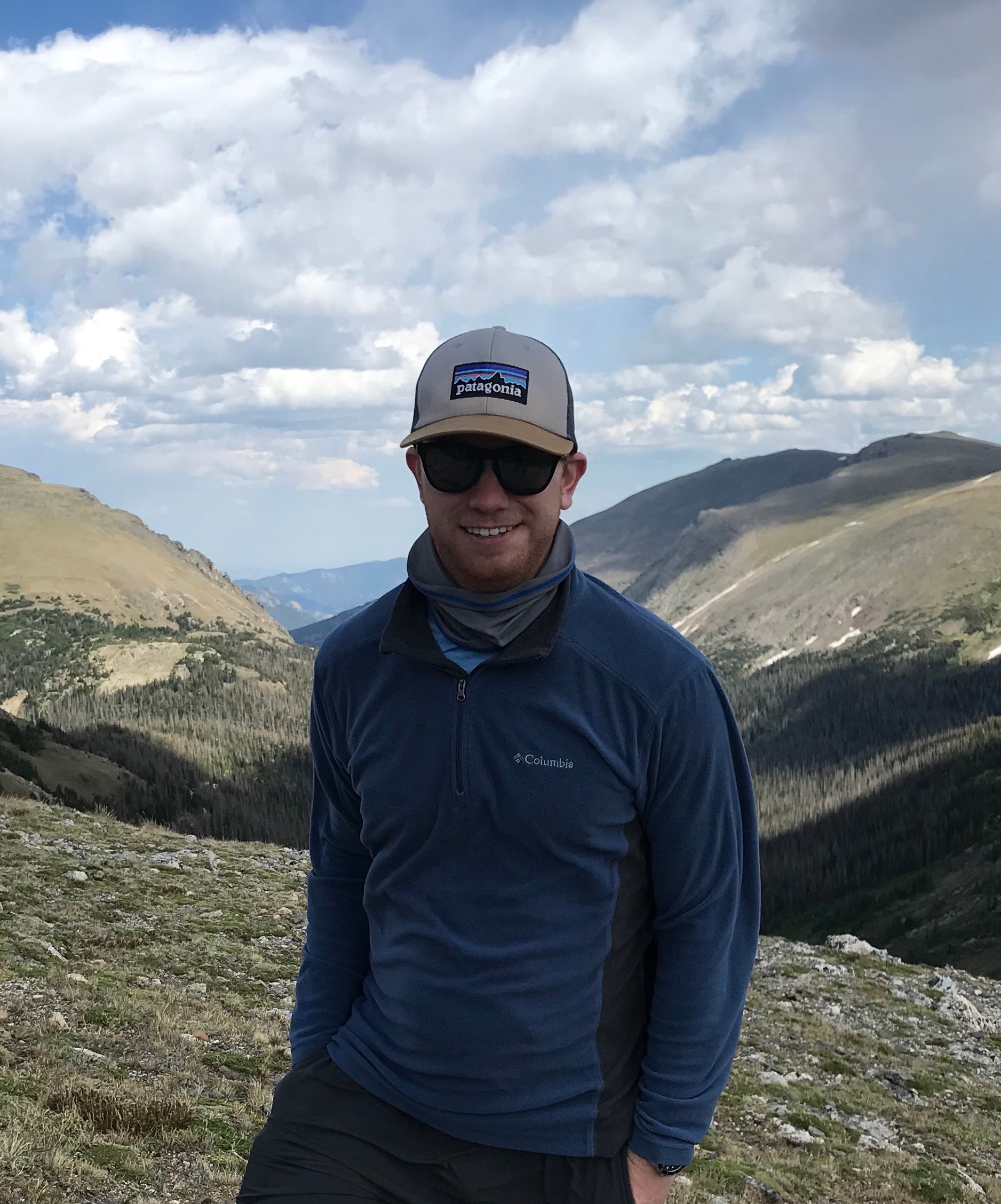 I was born in North Carolina and raised outside of Pittsburgh, Pennsylvania before attending the University of North Carolina where I studied English and history. After graduation from UNC, I was employed as a copywriter for an advertising agency when I changed my career goals and enrolled in the Post-Baccalaureate Pre-Medical Program here at the University of Virginia. After four years at the University of Pittsburgh School of Medicine, I feel privileged and excited to be back in Charlottesville for residency. My academic interests include medical education, medical humanities, physician leadership, and health care policy and administration. I try to be a generalist outside of medicine and enjoy writing, reading, going to the movies, listening to music, trying out new restaurants/breweries/wineries/cider houses/distilleries, baking, grilling, traveling, golfing, running, hiking, kayaking, and skiing.
____________________________
Esther Good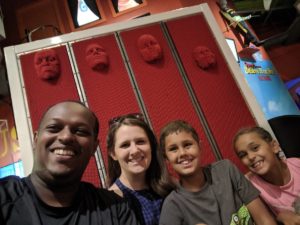 I was born in Pennsylvania, but spent most of my life in Kenya until moving to Virginia at age 15.  I studied social work in undergrad and spent several years working in refugee resettlement before deciding to pursue a career in medicine.  I went to medical school at Geisinger Commonwealth School of Medicine in Scranton, Pennsylvania, home of The Office.  In my free time, I enjoy reading, writing, and spending time with my husband and two children. My long-term goal is to work in Global Health, and I'm excited to be completing my residency at UVA as the next step in that direction. ​
____________________________
Jordan Hughes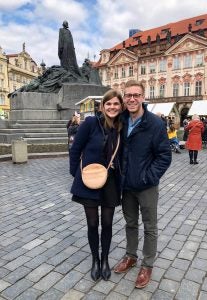 Raised in Austin, I got the first taste of east coast life when I moved to New York City to study Peace Studies at Manhattan College. I then returned to Texas for medical school at UT Southwestern, where I developed interests in emergency medicine and quality improvement. When my wife and I came to Charlottesville for my interview, we fell in love with the city and the residency program, and absolutely knew it was the place for us. We both agree its our favorite place we've been in the country! I'm so excited to be joining the UVA EM crew and to become an adopted Cavalier! Outside of medicine, I enjoy hiking, running, listening to podcasts, learning about economics, watching the Cowboys, eating ice cream, and playing with our goldendoodle, Beau.
____________________________
Kellie Mitchell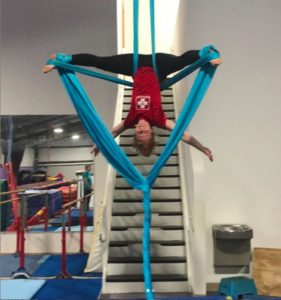 I'm originally from Chelsea, a two-stoplight town in Alabama. It's here that I met my now-husband, Cooper (high school sweethearts, I know, we're disgusting), who is a mechanical engineer. Despite growing up convinced I was going to be an artist, I found a love for science and followed what is now a lifelong tangent into medicine. I went to Mississippi State University for my BS in biochemistry, and promptly to the University of Alabama at Birmingham for medical school. After finishing an away rotation at UVA, we fell in love with the city of Charlottesville as well as the program and the people. When I'm not at the hospital, I'm either hiking in nature, cooking entirely too much food, playing with my dogs, or spinning from something upside down. Given my aerial dance obsession, it's probably the last one. I hope to work one day out in the community and serve the rural population.
____________________________
Pamela Moore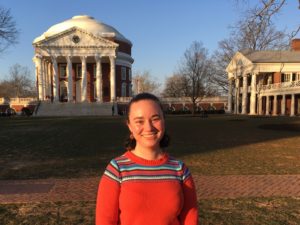 Hi! I grew up in Hanover County just outside Richmond, Virginia. I studied biochemistry at Virginia Tech, and then came to UVA for medical school. While here, I fell in love with both Charlottesville and emergency medicine, so I'm thrilled to be staying here for residency! For fun, I play the violin with one of the local orchestras; I also love swing dancing, hiking, and playing boardgames with family and friends!
____________________________
Tennessee Park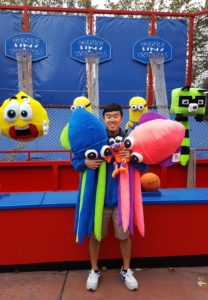 Hello, reader! As a kid, I loved playing basketball with my friends for hours on end, stopping by a 7-eleven for coke slurpies afterward or the local Eatery to fill our bellies with fried chicken. As an adult, my metabolism and tolerance for exercise have decreased dramatically, but I still enjoy good food, good company, and gentler hikes on scenic trails. I grew up fishing, as well, and have been known to sneak off in the middle of the night to chase striped bass. My academic interests include medical education and global health. I am thrilled to be learning emergency medicine with my fellow residents at UVA, and I look forward to exploring all that Charlottesville has to offer!
____________________________
Ana Romero Vazquez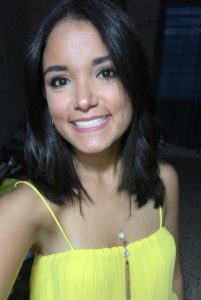 I was born and raised on the beautiful island of Puerto Rico and have lived there all my life! I completed undergraduate studies at the University of Puerto Rico—Rio Piedras Campus and then moved south to attend medical school at Ponce Health Sciences University. A summer research experience in medical school led me to discover that emergency medicine was my passion and where I feel most at home. Within emergency medicine, my greatest interests are international/global medicine and disaster medicine.
Adventures and new life experiences have always been my driving force, and I am in love with all that Charlottesville has to offer! Fun facts about me – I have launched rockets into space with NASA and I love being outdoors and on the water.
____________________________
Juan Santiago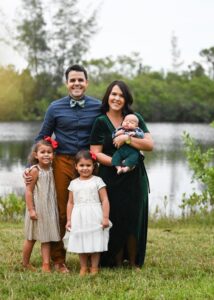 My family and I are thrilled to start a new chapter of our lives in beautiful C'ville! Originally from Boston, I grew up in Orlando where my brother and I enjoyed the opportunity of being homeschooled all the way through high school. I went on to attend the United States Military Academy at West Point for my undergraduate education, after which I was commissioned and joined the 10th Mountain Division. My interest in Emergency Medicine was piqued while I was deployed to Afghanistan. Since then my awesome wife, Lauren, has supported my endeavor as the path has led us through Richmond, down to Miami for medical school at FIU, and now back to Virginia.  We love getting outdoors, water-recreation and hosting game nights. To say we're excited about this part of our life's journey is an understatement!
____________________________
Lauren Smaltz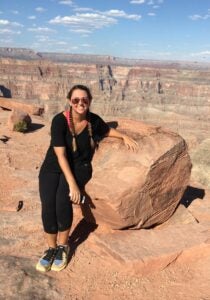 Hi! I was born and raised in West Virginia and, believe it or not, this is my first time really living outside the state. I went to WVU for undergrad and then Marshall for medical school. During my time at WVU, I worked as a scribe in the emergency department of Ruby Hospital and really discovered my love for Emergency Medicine. But since my dad is also an Emergency Medicine physician, you could also say I'm just continuing in the family business. I love what I've been able to explore in Charlottesville so far and am really happy to be here in the Second Best Virginia 🙂 Outside of medicine I love to cook, travel, hike, and basically spend every other waking moment listening to podcasts, watching Netflix, or tending to the many, many house plants I now call my roommates.
____________________________
Peter Vandersteenhoven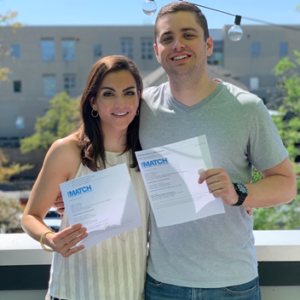 Originally born in Dallas, TX, I moved to Columbia, SC in elementary school and spent the majority of my childhood there. I left SC to attend Auburn University for both my undergraduate and Master's degrees, becoming a huge Auburn fan in the process. After finishing my time at Auburn, I returned back home to South Carolina to start medical school at the University of South Carolina in Columbia. I realized early in medical school that Emergency Medicine was the perfect fit for me after shadowing in the ER during the preclinical years and I am excited to finally be pursuing training in the field. I am especially interested in EMS and pre-hospital medicine. My fiancée, Caroline, and I were incredibly fortunate to both match at UVA as part of the Couples Match, and we are thrilled to call Charlottesville home for the next several years.
____________________________
Justin Yaworsky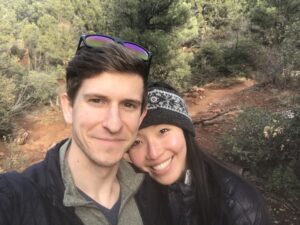 Born and raised in central Virginia, I've traveled all throughout the state for education from Richmond for undergraduate, Norfolk for medical school, and now Charlottesville for residency. I also was a nurse for a few years in Richmond in a surgical trauma ICU. I'm excited to be here as I loved my experience with the faculty and staff during my 4th year away, but I'm excited to be reunited with my girlfriend of 11 years. Education has flung us about for a while!
I've always loved hiking, camping, fishing, and rock climbing, so I'm thrilled to be right next to the mountains. I also love to travel and try new things, so hit me up! Looking forward, I'm hoping to settle into a house with my partner, get to work learning the ways of the EM physician, and tease out in my own mind whether a critical care fellowship will be in my future.
---
---
PGY 3
Peter Dailey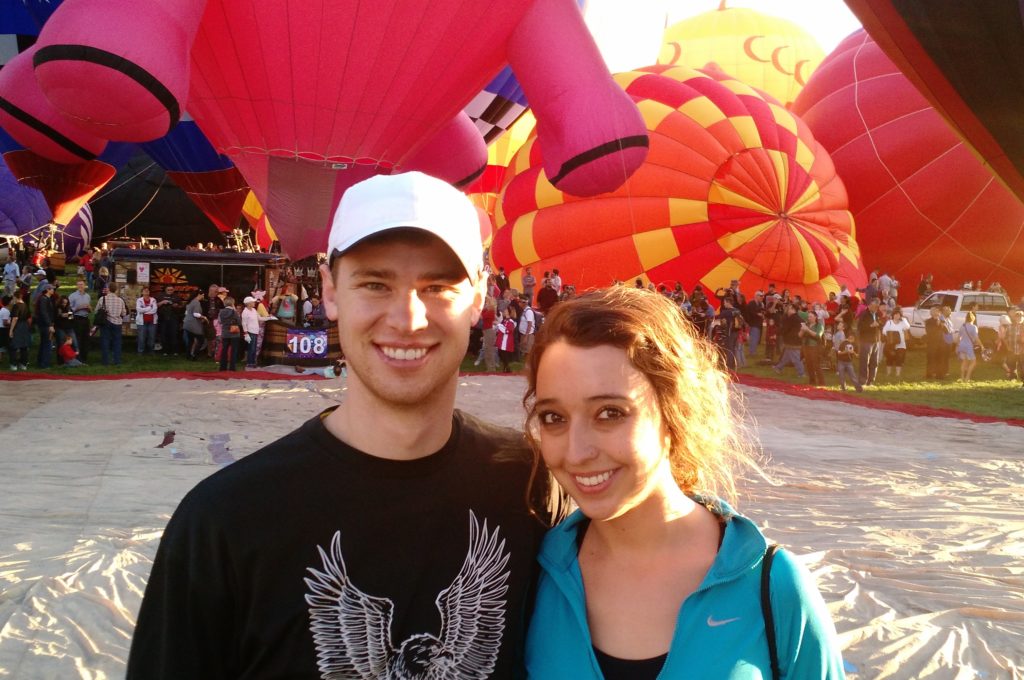 A transplant from the high desert of New Mexico to the incredibly green mountains of Virginia, I am incredibly excited to train in emergency medicine here at UVA! I studied chemical engineering at New Mexico State University before attending the University of New Mexico for medical school. For fun, I like playing tennis, golf, and soccer in addition to spending ample time with family and friends. My wife and I work hard to provide a wonderful life for our two dogs, a golden retriever named Friday and a bichon named Burrito. We are ecstatic to be living in Virginia with such down to earth people at an incredible residency program and cannot wait to explore all that Charlottesville has to offer.
____________________________
Sonja Foo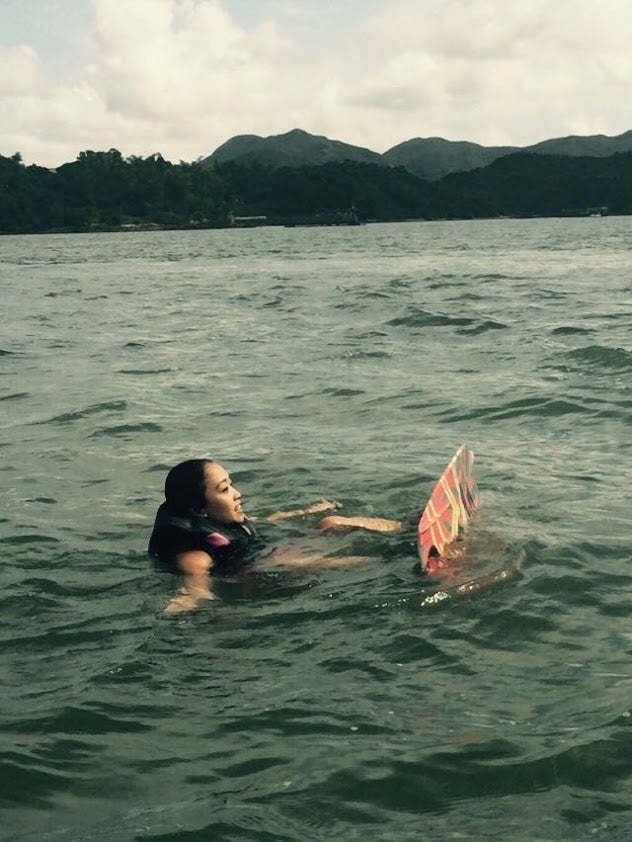 G'day! Having lived a nomadic existence in recent times, I am delighted to call UVA home for the next 3 years! My journey to Charlottesville began in HK, where I grew up, continued on to Cambridge, where I completed preclinical studies, followed by clinical studies in London, and Foundation Programme training ("internship" for Americans). I subsequently spent a year working in Canberra and after years of dreaming, am relieved to finally be training in the US! I have always harboured a passion for critical care, research and medical education, which I hope to continue developing on during residency with the support of our accomplished faculty and peers. With one goal down, my next major aspiration is a Critical Care fellowship!
____________________________
Matthew Hewitt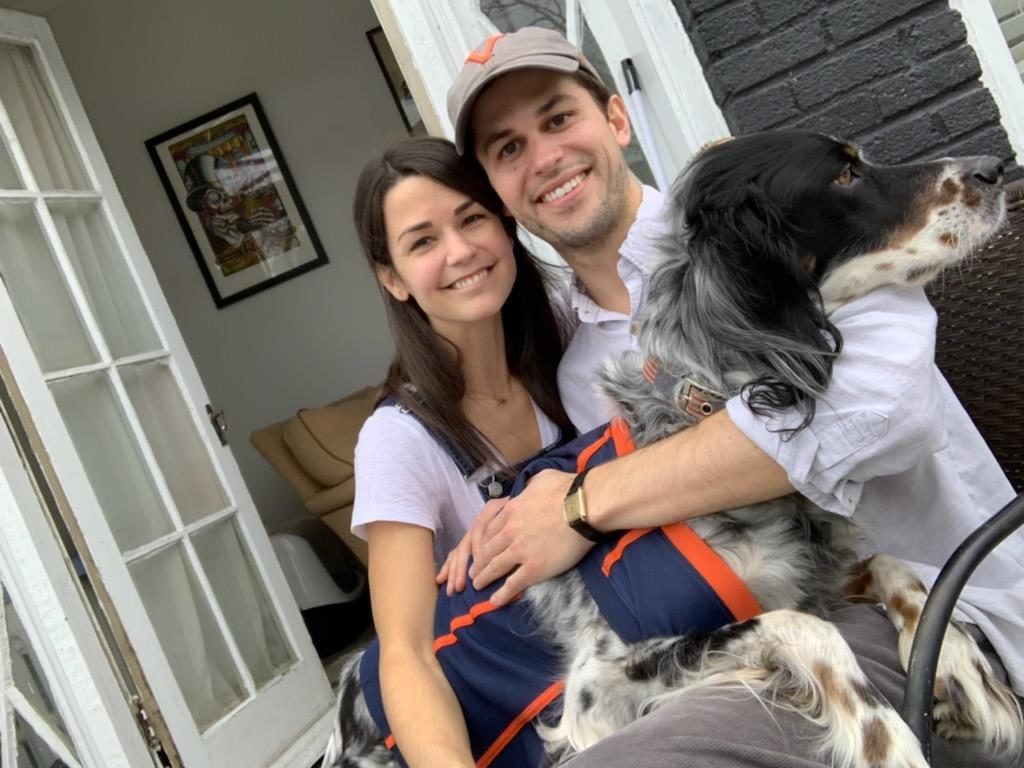 I grew up in Lewisburg, WV and attended UVA for undergrad, where I studied biology. After graduating, I moved to Richmond for a stint in a genetics lab before beginning medical school at the Medical College of Virginia. I am incredibly grateful to be returning to Charlottesville to join such a wonderful residency program. My wife, Francie, and pup, Tater – both lifelong Hoos – took no convincing when we were deciding where we wanted to spend the next few years of our lives. Outside of medicine I've devoted much of my free time to learning how to build handmade guitars, and I enjoy live music and playing recreational hockey.
____________________________
Erik Holstege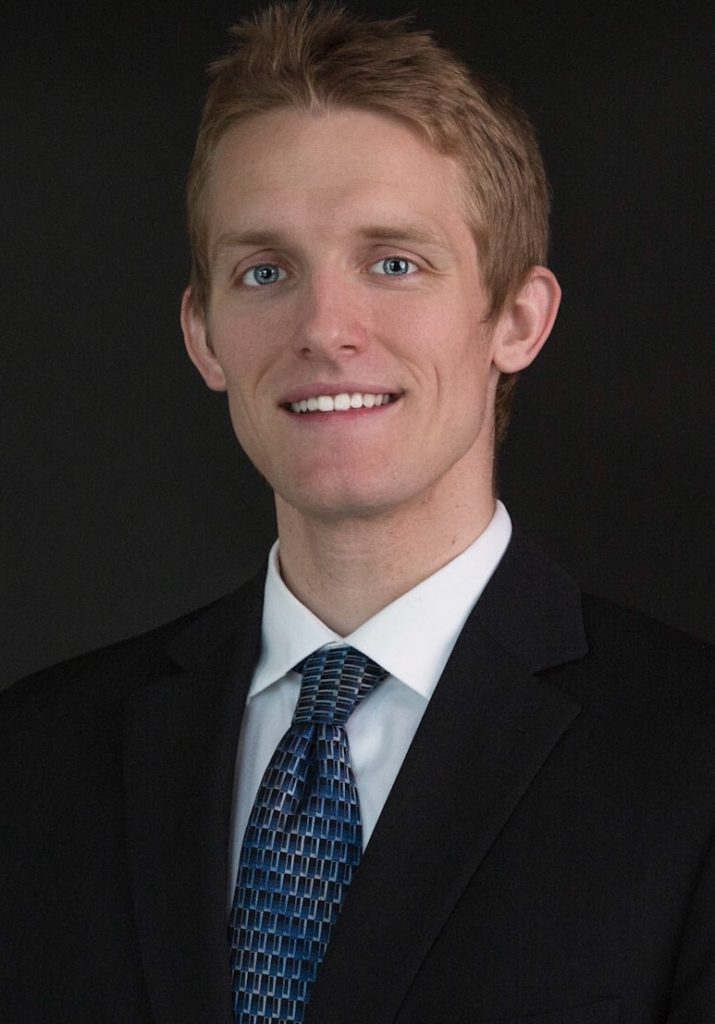 As my wife will tell you, most of what you need to know about me can be summed up as "I'm the oldest of six siblings," five of which are boys, and all of whom share a love of (usually) friendly competition. I was born in Detroit, Michigan, but I've been a fixture of Charlottesville for the past 20 years, with a four-year return to the Midwest as a student at Calvin College in Grand Rapids, Michigan, where my primary interests included hiking, reading, running over hurdles, and avoiding classes that had lab sessions. I returned to Charlottesville to study medicine here at UVA after realizing I don't like 8 month winters. I'm thrilled to continue my training at an institution that has been a central part of the majority of my life, and to do it with such remarkable people, be they fellow house-staff, support staff, or faculty. Feel free to reach out to chat or to hike, I'm always down for either!
____________________________
Tatum Lemly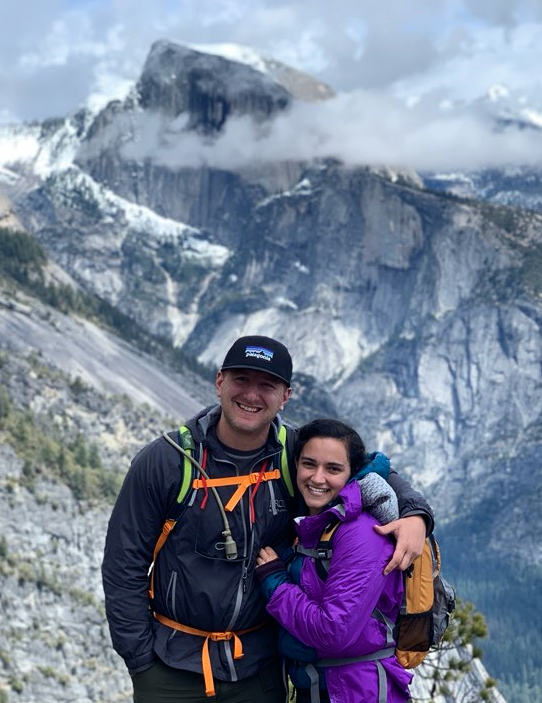 Growing up on the family farm in the mountains of North Carolina, I developed a love and appreciation of the great outdoors. Charlottesville provides a tremendous amount of outdoor adventures, which is one of the reasons I was so drawn to this area.
Never venturing far from home, my undergraduate years were spent at Guilford College, and I attended East Carolina Medical School, where I developed an interest in emergency medicine. I was very fortunate to have some incredible mentors at both schools, and I would like to play a similar role for others in my career. Outside of medicine, my interests include hiking, golfing, kayaking, sailing, reading, and traveling. I also enjoy playing ping pong, basketball, softball, and racquetball. Spending time with family and friends has always been an important part of my life as well. It is an honor to be a part of the UVA Emergency crew and I look forward to learning from the best and sharing my knowledge with others in the academic side of medicine.
____________________________
Nardos Makonnen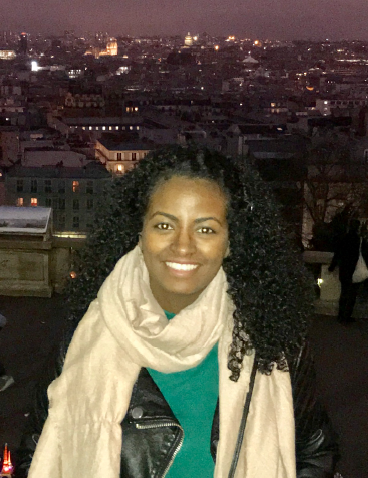 I was born in Addis Ababa, Ethiopia. I moved to Minnesota with my family when I was in middle school. I went to undergrad at Johns Hopkins where I studied biology and anthropology. I then attended medical school at Drexel where I had the chance to learn from great emergency medicine doctors. I am deeply interested in global health and health policy. I am excited to be close to my family and friends in the DMV. I am also looking forward to the next three years learning and growing with my co-residents. Outside of the hospital, I enjoy running and listening to too many podcasts.
____________________________
Caleb Martin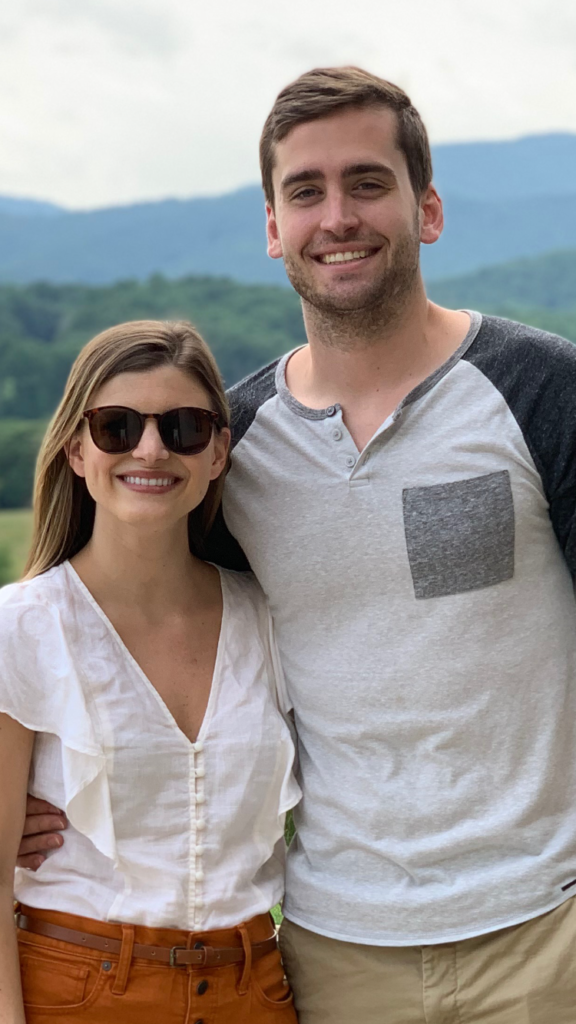 I am very excited to join the UVA Emergency Medicine team! I grew up in Laurel a small town in southeast Mississippi. I am the fifth child of nine and was homeschooled for my entire primary education. Growing up and still to this day I enjoy playing sports, specifically soccer and basketball, and learning new songs on my guitar. I went to Mississippi College in Clinton, MS for my undergraduate education and the University of Mississippi in Jackson, MS for medical school. I met my wife Laura in the first week of medical school and she is an internal medicine resident here at UVA! We both enjoy being outdoors, hiking, kayaking and working out at Orange Theory. I am looking forward to experiencing Charlottesville over the next few years and excited to dive into my residency education!
____________________________
Adam O'Connor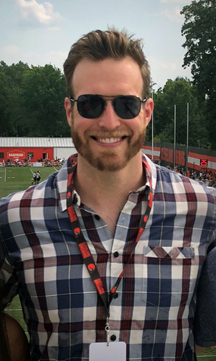 Originally from Mobile, AL, I attended high school in Greensboro, NC, and college at William and Mary, obtaining a B.A. in history.  After graduation, I worked in athletics for several years before moving on to a career in commercial insurance and risk management.  Once I set my sights on medicine, I completed my post-baccalaureate coursework at N.C. State, followed by medical school at the ECU Brody School of Medicine.  Areas of professional interest include sports medicine and toxicology.  Personally, the things I enjoy most are sleeping, eating, and exercise…usually not in that order.  Sports and exercise have been constant fixtures throughout my life, evolving in form along the way.  I currently focus on hockey, resistance training, cycling, rowing, and skiing, but am always open to new challenges.  Accordingly, I look forward to taking advantage of all the outdoor activities Charlottesville has to offer.
____________________________
Jefferson Phillips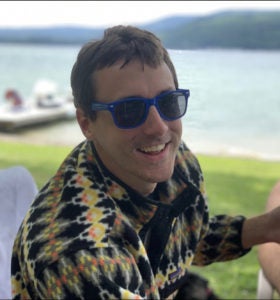 I'm from Sanford, NC, and the middle of five very different siblings – a cop, a "Coastie," a future engineer, and an artist/future veterinarian- and the son of a NICU RN and a nephrologist, so I've had exposure to a few walks of life. I studied history at UNC and Appalachian State, and I mainly wanted to read books and maybe teach if I had to to get paid. When I joined on with the Watauga County Rescue Squad in the mountains of Boone, NC, that all changed. The incredible people there showed me just how much I had to learn, but also the huge difference EM and EMS providers can make. Six years later I graduated medical school at EVMS and matched at UVA! While I loved Virginia Beach, I knew I missed the mountains more. Outside of school, I still love hiking, swimming, tennis, and any excuse to sit and enjoy fresh mountain air and sunlight.​
____________________________
Robert Russell
I was born in Accra, Ghana to international aid worker parents. I spent my childhood moving around the world, from the United States to Africa to Asia and back, before my mother and I settled in Massachusetts for my high school years. I went to college down south at Duke University before heading back over to Europe for 9 years. We finally settled back in the States for medical school at The George Washington School of Medicine. My family and I are so excited to be joining the UVA Health family and the beautiful community of Charlottesville! My wife, a practicing attorney in DC, and my children have come to love the "stay-cation" trips to visit Dad. We enjoy hiking, playing soccer, and family dinners at any of the wonderful C-ville restaurants, wineries, or breweries. It seems like we discover a new favorite spot every weekend!. We are always on the lookout for the next fun adventure.
____________________________
Moira Smith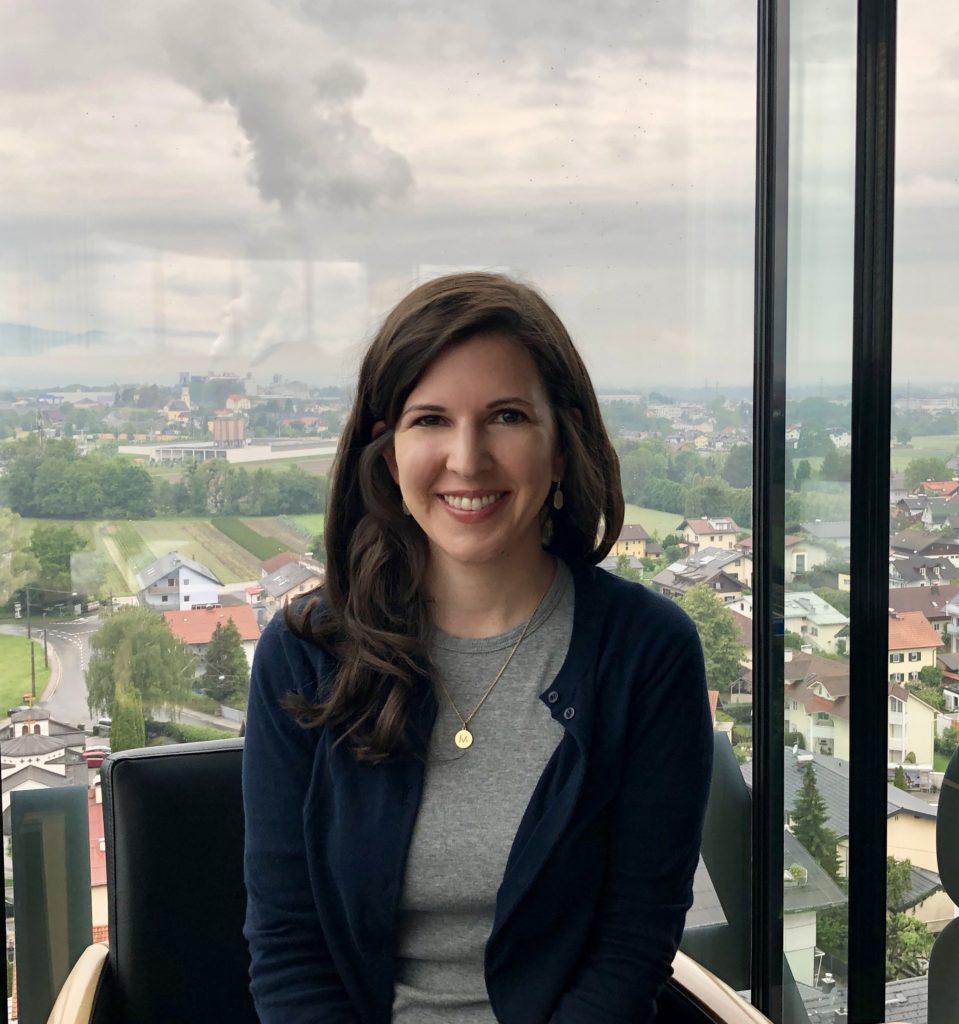 Hi! Although I was born in Charlottesville, I grew up in Danville, VA, and went to UVA for undergrad, majoring in religious studies and biology. Even though I had decided on emergency medicine in high school, I became interested in research during college so I got an MPH and did bioinformatics research in biomedical engineering and molecular genetics labs. I also worked as a ED scribe before starting medical school at UVA. While scribing, I fell in love with the UVA Emergency Medicine Department and knew I wanted to be here for residency. I hope to have a career in academic medicine where research and teaching are significant parts of my career. Outside of medicine, I enjoy spending time with my family and friends, playing violin and piano, singing, and reading both non-fiction and classic literature.
____________________________
Andrea Zeke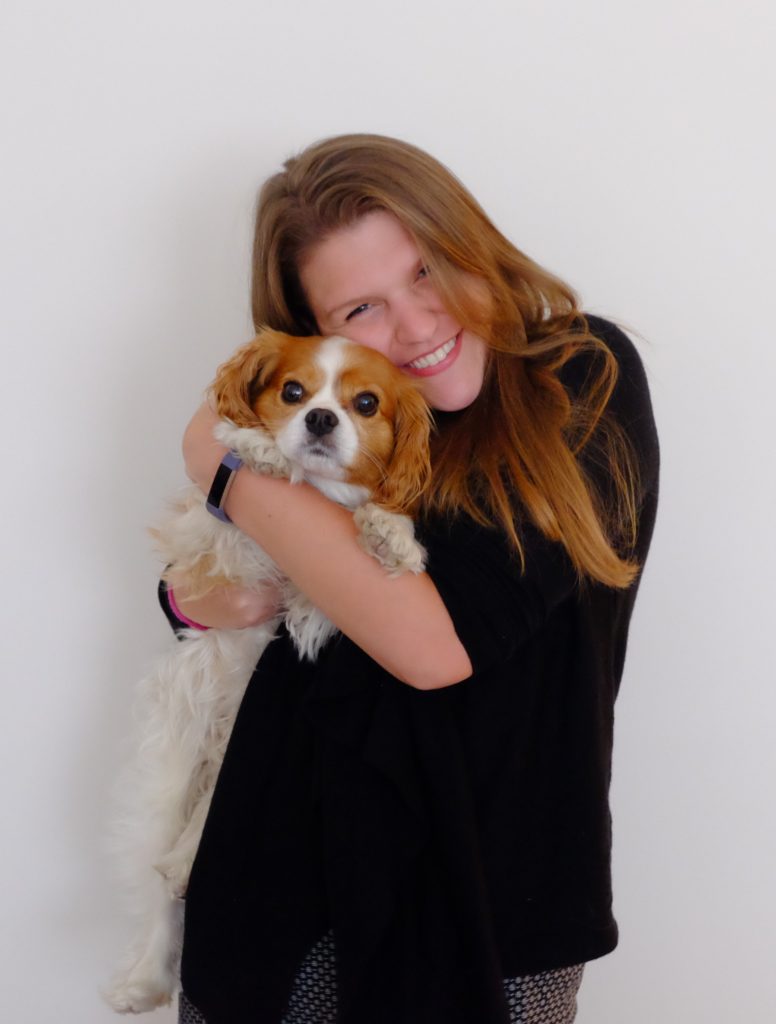 Hi, my name is Andrea! I grew up in Northern Virginia, although my parents are Hungarian and most of my family lives in Hungary. I went to UVA for college, and afterwards I became an ED scribe in Northern Virginia. I loved the ED so much that by the time I got to medical school at EVMS, I knew that Emergency Medicine was the specialty for me. I'm excited to be back in Charlottesville for residency because I missed all the delicious food and beautiful wineries! When I'm not working I like hanging out with my friends and family, playing with my friend's dogs (hopefully I'll have one soon), traveling, cooking, skiing, reading, knitting, and a good Netflix binge.